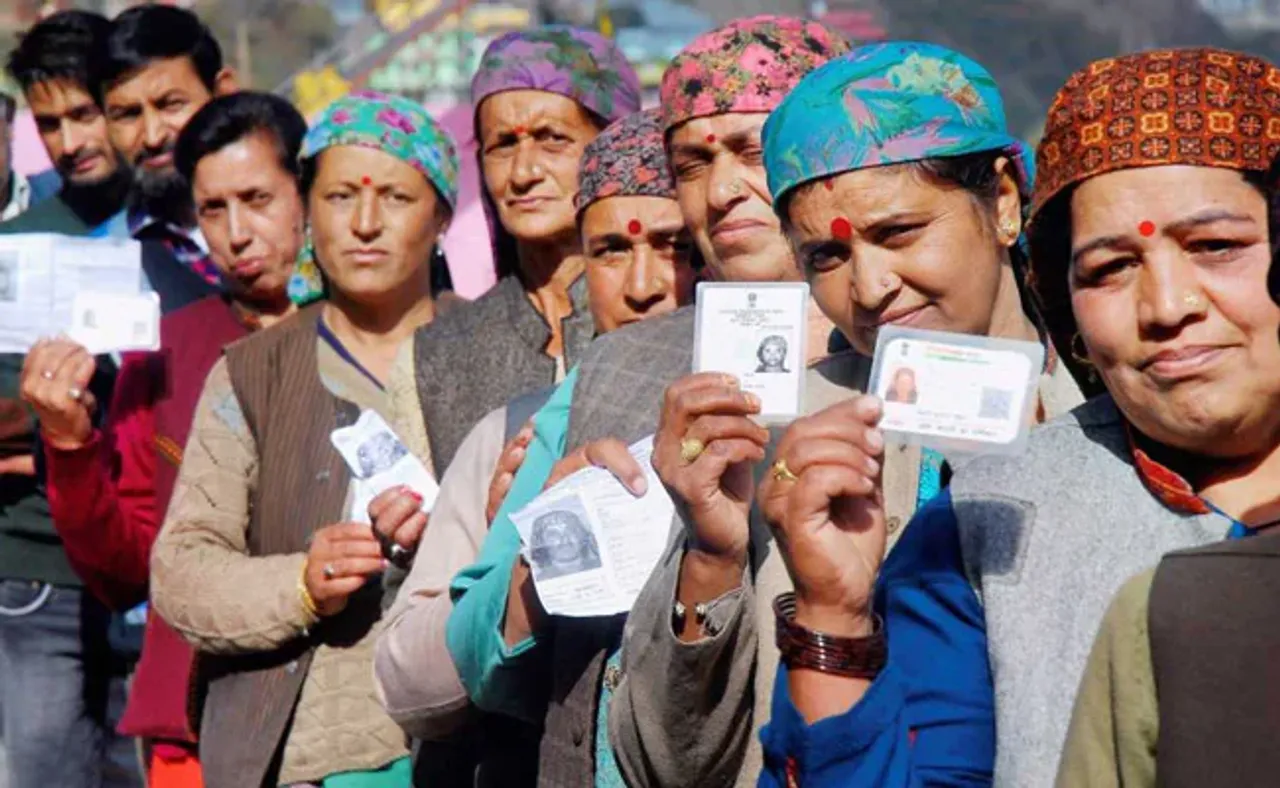 Chandigarh: As Himachal votes next week on Saturday, November 12, all eyes are on the 10 key contests. The outcomes of these seats will impact the future course of Himachal politics. Let's find out which contests are keenly watched ahead of crucial votes.
1- Will a star rise from Seraj?
Jai Ram Thakur, a sitting MLA from Seraj in Mandi district, was an accidental CM in 2017.
BJP had originally declared Dhumal his CM candidate.
While the party won the election with a nearly two-thirds majority, Dhumal could not win his own assembly seat, paving the way for Thakur to become CM.
Despite setbacks, he has successfully completed his five-year term.
Winning Seraj is not only important for him to stay in the game, he too has a huge responsibility to steer his party to a second consecutive victory in the present polls, a record no political party has broken since 1990.
His opponent in Seraj is Congress candidate Chet Ram who lost to Thakur in the 2017 polls and AAP's Gita Nand Thakur.
2-Will Virbhadra's legacy stay alive?
Vikramaditya Singh, son of late six-time Congress CM Virbhadra Singh, is looking to win from Shimla (Rural) for the second time.
He won the 2017 election with a margin of 4800 votes.
He last defeated Dr Pramod Sharma of the BJP. This time, his opponent from BJP is new face Ravi Mehta, former Shimla district chief and Prem Thakur, a young face from AAP.
The outcome of this seat will decide if the son, like his father, would have a long career in politics or if it is the end of the road for him.
3-Rebel trouble for Nadda in home constituency
Before becoming BJP's national President, JP Nadda began his political career in his home district Bilaspur in Himachal.
Three-times MLA from Bilaspur town, BJP has been facing rebellion in his home constituency in this election.
Subhash Sharma, a long-time supporter of Nadda and sitting MLA from Bilaspur, has been fighting as an independent after he was denied a ticket.
The party gave ticket to Trilok Jamwal, another Nadda supporter and Chief Minister Jai Ram Thakur's political advisor.
Nadda made every effort to persuade Sharma to take back the nomination but he did not agree.
4-Will Nadaun give the state a new CM?
A constituency in Hamirpur district, Nadaun is a hot seat because Congress candidate Sukhwinder Singh Sukhu is a candidate from here.
In case congress wins the 2022 polls, Sukhu as the new CM of the state can't be ruled out.
Once arch-rival of Virbhadra Singh, he now dreams to succeed him, even though there are other contenders for the top post.
Knowing the importance of this constituency, BJP has been putting a lot of effort to back its nominee from here.
BJP candidate Vijay Agnihotri defeated Sukhu in 2012 but lost to him in 2017.
Given the high stakes here, Union Home Minister Amit Shah recently held a rally here in support of Agnihotri. More senior leaders are set to arrive here to campaign. AAP has fielded Shanky Thukral from here.
5-Will the left retain its presence?
Left parties once had a strong presence in the hilly state which eroded over the period of time.
One seat where their hopes are still alive is Theog in Shimla district.
Sitting MLA Rakesh Sangha is again the candidate for CPI (M). But the entry of former Congress state president Kuldeep Rathore has made the fight interesting here.
Theog was a traditional Congress seat represented by veteran party leader Vidhya Stokes. However, a change in the candidate in 2017 made the party lose it.
This election will decide if Congress wins its stronghold back or if the Left manages to retain its presence in the state. AAP candidate from Theog is Atar Singh Chandel while BJP has fielded Ajay Shyam.
While Congress is confident to win it back, two-party rebels are also fighting independents.
6-Another CM in making in Congress
Leader of the opposition Mukesh Agnihotri has again been renominated from Haroli in Una district.
Sitting MLA from Haroli, he is facing BJP spokesperson Ram Kumar. Former journalist, he gained prominence in Congress as well as state politics due to the late Virbhadra Singh.
If he retains his seat and Congress wins the election too, Agnihotri will be pitched himself as one of the contenders for CM office as well, who may even get tactical backing from the Virabhadra family.
Late Virbhadra's wife and Mandi MP Pratibha Singh is currently state Congress head. But she did not contest polls. AAP, meanwhile, has fielded Ravinder Pal Singh Mann.
7- Will the BJP rebel spring surprise?
Out of 68 assembly seats, rebels have been fighting polls in at least 15 seats, mostly from BJP. One constituency where the BJP rebel is in focus is the famous tourist town of Kullu.
Ram Singh, former Vice chairman of Himachal Horticulture Produce Marketing Committee and once a close aide of CM Jai Ram Thakur, is fighting independently against BJP's Narottam Singh.
He was upset after the denial of the ticket. BJP has officially suspended him from the party. But his entry might upset poll arithmetic on this seat.
With AAP fielding Sher Singh Negi, the fight is already multi-cornered here.
8-Will a Dhumal loyalist rise?
Once a staunch loyalist of former CM Prem Kumar Dhumal, former Rajya Sabha MP Kirpal Singh Parmar was sidelined in the party after the end of the Dhumal era.
Fighting independently from Fatehpur constituency of Kangra district, the contest in this seat is very interesting.
His opponent from BJP is state forest minister Rakesh Pathania. He was sitting MLA from the neighbouring Nurpur constituency but the party changed his constituency at the last minute.
Congress has again fielded sitting MLA Bhawani Singh Pathania, who is the son of local stalwart leader late Sujan Singh Pathania.
Bhawani won this seat last year in the by-election after the death of his father.
With Kirpal too said to have a considerable hold in the area and BJP's Pathania being no small player, this makes the contest very tight here.
9- BJP's old guard in a tough fight
Suresh Bhardwaj, a four-time BJP MLA from the prominent Shimla constituency and also urban development minister in the Thakur government, was taken by surprise when the party changed his constituency.
He is now contesting in neighbouring Kasumpti, where BJP has not won in the past 15 years. What makes the fight difficult for Suresh is that there is a large presence of apple growers in this seat. Apple growers are not very happy with the BJP government on several issues.
He is now facing Congress's Anirudh Singh, who is looking for a hat-trick win.
10- Will AAP make some dent?
AAP, which once was seen as an alternative party in this election, has almost lost steam ahead of the polls.
If there is one seat where they can make some dent is Paonta Sahib where BJP's power minister Sukh Ram Chaudhary is seeking re-nomination.
AAP candidate for this seat is Manish Thakur, former Congress youth president, who is said to have some influence in the area.
He at present is the best hope for the party.