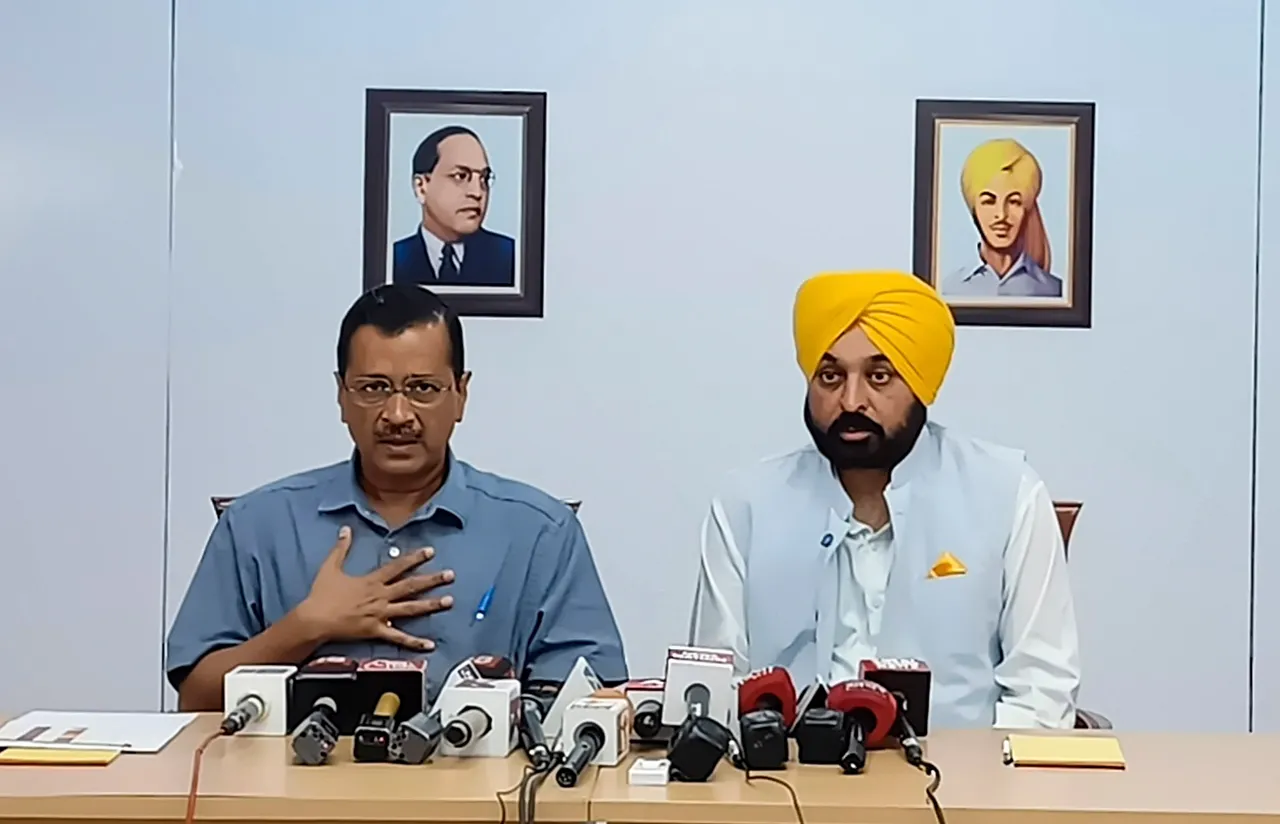 Chandigarh: As air quality again dipped to the 'severe' category in the national capital, AAP national convener and Delhi chief minister Arvind Kejriwal came forward on Friday and took the responsibility of stubble burning in Punjab.
Till very recently, Kejriwal was locking horns with the centre after stubble burning went out of control in the state that his party has been ruling since March this year, registering 19% growth over the last year.
As the number of cases increased to 24,000 in Punjab on Thursday and the subsequent drop in air quality in Delhi and other cities, Kejriwal changed tunes.
He not only accepted his government's failure to stop stubble fires in Punjab but also promised not to indulge in blame games and find a solution by next year.
He also asked the centre to take more initiative since pollution, he said, is a north India problem now, not confined to Delhi alone.
"We have the government in Punjab. We take responsibility if stubble is being burnt there," said Kejriwal in a joint press conference with Punjab Chief Minister Bhagwant Mann.
Saying that they were in the government in Punjab only for the last six months, he said some solutions worked but a lot of others did not.
Mann too said that the month he took oath in March, the wheat crop was ready to harvest. Then immediately thereafter there was a paddy crop.
Kejriwal added, "I am quite hopeful that stubble-burning cases in Punjab will come down by next year. We will take strong steps and also engage with farmers to find feasible solutions."
He said that air pollution is not only Delhi's problem. "Several cities of Haryana, Rajasthan and UP were equally suffering," he said while reading the names of cities having air quality in a severe category like Delhi during his press statement.
It included Haryana's Rohtak, Bhiwani, Charkhi Dadri, Sonepat, Bahadurgarh, Jind, Manesar, Gurgaon, UP's Noida, Greater Noida, Ghaziabad, and Bhiwadi in Rajasthan.
Kejriwal said it shows that this is a problem for the entire northern region. There is no one particular reason for this. There are local reasons as well as regional reasons like air moving from one state to another.
"As I said before, this time is not apt for raising fingers at each other or playing politics. We will not be able to find a solution to this. The centre must also come forward to work closely with all affected states," he said.
Challenges
Even though Kejriwal says that they will ensure a decrease in stubble cases by next year, the challenges are a lot more.
The scale of the problem is huge since almost 40-45 Lakh acres or 70% of the paddy area in Punjab is burnt every year.
Both in-situ as well as ex-situ measures, applied so far to reduce stubble fires, had limited impact for a number of reasons.
First, small and marginal farmers, who are 32% of the total number, claim they are not in a position to buy crop residue machines, which even at subsidised rates cost more than Rs 1.5 Lakh.
Punjab in the past five years distributed 1.2 Lakh subsidised crop residue machines by using a Rs 1300 crore subsidy grant from the centre.
Delhi-based Council of Environment, Energy and Water pointed out in its latest report that even available crop residue machines had limited use among those who own them since the operation cost remains high.
Ex-situ solutions like the use of stubble as raw material in paper mills and bio-gas or CNG production etc have limited impact, given that quantum of stubble, production is close to 200 Lakh tonnes.
Then, there is political pressure of farm unions since farmers are a huge vote bank in the state.
No political party wants to take stern action against farmers.
Even today, Kejriwal repeatedly said that Punjab farmers should not be blamed for this mess. They will stop burning it if they get feasible solutions.
On what steps Punjab take different to control it by next year as Kejriwal promised, Punjab chief minister Bhagwant Mann said that the focus would remain on crop diversification as well setting up more biogas power plants.
"We will try to help farmers to sow pulses and mustard so that there is no burning next year. We will take several other initiatives with the farmers and other concerned stakeholders to stop this parali (stubble) issue," the CM added.