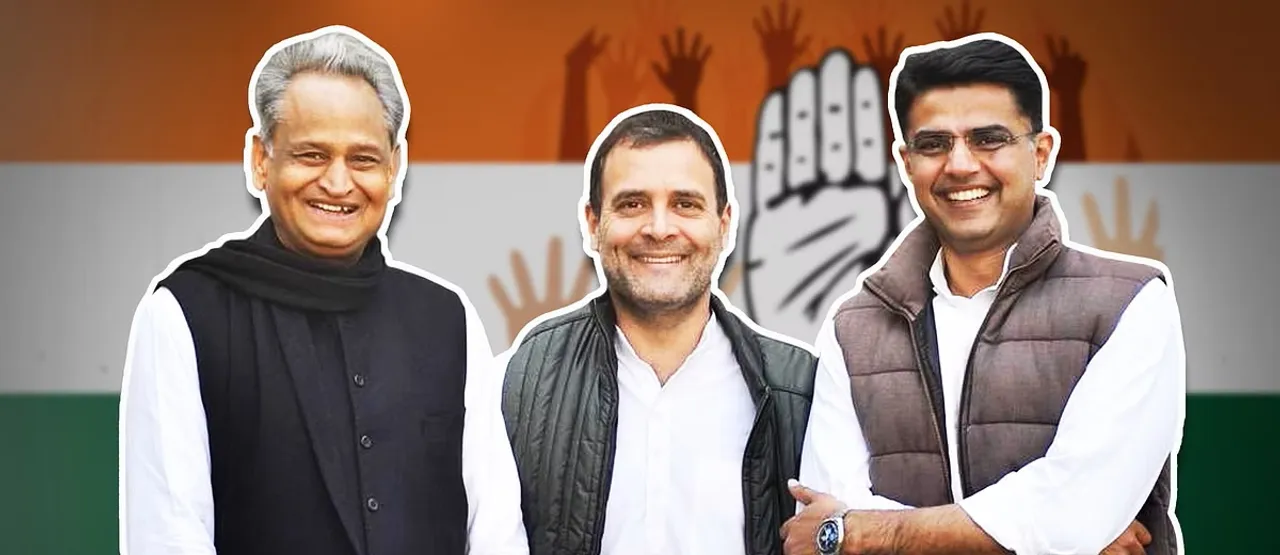 New Delhi: Former Congress president Rahul Gandhi called both Rajasthan chief minister Ashok Gehlot and his bete noire Sachin Pilot assets for the party, indicating how difficult it would be for the leadership to choose between the two.
After Gehlot's tirade and traitor remark against Pilot, it is unlikely that the two will bury the hatchet and become friends again.
Gehlot has made it abundantly clear that he will not accept Pilot as the party's face after his rebellion in July 2020 that almost brought down the Congress government in Rajasthan. Pilot too seems to be in a hurry to become the chief minister.
The dilemma before the Congress high command is to strike a balance between the two, keep them in good humour and force them to work together for next year's assembly elections in the desert state.
For that, the leadership must find a solution acceptable to both sides. Gehlot had indicated his willingness to step down provided the party's high command elected one of his loyalists as his successor. But that was before he withdrew from the Congress president's elections.
Now that the Congress president's post had been assumed by another veteran leader Mallikarjun Kharge, the party leadership has nothing substantial to offer to Gehlot if he is asked to step down as the chief minister.
One of the options could be the working president's post or the role of the general secretary in-charge of the organisation but the three-time chief minister won't be interested in that in view of his seniority and organisational experience.
Working under Sonia Gandhi or Rahul Gandhi and Kharge is not the same proposition and won't be acceptable to Gehlot.
He has since hardened his stand and would not like to be disturbed. If the Congress leadership decides to ignore his threats and go ahead in naming Pilot his replacement, he is bound to turn a rebel.
He might form his own party and continue to run the government given that he has the support of the majority of Congress legislators. Unlike former Punjab chief minister Captain Amarinder Singh who had confined himself to his farmhouse, Gehlot has an excellent rapport with his legislators and constantly stays in touch with them. It is highly unlikely that any of them will ditch him unless there are compelling reasons.
Pilot too hasn't made any serious effort after his revolt to win over the support of his detractors within Congress or establish some sort of connection with Gehlot's loyalists. For him, the Congress' high command's blessings are enough for him to become the chief minister.
That could have been true some years ago but not now. A much-weakened Congress is facing existential crisis and the writ of an equally weak high command doesn't seem to run in the party anymore.
The high command's failure to stem the electoral slide that set in with the humiliating defeat in the 2014 Lok Sabha elections or keep the Congress united by preventing the exodus of some prominent leaders such as Ghulam Nabi Azad, Jyotiraditya Scindia, Jitin Prasada or RPN Singh have added to the party woes.
This has forced the leadership to look for a compromising formula wherever required.
After Gehlot's traitor remark and allegations that the Bharatiya Janata Party (BJP) had paid Rs 10 crore to his supporting legislators in July 2020 to bring down the Congress government in Rajasthan, Pilot had decided to file a case against the chief minister.
Given a go-ahead by Congress general secretary in-charge of Rajasthan Ajay Maken, Pilot wanted Gehlot to prove his allegation in a court of law. However, he is now being persuaded by a section in the party to abandon the move and seek his rehabilitation in Congress.
But the big question is how the Congress high command seeks to do that and which of the two assets it would prefer to keep. Only time will tell.