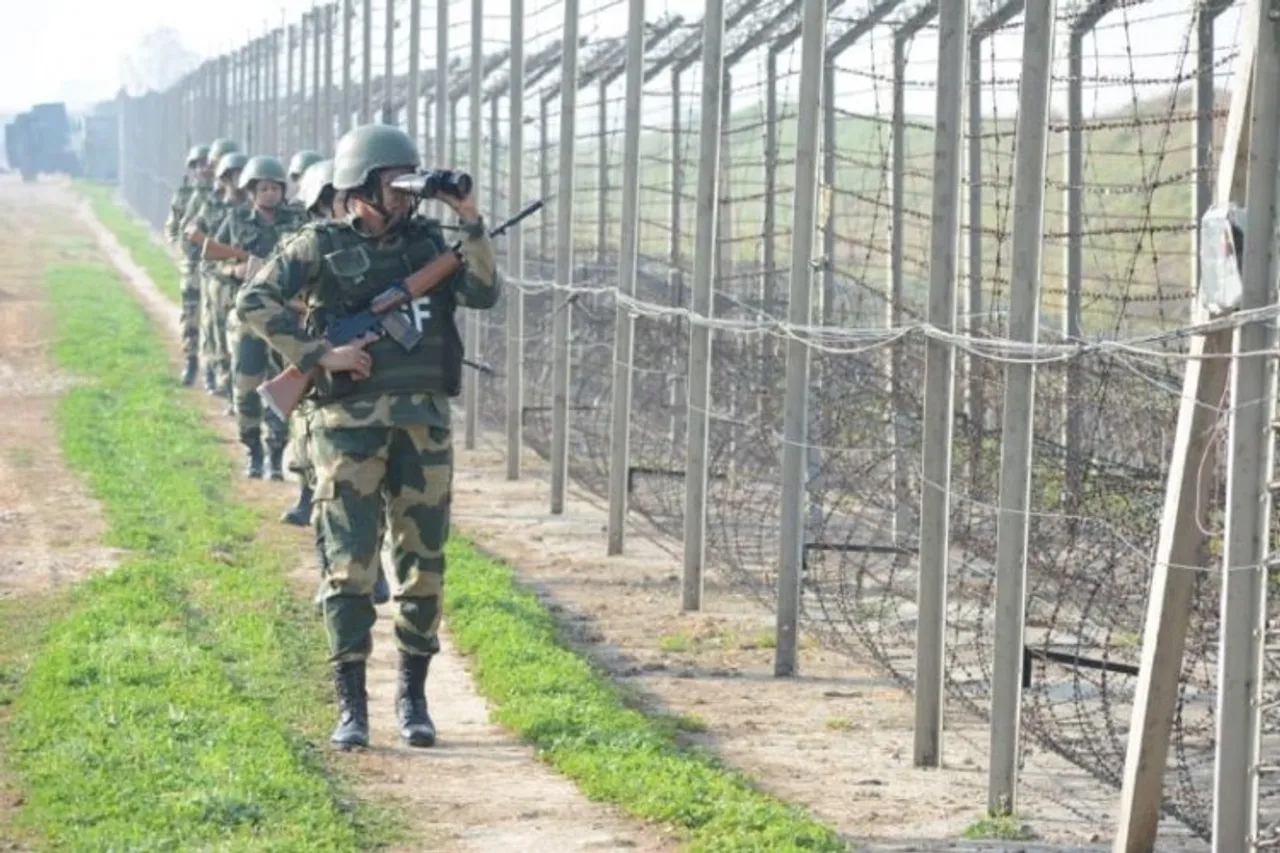 New Delhi: 798 Km long, mountainous and rugged Line of Control (LoC) and 198 Km long and rough international border (IB) in Jammu and Kashmir and to some extent the international border of Punjab between India and Pakistan in the western sector has always remained in news for one reason or another.
That may be infiltration of the terrorists, narcotic smuggling or exchange of fire on the borders between the troops or drones menace, or causality in the accidental landmine blast, it remains the biggest challenge and threat for Indian troops to make the area complete terror-free and safe despite the presence of hundreds of thousands of troops in the area.
There are usually three types of challenges or threats from across the border:
First, sporadic, ceasefire violation along the LoC and International Border in Jammu and Kashmir as happened yesterday at the international border where Pakistani troops opened unprovoked firing on soldiers of the paramilitary Border Security Force.
Second, intermittent drones flying into Indian territory from across the border and LoC bring in weapons, counterfeit and drugs into Indian territory helping drug smugglers and terrorists to acquire them without crossing the border. India has shot down at least three drones that carried small weapons, IEDs and ammunition for the terrorists.
Third, infiltration of the terrorists of radical groups. Defence officials said this year six infiltration bids were foiled in the Kashmir division. According to officials, there were 99 infiltration attempts at LoC/IB in 2021, 216 in 2020, 328 in 2019 and 419 in 2017 respectively.
Violated the ceasefire
The Pakistan Army on Tuesday, September 6, violated the ceasefire along the International Border in Jammu and Kashmir. The news agency reported quoting officials that the Pakistani troops opened unprovoked firing on soldiers of the paramilitary Border Security Force, forcing a flag march between the two commanders.
This violation of the ceasefire is the first since February 2021. In 2003 the ceasefire agreement between the Indian and Pakistan troops was signed. In 2018 and 2019, the two Director General Military Officers meeting of India and Pakistan, armies were reassured to sustain a strict ceasefire along the Line of Control and International border after a couple of firing incidents were reported.
The ceasefire had been holding since February 25, 2021, and not a single exchange of fire took place between the two armies till February when firing was reported in Poonch and Rajouri sectors.
A few years ago, the exchange of border fire was a routine and many times heavy artillery was used forcing residents living in the villages near LoC or International borders to shift to safer places or camps. This has been happening on both sides where civilians suffered and civilian and troop deaths were reported. The LOC and IB are also planted with Landmines and it has been reported deaths of patrolling soldiers on both sides and sometimes civilians who usually do farming in the nearby area.
Drones are a new menace
There were at least 200 drones that have flown into Indian territory from Pakistan, both in J&K and Punjab since early 2021. The use of drones or unmanned aerial vehicles by terrorists has thrown up a new challenge before the security forces to deal with a pattern shift like the threat and countermeasures. Drones have become a critical threat and challenge to security. Drones are now used for surveillance of vital installations and for the delivery of drugs, arms and ammunitions and other terrorist activities, which is an alarming issue.
India is all out adopting new technology to shoot down the drones coming from across the border. The vigilant troops in the past have spotted several drones crossing over, dropping their payload of narcotics, counterfeit currency and weapons and returning to the origin of flight, taking advantage of darkness and anti-drone countermeasures.
Of late, Indian troops have deployed anti-drone guns which are hand-held as well as mobile guns. Several troops in the border areas are getting training on how to counter drones with anti-drone gadgets. The National Technical Research Organization (NTRO) is now also working on getting the frequency of the drone to jam the range up to its handler.
Officials say that drone movement was tracked 107 times in Jammu and Punjab last year. This year, the movement of drones was seen 14 times on the border of Jammu from January to July. In Punjab also seven drones have been shot down by BSF. In Jammu too, the movement of drones has been seen continuously around the LoC. In June 2021, Pakistani drones attacked the Air Force's technical airport in Jammu. Two drones were used in this and were spotted by the troops but they managed to return to the Pakistan side of IB. Presently, it is very difficult to intercept, stall and deactivate all the drones at such a vast border where many times drones are spotted but they return to their place of origin before some concrete action is planned against them.
Terrorist groups like LeT and its allies in Jammu and Kashmir sent payloads through by using cheap drones to deliver weapons and IEDs. It is low-cost and risk-free where men do not cross the borders. According to data compiled by intelligence agencies, there were dozens of drone sightings which have gone up this year on India Pakistan border and LoC. The majority of drone intrusions have been reported in Punjab and Jammu areas.
Infiltration
August 11: The army foiled a suicide attack on an army base in Pargal, Darhal area of Rajouri district of Jammu and Kashmir. Both infiltrating terrorists were killed and four army persons also lost their lives.
August 21: Indian soldiers deployed in the Jhangar sector of Naushera spotted the movement of two to three terrorists on the Line of Control. One terrorist came close to the Indian post and tried cutting the fence when he was challenged by troops. Two terrorists fled the area by taking cover of dense jungle and broken ground but one was injured. The injured Pakistani terrorist, Tabarak Hussain was captured alive and provided with immediate medical aid and lifesaving surgery. Tabarak Hussain, a resident of Sabzkot village, district Kotli confessing their plan to attack the Indian Army Post. Tabarak Hussain stated that he was sent by a Colonel of the Pakistan Intelligence Agency who had paid him 30,000 Pakistani Rupees. Tabarak also revealed that he along with other terrorists had carried two to three recces of Indian forward posts intending to target them at an opportune time.
On September 4, Tabarak Hussain died of a cardiac arrest according to the officials.
On September 6, the dead body of the terrorist was handed over to Pakistan officials in presence of both Indian and Pakistan officials. Pakistan usually disowns the dead body, but for a change, accepted the body of a Lashkar-e-Taiba terror operative at Chakan Da Bagh on the Line of Control in the Poonch district.
Pakistan, however, claimed that Hussain was "mentally challenged" and summoned the Indian charge d'affaires in Islamabad to protest his death. "The Indian Charge d'Affaires in Islamabad was called to the Ministry of Foreign Affairs and a strong protest was registered over the alleged extra-judicial killing of Tabarak Hussain, a Pakistani national in an Indian Army Hospital in Rajouri," the Pakistan Foreign Ministry said in a statement.
Security agencies in Jammu and Kashmir have sounded an alarm over encounters and infiltration attempts by foreign terrorists along the Line of Control (LoC). The focus of infiltration has largely now shifted to the south of Pir Panjal areas like the Rajouri-Poonch route. Ahead of winters and snowfall, when several hilly routes get closed, there is always a thrust sending as many terrorists as possible. Earlier borders on Kashmir, mostly Kupwara, and Uri Tangdhar in northern Kashmir were quite active.
The paramilitary and army troops have neutralized several intruders and terrorists and apprehended a few trying to infiltrate through the India-Pakistan border. It also seized weapons, including automatic assault rifles, rounds of ammunition, explosive devices and narcotics. Two underground tunnels were also spotted that were being used to smuggle weapons and narcotics. Pakistan is making increased use of tunnels to send terrorists and weapons across the border.
Way forward
Borders need modernisation. They have remained neglected. A continuing research and data centre needs to identify threats and weaknesses on the border so that proper response is knitted keeping into the future threats and use of technology by the enemy. This will help scientists to prepare better technology response/equipment to face the challenges.
In the present century, more technology needs to be used as it is next to impossible to man the difficult, rugged and hilly areas where sometimes it becomes difficult to demark the dividing line. In some places, local hilly people are living beyond the demarcated borders and bunkers.
The borders need 21-century infrastructure and more access to roads, electricity and welfare schemes for the locals. We all know that drones and machines are replacing humans and helping in terrorist infiltration; they are easy to use from a covered location or building on the other side of the border. For these locals need to be educated, and some experts and professionals need advanced machine training to spot and neutralise these flying drones.
Intelligence agencies' inputs suggest nearly 250 militants are waiting across the LoC in Kashmir at various launch pads to infiltrate. Government statistics show that out of 141 terrorists believed to be operating in Jammu and Kashmir, as many as 81 are foreigners and 59 are local. The data also states that 125 terrorists belonging to different groups have been killed during the first six months of the year. And among these, 34 were of foreign origin who had crossed over to this area through LoC/IB.
The troops also neutralized a Pakistani man who was trying to smuggle a consignment of narcotics from the Kathua border. About 27.25 kg of drugs were seized from his possession. Troops also seized about 10.93 kg of narcotics from Akhnoor along with fake Indian currency.
These challenges can be met with the use of modern technology and use of artificial intelligence along with IT-trained manual deployment. Even though presently, anti Insurgency Obstacle Systems (AIOS), night vision devices, and hand-held thermal machines are integrated into the surveillance systems and doing well but much more needs to be done to completely wipe out the menace of infiltration and manage the borders.