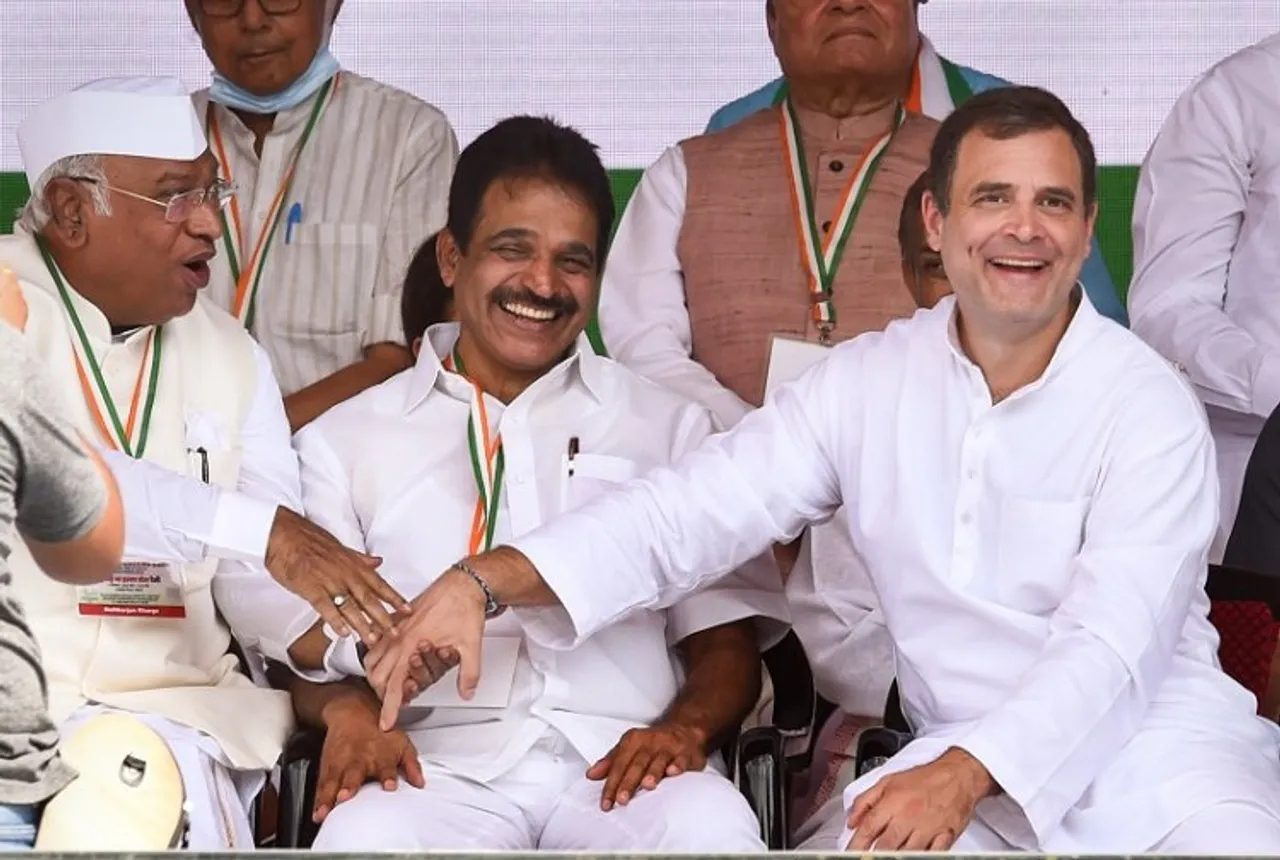 The sight of Congress general secretary in-charge of organisation KC Venugopal always shadowing Rahul Gandhi has become unbearable for many leaders and workers of the grand old party.
Venugopal's rise in the Congress is phenomenal. His proximity to Rahul Gandhi is envied by many.
He first became a Member of Parliament (MP) after winning the Alappuzha Lok Sabha seat in 2009 and was inducted into the Manmohan Singh government as a junior minister in 2011.
But his moment came when he won the Alappuzha Lok Sabha for the second time in 2014. He was among the 44 Congress MPs in the Lok Sabha. That was the lowest ever registered by India's oldest political party in its electoral history.
During his stint in the Lok Sabha from 2014 to 2019, Venugopal came close to Rahul Gandhi. He would always sit next to him and soon became a key member of the party's shouting brigade.
Whenever any member belonging to the ruling Bharatiya Janata Party (BJP) attacked Rahul Gandhi, Venugopal would be the first to get up in the defence.
Rahul Gandhi started consulting and taking his inputs almost on every issue and with it grew his importance in the party.
In April 2017, Venugopal was drafted into the organisation and appointed general secretary in-charge of Karnataka.
In January 2019, Venugopal replaced Rajasthan chief minister Ashok Gehlot as the general secretary in-charge of the organisation, a very high-profile position in the party.
Apart from being very close to the power centre, Venugopal was also now entrusted with chalking out strategy and policy matters for the grand old party.
There is no looking back since then.
In the process, Venugopal has made many enemies within the Congress. His rise has resulted in infighting among those who were considered key members of Rahul Gandhi's coterie.
Initially, Venugopal and Randeep Singh Surjewala were part of the same group but over a period of time, they turned against each other. They were literally at each other's throats.
Many in the Congress attribute the systematic side-lining of Surjewala to Venugopal who by now had accommodated all his close ones in the organisational setup. His team is now fully well-entrenched in the Congress hierarchy.
It is also said that Rahul Gandhi's decision to contest from Wayanad in Kerala was majorly influenced by Venugopal. Rahul Gandhi was given to understand that he was definitely going to lose from Amethi and that he should look for a safe seat. Since the Congress was expected to do better in Kerala, Rahul Gandhi was convinced that Wayanad would be a safe seat for him.
He virtually lost Amethi the day he decided to contest from two seats. Voters had lost confidence in him and they thought he would retain Wayanad and Amethi if he won both. As a result, they supported Smriti Irani who had been extensively campaigning in the constituency even after her defeat in the 2014 Lok Sabha polls.
Rahul Gandhi's gamble is going to have long term repercussions on the Congress. He has moved out of Uttar Pradesh, the country's politically important state that sends the highest number of lawmakers to the Lok Sabha. Out of the total 543 Lok Sabha members, 80 come from Uttar Pradesh.
Little did Rahul Gandhi realise that the victory or defeat is part of the game and that he should have stuck to Amethi and not ditched its voters who felt betrayed by him. He should have taken a cue from his grandmother Indira Gandhi who despite losing the 1977 elections from Rae Bareli against Raj Narain contested and won the seat. However, she later decided to retain Medak in Telangana (then United Andhra Pradesh) and vacated Amethi for her relative Arun Nehru.
As of today, the Congress has only one seat from the state - Rae Bareli represented by Sonia Gandhi. And if she decides against contesting in 2023, it would be extremely difficult for the Congress to retain that seat. It is widely believed that Priyanka Gandhi Vadra might contest from Rae Bareli in 2024.
The emergence of a group of 23 dissenters or popularly known as G-23 is also attributed to Venugopal. Many G-23 leaders were convinced that Rahul Gandhi was going to install Venugopal as the Congress president in August 2020 and through him run the party.
That said, Venugopal has a language barrier and is comfortable only in Malayalam. He doesn't understand Hindi and his English is also very weak. Since the majority of Lok Sabha seats and big states are in the Hindi heartland, this seems to be counter-productive. A general secretary in-charge of organisation from the Hindi belt would have been much more useful than Venugopal. There is a marked difference between the electoral politics in South and North India, which dominates the country's political landscape.
Rahul Gandhi has even ignored the calls from the party's Kerala unit to remove Venugopal who was recently questioned by the CBI in connection with the alleged sexual exploitation of the prime accused in the 2012 Solar scam in the southern state. His rise is also resented in the Kerala Congress for he was never considered a leader with some mass base in the state.
It is due to his influence that Rahul Gandhi agreed to launch his Bharat Jodo Yatra from Kanyakumari in Tamil Nadu. The DMK is an alliance partner of the Congress and it is already holding the fort against the BJP and AIADMK in the state.
Many Congress leaders are of the view that it would have been better to launch this yatra from Sabarmati Ashram in Gujarat and then go to the entire Hindi belt, including Uttar Pradesh, Bihar, Madhya Pradesh, Maharashtra and Rajasthan, and then travel to Himachal Pradesh before culminating in Jammu and Kashmir.
That way, the Congress would have kicked off its election campaign in Gujarat and Himachal Pradesh, the two states going to polls in November-December this year.
The fact that Venugopal does not leave Rahul Gandhi alone on any tour and shadows him everywhere has annoyed many Congress leaders and workers who are forced to maintain a distance from the Gandhi scion.
Obviously, Rahul Gandhi doesn't mind it for now.