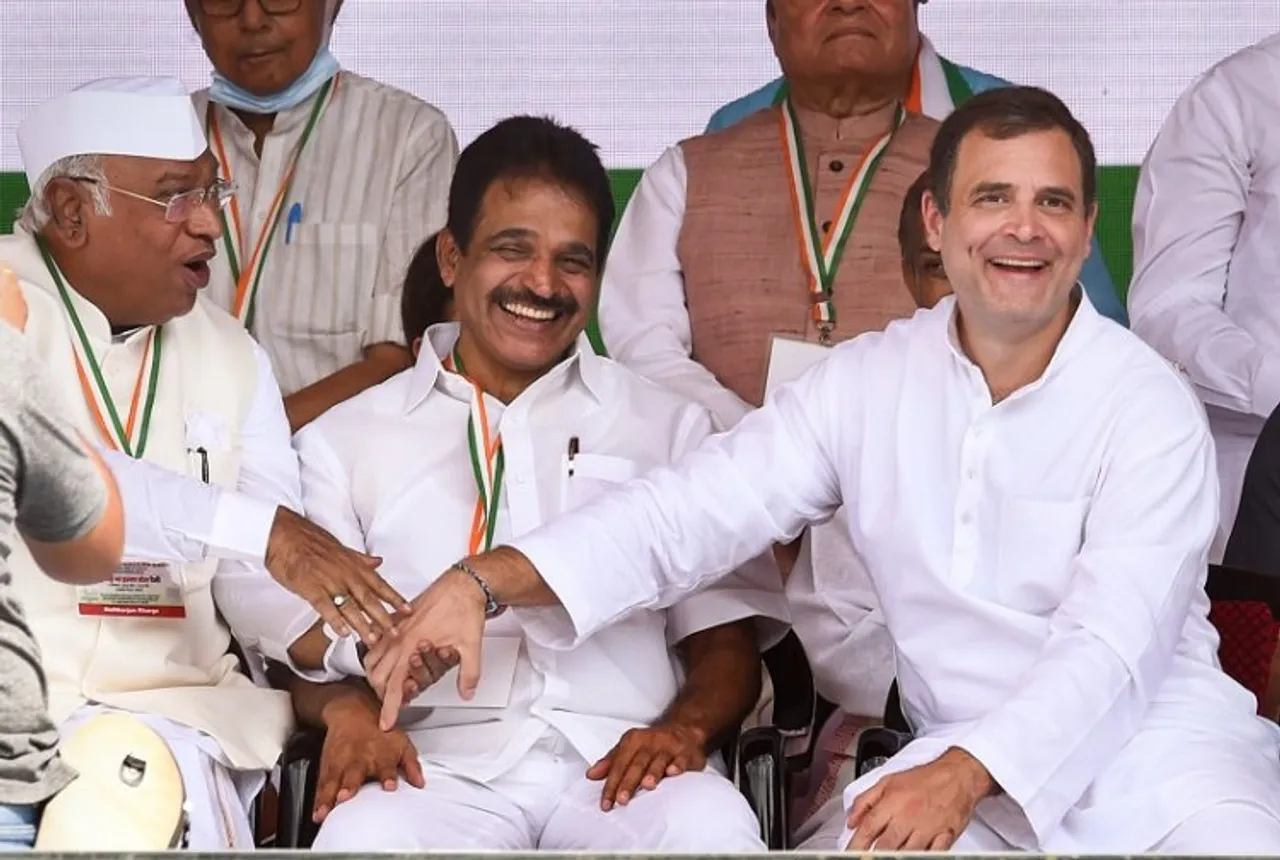 New Delhi: Congress president-elect Mallikarjun Kharge already has his plate full.
Apart from addressing the organisational issues grappling the Congress, the veteran leader also has to select a good team of office bearers to assist him in putting a derailed grand old party back on track.
As the Congress president, Kharge will have to restructure the organisation keeping in mind the aspirations of all the sections of the society and the regions.
As of today, all three top party posts – President, General Secretary (Organisation) and General Secretary (Media and Communications) -- are held by south Indians.
While he comes from Karnataka in south India, his number two General Secretary (Organisation) KC Venugopal hails from Kerala and his General Secretary (Media and Communications) Jairam Ramesh is also from Karnataka.
Soon after Kharge's election as the Congress president, there have been demands from various quarters for naming the next General Secretary (Organisation) from the Hindi heartland.
Some of the names doing the rounds are Digvijaya Singh (Madhya Pradesh), Randeep Singh Surjewala (Haryana), Shaktisinh Gohil (Gujarat) and Ajay Maken (Delhi), who had held the post earlier too.
The Congress is continuously facing criticism for turning into a south Indian party after Rahul Gandhi contested the 2019 Lok Sabha elections from Wayanad in Kerala.
Out of the total 543 Lok Sabha seats, 130 are in south India with 39 in Tamil Nadu, 28 in Karnataka, 25 in Andhra Pradesh, 20 in Kerala, 17 in Telangana and one in Puducherry.
While the Congress has a substantial presence in Karnataka, Kerala and Telangana, it is in alliance with the Dravida Munnetra Kazhagam (DMK) in Tamil Nadu but has over the past few years weakened in Andhra Pradesh, especially after its bifurcation in 2014.
However, the Hindi heartland accounts for 225 Lok Sabha seats in ten states. While the politically important state of Uttar Pradesh sends 80 lawmakers to the Lok Sabha, there are 40 Lok Sabha seats in Bihar followed by 29 in Madhya Pradesh, 25 in Rajasthan, 14 in Jharkhand, 11 in Chhattisgarh, ten in Haryana, seven in Delhi, five in Uttarakhand and four in Himachal Pradesh.
Out of 53 Congress members in the Lok Sabha, 28 are from south India with 15 from Kerala, 8 from Tamil Nadu, three from Telangana and one each from Karnataka and Puducherry.
And out of the 225 seats in the Hindi belt, the grand old party has only six with one each in Uttar Pradesh, Bihar, Jharkhand, Himachal Pradesh, and two in Chhattisgarh.
Kharge knows well that the resurgence of the Congress at the national level by and large depends on its revival in the Hindi heartland.
For that, it is imperative for him to have someone from this belt as in-charge of the organisation. But Kharge's big dilemma is Venugopal's closeness with Rahul Gandhi.
Venugopal is considered to be the eyes and ears of Rahul Gandhi and his removal will largely depend on the former Congress president's consent.
The move, if implemented, will undoubtedly cement Kharge's position and send a huge message to the cadre that he is in complete control of the party organisation. But the big question is if he is able to do that.