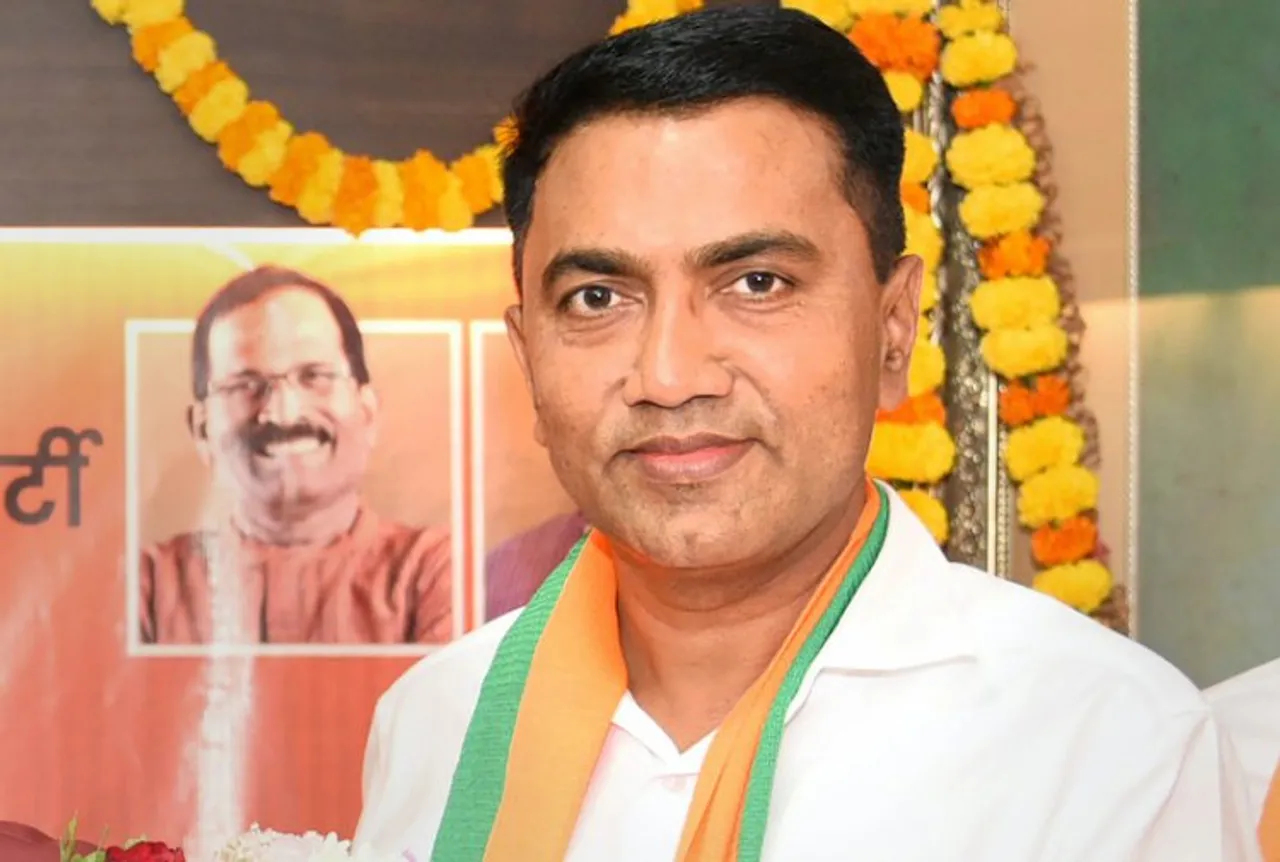 Goa (India): The Pramod Sawant expression that Goans are accustomed to is Bhivpachi Garaz Na (There's no need to be afraid) and that's what he precisely did as Bharatiya Janata Party chose to retain him as the 14th Chief Minister of Goa precisely eleven days after the declaration of results for constituting the Eighth Goa Legislative Assembly. This also brings to a close a saga of nerve-wracking wait for Goa's next Chief Minister that was marred by hectic backroom wrangling and divided the party into multiple factions. The saffron party for the moment is at peace.
The Return of Dr Pramod P Sawant
From being called an accidental CM to the Party's unanimous choice, Dr Pramod Sawant's return as Goa's Chief Minister for a second consecutive term is historic of sorts. He is the first-ever saffron party leader to lead the state of Goa which is more known to be a secular and minority-driven state. The return was also sweetened by the fact that despite a 33% vote share, the Party bagged half of the seats (20) in Goa's 40-member Legislative Assembly. Quite a unique task for the Party that managed to achieve this minus the charismatic former Union Defence Minister / Goa Chief Minister Manohar Parrikar.
But Sawant's return electorally wasn't all that record-breaking. He defeated Congress' Dharmesh Sanglani by a mere 666 votes. Most of those votes coming from postal ballots that have been questioned by the Opposition as being cast in a partisan manner by proxies. But then in politics winner takes it all. With the Sanquelim seat in his pocket, Dr Pramod Sawant as the next CM was almost obvious. 
Though Sawant had no direct role to play in BJP's campaign across Goa unlike his more illustrious predecessor Parrikar, the fact that he was Rashtriya Swayamsevak Sangh's handpicked man for Goa weighed heavily in his favour. In a state where the Catholic Church is traditionally seen as the gamechanger responsible for vote swings, Sawant was the most suitable choice. Also, his excellent relations with BJP's Organising General Secretary Satish Dhond (Goa's equivalent of Amit Shah and sometimes referred to as Super CM) made it convenient for BJP as Sawant is not seen as too ambitious as his predecessor Parrikar to overshadow the central leadership of Modi.
The Challengers, but are they quitting? 
Ironically, the man who proposed Dr Sawant's name for a second term as CM at the BJP Legislature Party meeting earlier this week was also his prime challenger for the position – Valpoi MLA Vishwajit Rane. Rane Jr was earlier in the contention for the same post in 2019 when Sawant had pipped him to the post in 2019 post-Parrikar's death, for the CM's post. Having won the Valpoi seat with a record margin and ensuring that even his father Pratapsingh Rane's seat came into the BJP fold, Vishwajit was hopeful that the Party would acknowledge his efforts. He was summoned to the Centre as the RSS-backed party dragging its feet on an obvious choice for almost two weeks sought to dispel doubts by putting some discipline into its ranks. 
Other challengers including seniormost minority leader Mauvin Godinho and a surprise rookie Himachal Pradesh Governor Rajendra Arlekar who was weighed in as a possible compromise CM were quickly dispelled as the party stuck to an unambitious, 'disciplined' Sawant.
But then, in Goa's politics the larger the numbers – the louder the rumble. Past experiences of parties that have clocked 20 seats or more have shown that their Government does not last long as ambitious wannabe CMs (both within and of supporters) and ambitious groups abound. After the long haul to arrive at a CM consensus, a longer haul awaits the BJP for running its Government for the next five years.