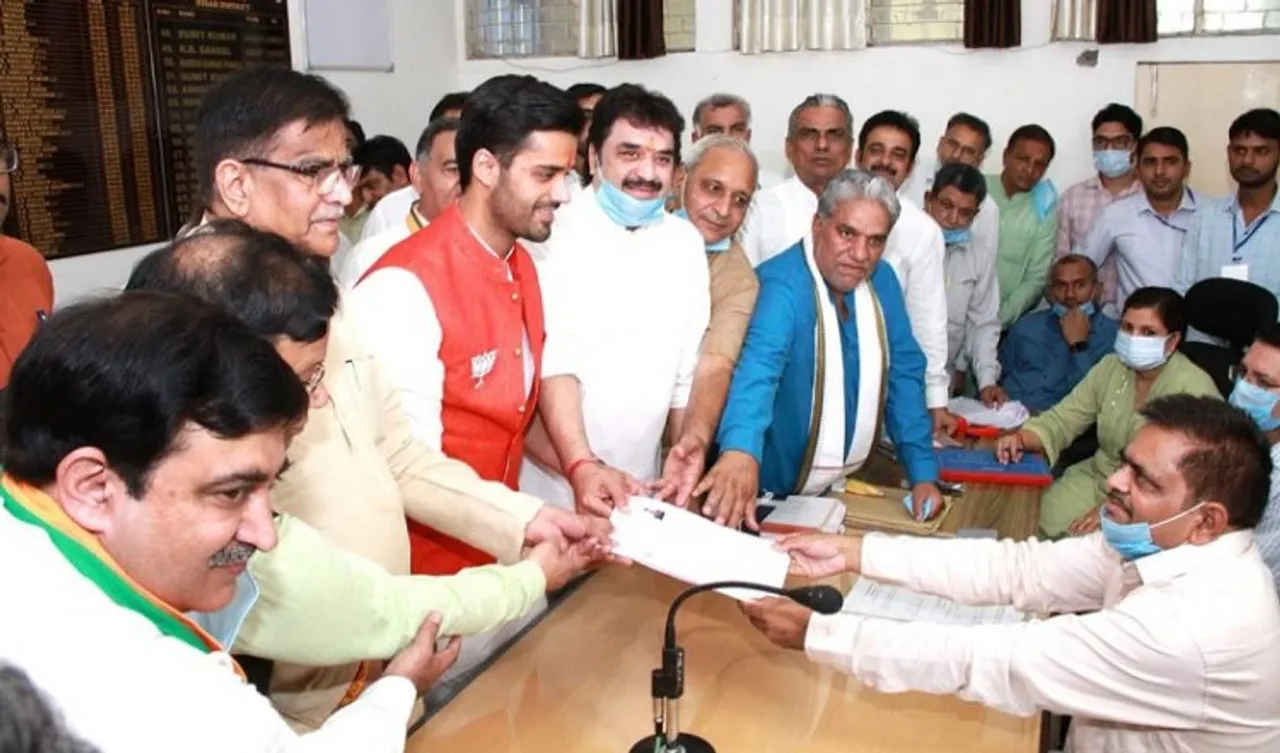 Chandigarh: The November 3 by-election in Haryana's Adampur is set to be a multi-cornered contest.
In the fight over Jat votes, odds appear to be stacked in favour of ruling BJP candidate Bhavya Bishnoi, son of former Congress leader Kuldeep Bishnoi.
The said by-election was necessitated after Kuldeep Bishnoi, quit as a Congress MLA in August this year, and joined the BJP.
While the Aam Aadmi Party (AAP) was first to name its candidate - Satender Singh, followed by the BJP which has fielded Bhavya, the principal opposition party Congress announced its candidate, Jai Parkash, on Wednesday evening and another political major, the Indian National Lok Dal (INLD) named its candidate Kurda Ram Nambardar on Thursday.
Interestingly, even though, all the trio rivals of Bhavya, about 29, are seasoned and more experienced in politics than him, the last named has an edge.
Here is how:
Bhavya derives his strength from his family's political legacy. Adampur is his family bastion as his father Kuldeep Bishnoi has been a two-time MP from Hisar and four-time MLA from the seat on Congress ticket. His grandfather Bhajan Lal, also a tall Congress leader, had been Haryana's chief minister thrice. The Adampur seat has been Bhajan Lal's family's citadel as it has always been won by his family member since 1968.
Though Bhavya had fought his maiden Lok Sabha election in 2019, he had fared poorly on the Congress ticket; this time around, he fights his second election on the ticket of the ruling BJP which has the backing of its coalition partner Jannayak Janta Party (JJP) a splinter group of a political major and opposition party, Indian National Lok Dal (INLD).
Another aspect to Bhavya's advantage - who belongs to the Bishnoi community - is that his trio rivals come from the Jat community who comprise over 40% of votes in the constituency having over 1.5 lakh votes.
The political observers opine that while Bishnoi votes, about 20%, are likely to remain consolidated as always, the Jat votes, like in the past, are likely to be divided among his rivals.
The seat also has about 20% SC votes and about 10% each of OBC, Brahmin, Baniya and Punjabi votes which are likely to back Bishnois.
Back to candidates; the AAP's candidate -Satender Singh, about 45, had contested the 2014 Assembly election from Adampur on a Congress ticket but finished a poor third with just about 10,000 votes. Kuldeep Bishnoi won the seat on his Haryana Janhit Congress ticket (HJC) which he later merged with Congress in 2016. Singh left Congress to join the BJP though he recently switched over to the AAP.
Congress' nominee Jai Prakash, 67, a former union minister and a three-time MP from Hisar, is a native of Dubbal village in Kaithal. He has represented the Hisar Lok Sabha seat (Adampur seat falls under Hisar) thrice – 2004-2009, 1996-1998, and 1989-1991 – each time for a different party.
In 2009, Jai Prakash lost both the polls he contested – the Adampur assembly seat and the Hisar Lok Sabha seat. In 2011, he lost the bye-poll held to the Hisar Lok Sabha seat. In 2014, contesting as an independent candidate, he won from the Kalayat Assembly constituency, but in 2019, he failed to retain it.
INLD's Kurda Ram Nambardar who was in the Congress till Thursday joined the INLD in the afternoon. A tall farmer leader from south Haryana, Nambardar, had first fought an election from Adampur in 2000 and got about 4% votes as the then Haryana Vikas Party (HVP) which got merged with the Congress later. After holding some important posts in Congress, he remained in news for various demands of the farmers since 2014.