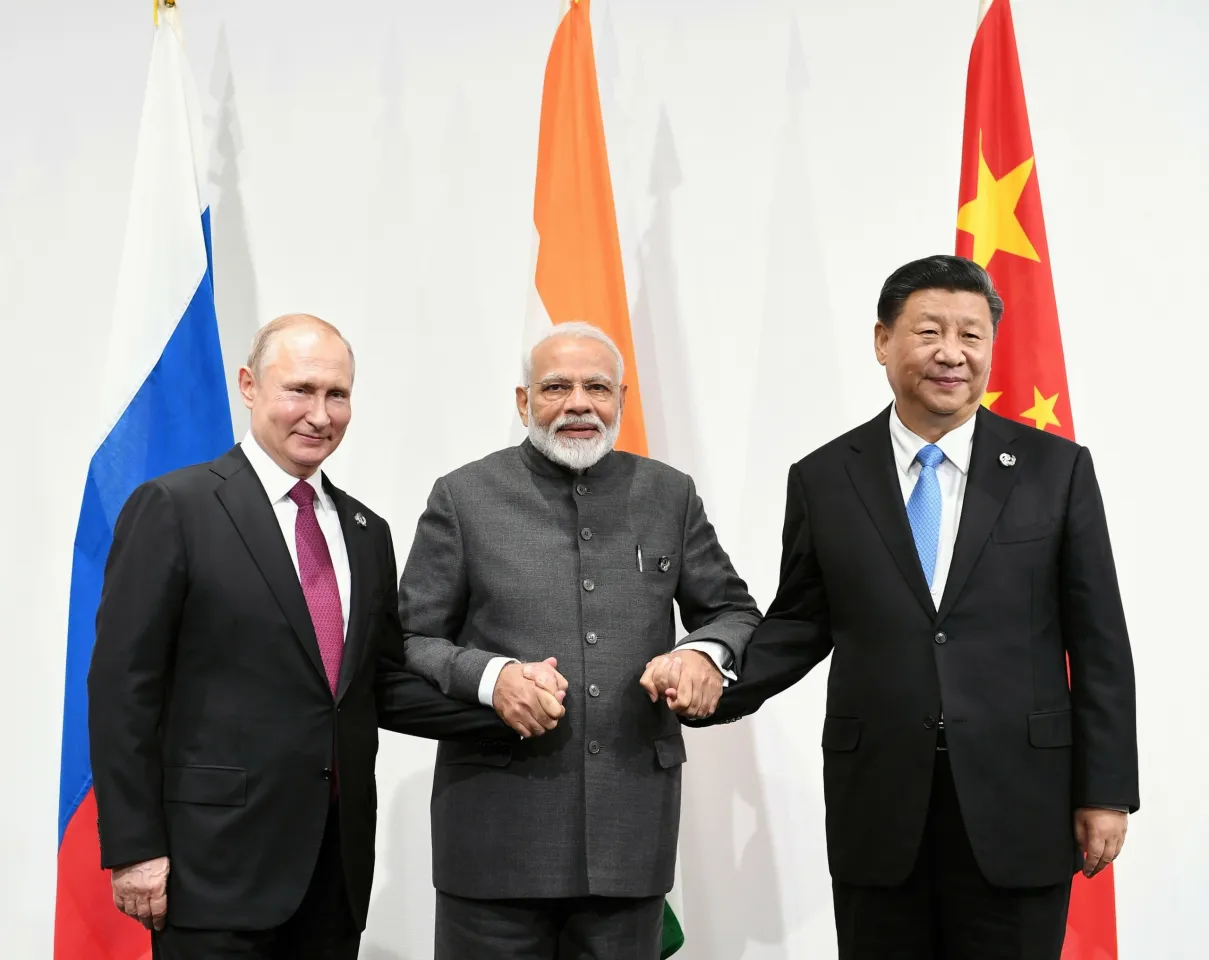 New Delhi: The G20 summit concluded on November 16 in Bali, Indonesia. A lot is being read between the lines that China and India are now drifting away from Russia. The conflict in Ukraine loomed large over the two-day summit on Bali, which Russian Foreign Minister Sergey Lavrov and US president Joe Biden also attended.
The western press went to the extent of saying that India and China, "after months of refusing to condemn Russia's war in Ukraine, did not stand in the way of the release this week of a statement by the world's leading economies that strongly criticizes Moscow."
The Bali Declaration read that it "deplores in the strongest terms the aggression by the Russian Federation against Ukraine and demands its complete and unconditional withdrawal from the territory of Ukraine.
Most members strongly condemned the war in Ukraine and stressed it is causing immense human suffering and exacerbating existing fragilities in the global economy - constraining growth, increasing inflation, disrupting supply chains, heightening energy and food insecurity, and elevating financial stability risks."
In the same voice, the declaration also read, "There were other views and different assessments of the situation and sanctions. Recognizing that the G20 is not the forum to resolve security issues, we acknowledge that security issues can have significant consequences for the global economy."
It clearly shows that the declaration admitted the differences and different assessments among the members on the Russia -Ukraine conflict.
Look close enough, however, and there's enough refinement, not to mention words of ambiguity, in both the official statement released at the end of the Group of 20 summits in Bali and actions from China and India to raise questions about whether a fundamental change is underway.
India and China presently have significant trade ties with Russia and will never like to stop the same. India and China both want to see an end to the war and hence can play as catalysts or negotiations rather than switching sides with the western world.
It is not the first time that India and China have condemned the war. There have been a few UN meetings where India has sided with the Western World and its allies.
On several occasions, India and China have condemned the war that has brought death and misery to Ukraine and disrupted millions of lives shooting inflation and rise in food prices.
Indian Prime Minister perhaps is the only world leader who, in a face-to-face meeting with Russian President Putin, said, "This is no era of war". The western leaders exaggerated even that statement of the Indian Prime Minister, perhaps to create more void between India and Russia.
But equally, several countries have sided with Russia or abstained from many of the sanctions passed by the United Nations. The Last sanction that India abstained from in UNGA was on the eve of the G20 meeting in itself when world leaders were meeting each other in Bali. China went ahead by voting against the resolution along with 13 other countries.
The UNGA resolution calling Russia to pay reparations to Ukraine, India even questioned whether a reparation process would contribute towards efforts at resolving the conflict and cautioned against precedents being set through such resolutions.
"We need to objectively consider whether a reparation process through a vote in the General Assembly would contribute to efforts at a resolution of the conflict. Moreover, the legal validity of such a process by a General Assembly resolution remains unclear," India's Permanent Representative at the UN Ambassador Ruchira Kamboj said.
Ambassador said, "we must, therefore, not create mechanisms or set precedents, without adequate international legal vetting, that have implications for the future functioning of the UN and the international economic system. We need to avoid steps which preclude or endanger the possibility of dialogue and negotiations and from bringing this protracted conflict to an early end."
Moscow, a time-tested partner of India
S Jaishankar, The Indian Minister of External Affairs, on his visit to Moscow on November 8, said that India's relationship with Russia has worked to its advantage. He also affirmed that New Delhi would like to maintain that equation. He also stressed having strong ties with Moscow and said it is a time-tested partner.
Jaishankar in Moscow added, "The fact that I am here today with a delegation to review our cooperation speaks about India-Russia cooperation to see how we can take it forward to create a long-term and sustainable basis, " says it all," he said.
He further pointed out, "I said any objective evaluation of our relations for many decades would confirm that it has served both our countries very well., If it has served my country for many many decades. I think you can see the obvious interests and commitment I would have in keeping that relationship strong and steady."
Sanctions imposed on Russia
Sanctions are the most challenging actions nations can take, short of going to war. Significant penalties are imposed, and their international business is seized, thus punishing them economically for breaking international law.
Since February 23, the day before Russia invaded Ukraine, the European Union's Council has adopted several rounds of sanctions to "impose economic and political prohibition. All efforts were made to cripple the strength of Russian President Vladimir Putin and to "cripple the Kremlin's ability to finance the war".
Western nations tried their best to limit Russia's access to money. The US barred Russia from making debt payments using foreign currency held in US banks. Western governments cut off Russian central banks from SWIFT, the interbank messaging system, to enable cross-border payments.
The White House stated that the "most impactful, coordinated and wide-ranging economic restrictions in history" would cause Russia's GDP to "contract up to 15% this year, wiping out the last 15 years of economic gains".
The EU banned all imports of refined oil products and gas from Russia. The EU stopped importing Russian coal. Several sealines were choked for Russia to transport its goods. Sanctions were imposed on more than 1,000 Russian individuals and thriving businesses working globally. Assets belonging to President Putin and Foreign Minister Sergey Lavrov were frozen in the US, EU, UK and Canada. Hundreds of International Companies suspended trading in Russia or withdrew altogether.
Hardly the sanctions are hurting Russia
It is more than nine months that Ukraine Russia war continued, but what the US and other western countries wanted to achieve from imposing sanctions has yet to be attained. The GDP was supposed to decline massively, which has yet to happen.
It is around a six per cent decline since February 23. The same is valid with consumer price inflation. It, too, has stayed as expected in Russia. One of the main reasons for Russia's survival is several western countries' dependence on energy imports from Russia. It may take years to build an alternative system.
In addition, Russia adopted an alternate method, primarily activating bilateral or domestic systems for business. Russia stopped gas supplies to western countries and even increased its oil prices. Russia may have been affected by having access to the hi-tech components that its military needs, but not in the financial aspect. Russia responded by banning the export of essential goods, including telecoms, medical, vehicle, agricultural, electrical equipment and timber products, which also affected globally.
India and China have emerged as a rescue for Russia
India and China have emerged as significant buyers of Russian Oil and Gas and continue their business with Russia. Moscow is happy to have diversified and increased its sales product towards China and India. China was the world's top importer of crude oil in 2021, with India ranked third behind the US. In conclusion, India, China, and Iran are forming a troika that matters for the survival of Russia against Western sanctions.