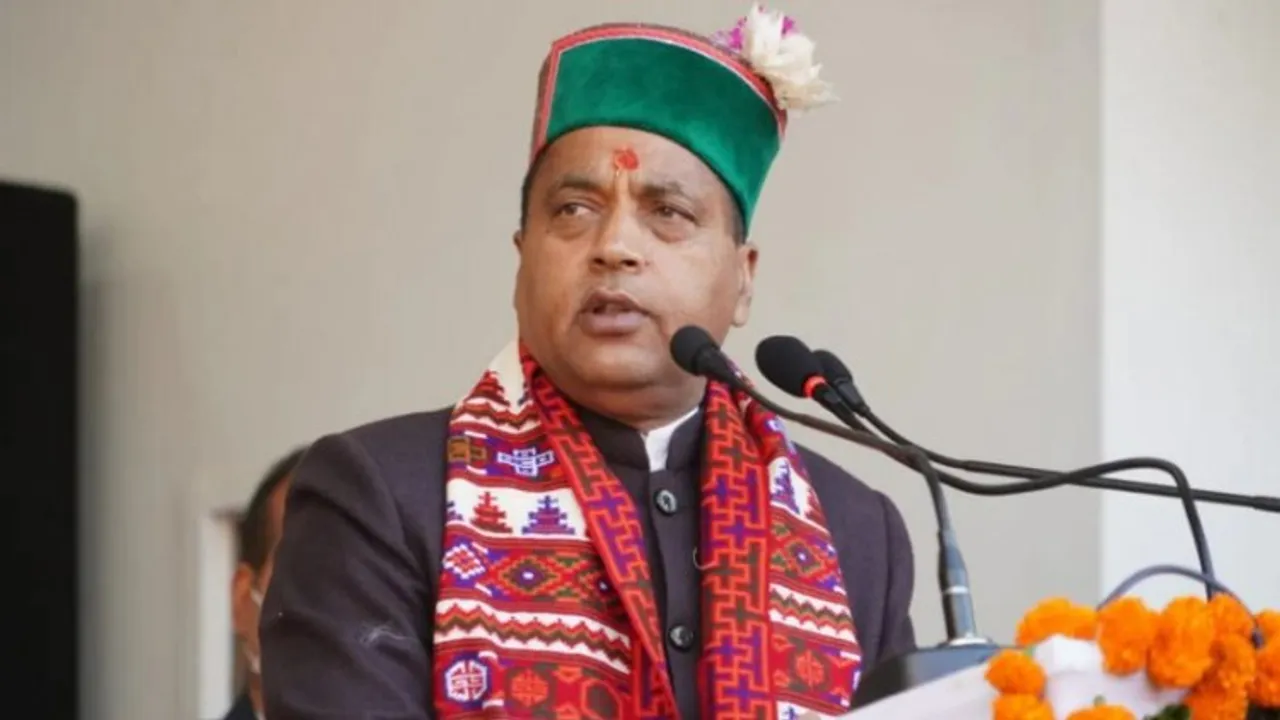 Chandigarh: In order to beat anti-incumbency, Bharatiya Janata Party (BJP) introduced several new faces in its recent ticket distribution. As many as 11 out of 45 sitting MLAs were changed. Two ministers were also sent to new constituencies.
This however led to huge commotion within the party. At least seven BJP party leaders have already filed nominations as independent candidates in a clear revolt against the party.
Many more disgruntled leaders are likely to follow the same suit after the Diwali holidays on Tuesday, October 25, which is also the last day of nomination for the November 12 polls.
Those who have already filed the nominations as independents are the party's senior leader and former Rajya Sabha MP Kripal Singh Parmar from Fatehpur (Kangra district), Tejwant Singh Negi from Kinnaur and Praveen Sharma from Mandi.
Others include Naresh Kumar Darji from Hamirpur, Krishan Lal Thaur from Nalagarh, Abhishek Thakur from Sundarnagar in Mandi district and Hiteshwar Singh from Bangar in Kullu.
Parmer, the party's former state vice president, had unsuccessfully contested from Fatehpur in 2017.
He was preparing hard to fight again but the party sent forest minister Rakesh Pathania in his constituency. Pathania in the last election had won from the nearby Nurpur constituency.
Tejwant Singh Negi, who filed his nomination as independent from Kinnaur, lost his election in 2017 barely by 120 votes. This time, the party denied him the ticket, thereby mounting trouble for the party's new candidate Surat Negi.
There is also a revolt in chief minister Jai Ram Thakur's home district Mandi. Not happy with the allotment of a ticket to Anil Sharma, son of former Union minister late Sukh Ram, from Mandi (Sadar) seat, the party's former state media in-charge Praveen filed his nomination as an independent candidate.
Sharma, who was also the convener of BJP's campaign committee and a known loyalist of former CM Prem Kumar Dhumal, had also resigned from all positions of the party.
Krishan Lal Thakur, the party's former MLA from Nalagarh, held a huge rally on Friday before filing his nomination as an independent. During his rally, he said, "It was a Dharam Yudh (fight for righteousness) and It will not be fought by him but by you people."
He said, "What fault I had. I built schools and colleges and yet the party ignored his work and gave ticket to Congress turncoat (Lakhwinder Singh Rana)."
Similarly, in a setback to BJP official candidate and sitting MLA Rakesh Jamwal in the Sundernagar Assembly seat in Mandi district, party rebel Abhishek Thakur, son of former minister Roop Singh Thakur, filed his nomination as an Independent candidate.
Abhishek, who is believed to have considerable hold here, lashed out at the party for ignoring years of his hard work.
Many in the constituency say that his candidature might divide BJP votes and as result benefit Congress candidate Sohan Lal Thakur.
Likewise, Hiteshwar Singh, who is the son of the party's official nominee from Kullu city, Maheshwar Singh, also filed his nomination as an Independent candidate from Banjar, a constituency in Kullu district.
His father remained victorious twice here in the past. He too is believed to have a huge support base here. He however revolted after the party played its bet on existing MLA Surender Shourie, ignoring his claim.
Meanwhile, Naresh Kumar Darji, who is currently vice president of Hamirpur Zila Parishad, too filed papers as an Independent and vowed to defeat the party's official candidate.
More trouble brewing
Alarmed by rising rebellion, BJP state president Suresh Kashyap warned that if any party leader was found to be contesting the election as an independent, they would not be accepted in the party for six years.
But this warning is not working much as several more party leaders have announced to file nominations after Diwali on Tuesday, which is also the last day of nomination.
Jal Shakti minister Mahender Singh Thakur's daughter Vandana Guleria, who was seeking a ticket from Dharampur has already announced filing nomination as an Independent on Tuesday.
Thakur hang up his boot from this election, after which the party chose his son Rajat Thakur.
This prompted Guleria to resign from the post of state BJP Mahila morcha general secretary and announced that she would be fighting as an independent against her brother.
While party leaders are trying to pacify her, there is a bigger revolt against the party in Dharamsala in the Kangra district.
This time, the party gave a ticket to former AAP leader Rakesh Chaudhary ignoring the claims of sitting MLA Vishal Nehria.
Chaudhary had contested as an Independent in the 2019 Dharamsala before joining AAP and then in June this year, he joined the BJP. As an Independent, he got over 16000 votes.
After the announcement, BJP workers owing allegiance to Vishal Nehria gathered at the party office on Friday and raised slogans.
Leading the protest, Vipin Nehria, a close aide of the sitting MLA, urged the party leadership to change the candidate since he claimed that the party workers of Dharamsala had a strong objection to ticket allotment to Chaudhary.
Vipin then announced to file his nomination papers as an Independent on October 25. As per media reports, Vipin Nehria has tacit support from most of the Gaddi community of Dharamsala, which has a considerable vote bank here.
If he fights the election as an independent, the party may be in grave danger, said locals.
Meanwhile, in the capital city Shimla, party workers have been angered over the shifting of the constituency of sitting MLA and urban development minister Suresh Bhardwaj to the Kasumpti assembly segment.
This created a huge problem for the party. While Bhardwaj is livid, Vijay Jyoti Sen, who was a BJP candidate in the 2017 elections from Kasumpti, already announced to contest as an independent.
Shimla district which has a total of eight seats has never been a strong area for BJP. In 2017 too, it managed not more than three seats.
Meanwhile, in the Kullu district having four seats, BJP is facing dissidents in three seats. While Harjeshwar has already filed nomination as independent from Bangar,  the party is facing dissidents on two more seats – Kullu city and Anni.
In Anni, the party sitting MLA Kishori Lal Sagar has announced to fight as an independent after he was denied the party ticket. Similarly, BJP vice-president Ram Singh is upset for getting ignored by Kullu Sadar.