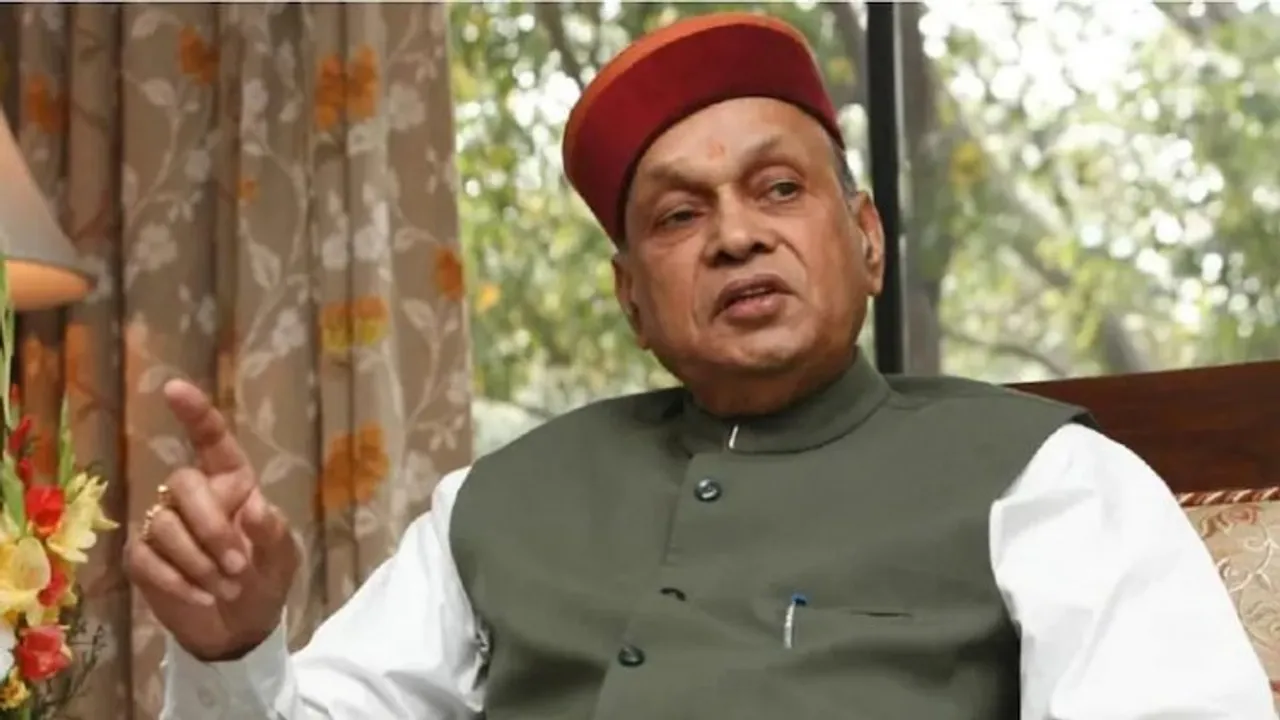 Chandigarh: Hours before Bharatiya Janata Party (BJP) released a list of 62 candidates for November 12 Himachal poll, the party veteran and two times chief minister Prem Kumar Dhumal announced retirement from electoral politics.
He told Newsdrum in a telephonic interaction that he will no longer fight elections. "But I will remain active in politics and campaign for the party wherever I am deputed,'' he added.
Dhumal, who turned 78 in April this year, said that he has himself withdrawn from fighting elections in a letter to the party's central leadership.
"I have had a long inning in politics. I have already crossed 75 years of age. This too coincides with the party's age bar decision on fighting elections," he said.
He however said politics is not all about fighting elections.  "I will stay active and campaign for the party in the coming election," said Dhumal, who unsuccessfully contested his first election from the Hamirpur Lok Sabha seat in 1985.
He entered the lower house of the parliament in 1989 winning from Hamirpur and also became state president in 1993.
Dhumal was elected to the state assembly in 1998 from the Bamsan assembly segment in Hamirpur district and became the first non-Congress chief minister to complete a full five-year term as he led the BJP-Himachal Vikas Congress coalition government between 1998 and 2003.
He returned to serve as the chief minister for the second term in 2007 after BJP won the assembly elections with a thumping majority.
In the 2017 elections, the party again won emphatically under his leadership. But he had his bad luck and missed the chief minister term for a third term after he lost his own election from the Sujanpur assembly constituency in Hamirpur district, from where he contested for the first time.
This was the time when the party decided to make a leadership change by bringing Jai Ram Thakur, who until then was not known much outside Himachal power corridors.
His supporters wanted him to return in the upcoming polls. But he finally decided to withdraw from electoral politics.
Clarity in leadership
His announcement has made clarity the leadership question within the party.
Even as the party's central leadership threw its weight behind Jai Ram Thakur before the coming elections, there was sort of confusion over Dhumal's role especially when he still enjoys pan-state appeal.
His 'graceful' exit has eased tension within the party ahead of crucial November 12 polls. The party has launched a mission repeat campaign and hopes to wrest power again.
Political analyst Professor Ramesh Chauhan told Newsdrum that Dhumal has made a wise decision. Age factor is not entirely a factor in his decision. There are many in the BJP who contested and even became ministers after 75 years of age.
Basically, he knew that Himachal politics has changed post-Dhumal and post-Virbhadra phase and it was better for him to hang up his boots, said Chauhan.
He however added that his legacy is still alive. His son Anurag Thakur is an active member of the Modi cabinet at the centre and his younger son is doing well in BCCI as well.
The chances of Anurag Thakur playing a pivotal role in Himachal politics can't be ruled out in future since the family still has a huge support base across the state, said Chauhan.
Dhumal was part of the meeting of the central parliamentary board which decided on 62 candidates last night.
Many surprises in BJPs candidates' announcement
In the 68-member assembly, BJP has declared the names of 62 candidates with the remaining six names likely by tomorrow.
In the new list, there are several surprises. Forest minister Rakesh Pathania whose traditional seat was Nurpur will contest from Fatehpur in Kangra district.
Urban Development Minister Suresh Bhardwaj who had contested from Shimla (Urban) seat in 2017, has been shifted to the Kasumpti seat in the Shimla district.
The party decided to field Chetan Bragta from Jubbal-Kotkhai in the Shimla district. His father Narinder Bragta was MLA from here. After his death last year, Chetan was denied the party ticket despite his popular appeal.
He fought independently in the by-election and proved his worth by getting more than 25000 votes, losing to the Congress nominee only by a few thousand votes.
In Dharamshala's seat, the party has denied a ticket to sitting MLA Vishal Nehria and has fielded Rakesh Chaudhary, who too is believed to have a huge support base in the constituency.
In the Darang assembly seat of Mandi district, BJP has also denied a ticket to sitting MLA Jawahar Thakur and in his place fielded Puran Chand Thakur.
Similarly in the Bharmaur (ST) seat of Chamba district, the party replaced sitting MLA Jiya Lal.
The BJP won 44 won seats in the 2017 polls, restricting the Congress Party to 21 seats.