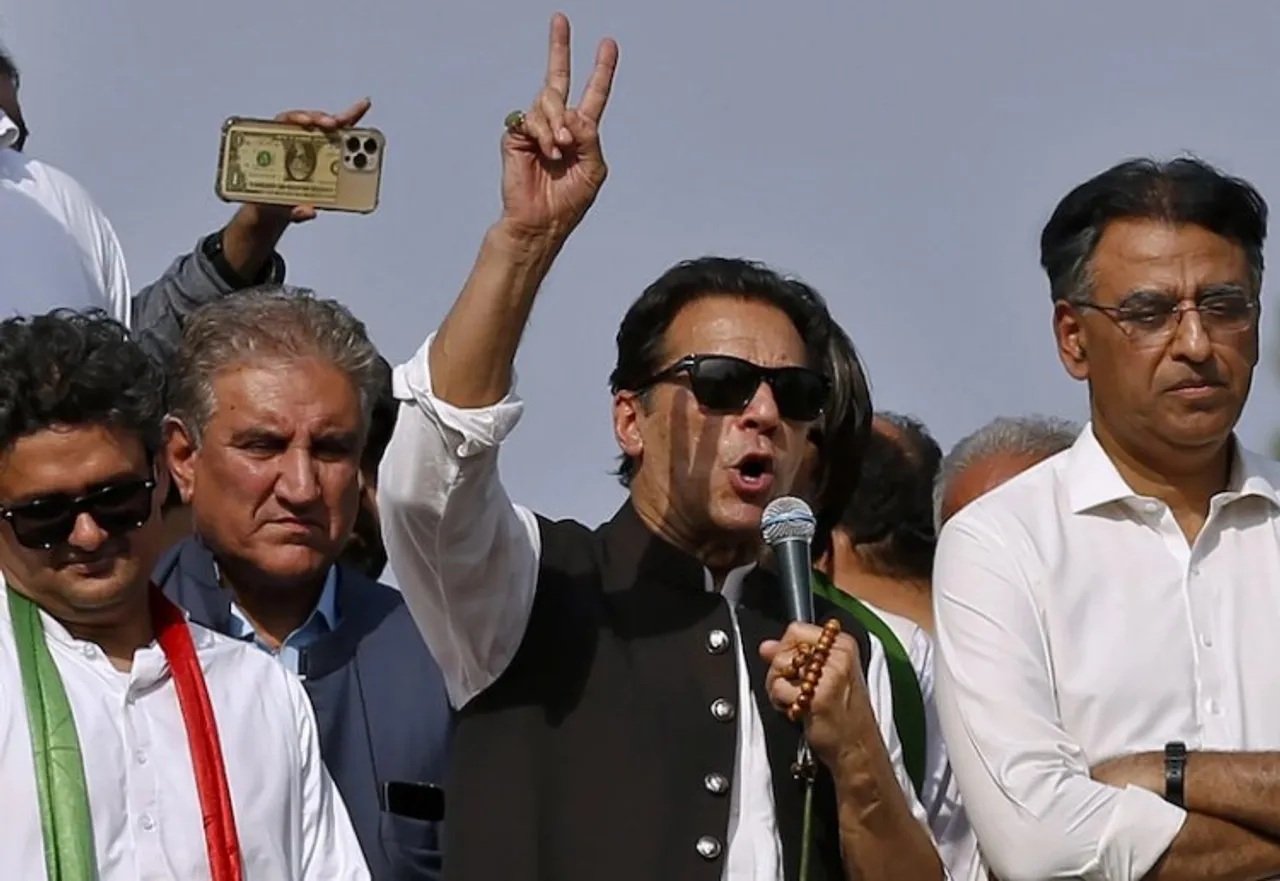 Islamabad (Pakistan): Ever since the creation of the world, the desire of man to rule over human beings like himself has been growing. Once someone gets the power, he is afraid of the idea of leaving the throne. History reveals that Power is an addiction that only those who were once powerful are aware of.
It is said that politics has been a dirty game in third world countries like Pakistan. If power is taken away from someone, he can go to extra mile to regain it. History is full of people, especially the power-hungry politicians who never hesitated to sacrifice a whole camel to get one pound of meat. Pakistan is no exception when it comes to discussing dirty politics.
History reveals politicians and army rulers had left no stone unturned when it comes to prolonging their stay in power. In some cases, once, they were thrown out of power, they never hesitated to sacrifice a whole camel to get their share of one pound of meat.
From General Ayub Khan to General Yahya to Zulfiqar Ali Bhutto to general Ziaul Haq, everyone washed his hand in the sacred waters of Ganga. 
If the military rulers had used the country's powerful army to take over, the civilian leaders brought people's children to the streets either in the scorching sun or cold by lying, alluring, and seducing them. They had not hesitated to shed the blood of their people to create havoc in their politics. Just to achieve their sole purpose – "power".
Following military rulers especially Pervez Musharraf, the Sharifs, and Zardaris, Imran Khan has recently made it to the list of power-hungry leaders in Pakistan who may go the extra length to remain in power.
Khan, relatively a new player in the game of the thrones, made it to the Prime Minister's office following his political party's landmark victory in 2018's general election allegedly with the help of a powerful establishment which include might military generals, the Bureaucrats and powerful judiciary. The establishment, however, rejected the allegations of supporting Imran Khan. 
In a dramatic move, Khan was shown the door in May 2022 after he had failed to gain the vote of confidence from the parliament – an unprecedented move in the parliamentary history of Pakistan.
Insiders say the country's powerful military played a role in Khan's ouster after the latter had locked horns over the transfer of General Faiz Hameed, the then director-general of Pakistan's ISI who has been very close to Khan.
Military chief General Bajwa had replaced Lt. General Faiz Hameed with Lt. General Anjum. In a surprising move, Khan had resisted the move (of transfer of DG ISI) which had proved lethal for Khan. Although the military had denied it, it is widely believed that Khan's resistance to General Faiz's transfer had created a gulf between him and the mighty army chief. The gulf had gradually widened with time leading to his ouster from office finally. 
Although Khan had blamed a foreign conspiracy behind his ouster, the fact is that he was shown the door following a democratic norm. Opposition parties had joined hands in the parliament to oust him from power. However, Imran had insisted he was thrown out from power with the help of a US-backed conspiracy.
"O, my countrymen! I was ousted from power following my visit to Russia against the will of the United States of America. I wanted to strike a deal with the Russian President to get oil at discounted rates. A deal like what India had signed with Russia doing away US pressure," Khan said addressing a huge rally in Lahore earlier this month.
All including the government officials, the intelligence agencies, and the powerful army believe foreign conspiracy didn't exist.
"The words used (in the NSC statement) are clear. Is there any word such as conspiracy used in it? I don't think so," Maj. Gen. Babar Iftikhar clarified during a news conference held on April 14, 2022, and broadcast lives by the country's mainstream media. But a defiant Khan refused to accept reality. Rather than apologizing to the nation for telling a lie (about foreign conspiracy), Khan decided to play an anti-US card.
Khan's dirty game: Anti-US / Anti-West card
Pakistan is perhaps the only nation in the world where a majority of the population wishes to settle in the USA or the West. But still, anti-US sentiments run high amongst them. The majority of Pakistan's middle class strives hard to send their kids to the USA for higher education. They would use every means to get a US visa. In the meanwhile, the majority holds the US responsible for every ill in Pakistan. One can hardly find such a hypocrite class elsewhere. 
A clever Khan is riding on the wave of anti-US sentiments. He has been exploiting anti-US sentiments by Pakistan's majority since his ouster from power. A playboy who had spent his youth among the beauties in the western world is now giving sermons against the Western world. A man whose children are settled in London is now rallying Pakistani youth on the roads and streets across Pakistan asking them to take a stand against the US and the West. 
The youth majority, who apply for US and European visas every year, are now rallying against the USA under the supervision of Khan. Apart from that, a significant number of leaders from Khan's PTI have their families settled either in Europe or in the USA. 
Shah Mahmood Qureshi, former foreign minister in Imran Khan's cabinet had his son working in the law firm of Senator John Kerry. Out of 19 unelected members of Imran Khan's cabinet, four assistants had dual citizenship. Moeed Yusuf, National Security Advisor of Pakistan in Khan's regime was the Associate Vice President for Asia at the Institute of Peace in Washington, D.C. However, Khan had no issue with the US then. 
Analysts believe Imran khan had badly failed in addressing the multiple issues including the devaluation of local currency, unemployment, deteriorating economy, and inflation. These factors had made the opposition parties come on the same page to get rid of Khan who, they believed, was transforming a nuclear-armed state into cash-starved and poverty-hit Rwanda, a tiny country in Africa. 
Khan had failed to restore the economy for three and half years while losing Army's support. In this scenario, analysts say that Khan had left with only one choice to gain sympathy from across the masses – to provoke anti-US sentiments. And he did it perfectly.
Khan is undoubtedly riding on the anti-US sentiments. People in Khyber Pakhtunkhwa province where his party is ruling for the last nine years have thrown their weight behind Imran khan despite a majority of his supporters knowing the truth (that US conspiracy theory does not exist). 
However, Khan has lost the support of a majority in the populous province of Punjab where his political workers are found switching loyalties just because of Khan's unrealistic anti-US rhetoric. 
However, power-hungry Khan is not relenting. An audiotape accidentally released to mainstream media in Pakistan revealed on Saturday how Imran Khan requested his friend to strike a deal with one of the main opposition leaders in Pakistan.
A 32-second conversation, held between Pakistan's property Moghul Malik Riaz and former President of Pakistan Asif Zardari revealed on Saturday that Imran had been sending him messages asking him to help "patch up" with the PPP.
"Today, he (Imran Khan) has sent too many messages," the voice believed to be of the property tycoon told the former President, who in response said, "It is impossible now. 
"It's okay. I just wanted to bring this to your notice," said Riaz's alleged voice," Dawn, a daily newspaper reported on Sunday.