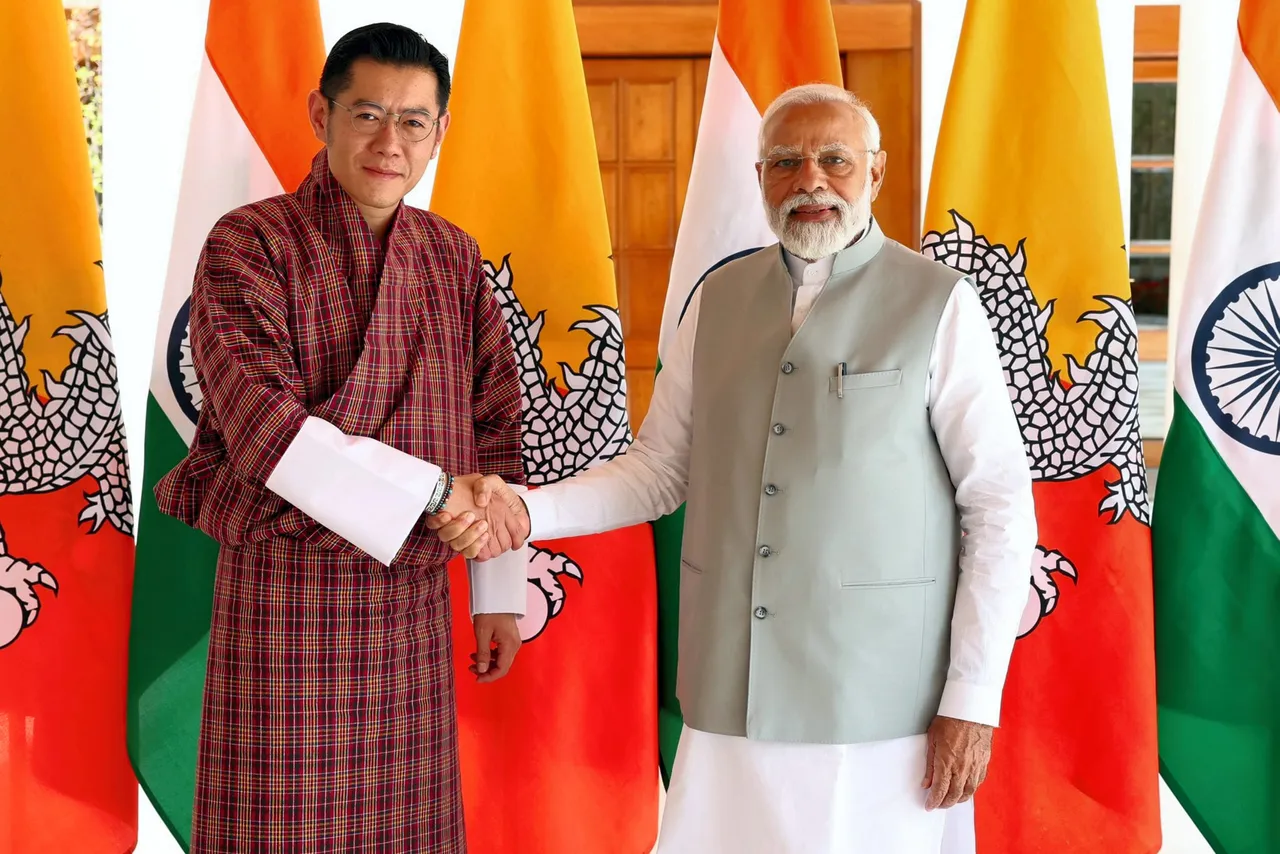 New Delhi: Bhutan's King Jigme Khesar Namgyel Wangchuck, accompanied by his Foreign Minister Dr Tandi Dorji and other dignitaries, arrived in New Delhi on Monday, amidst India's concerns over recent comments made by Bhutan's Prime Minister on Doklam issues to a foreign newspaper.
The visit, spanning three days, was extended on an invitation from President Droupadi Murmu and was met with a warm reception by India's external affairs minister, S Jaishankar, who personally welcomed the Bhutanese King at the airport.
During his stay, King Jigme engages in high-level meetings, including with India's Prime Minister Narendra Modi and President Droupadi Murmu, focusing on enhancing bilateral engagement in various areas, particularly economic and security cooperation.
National Security Advisor Ajit Doval also had the opportunity to call on King Jigme on April 04, further reinforcing the importance of the visit. External Affairs Minister Jaishankar, in his interactions with the Bhutanese King, expressed deep appreciation for King Jigme's vision to strengthen the unique partnership between Bhutan and India.
The discussions during the visit were conducted in a spirit of mutual respect and friendship, underscoring the enduring ties between the two neighbouring nations. Both countries look forward to continuing their solid, strategic relationship based on shared values and interests. The visit was a testament to the close and enduring bond between the two countries, rooted in mutual respect and collaboration.
The unique relationship between India and Bhutan has been preserved by a custom of frequent high-level exchanges between the two nations, such as Prime Minister Narendra Modi in August 2019 and Jaishankar's visits in 2019 and April 2022.
Foreign Secretary Vinay Kwatra visited Bhutan in January this year. Earlier in February 2023, a Parliamentary delegation from Bhutan led by Wangchuk Namgyel, Speaker of the National Assembly of Bhutan, called on President Murmu at Rashtrapati Bhavan.
Controversial comments by Bhutan's Prime Minister
In a recent interview, the Bhutanese prime minister said that China has an equal say in resolving the border dispute in Doklam. Bhutan Prime Minister Lotay Tshering's made the remarks during an interview with Belgian newspaper La Libre during a recent visit to Brussels. "We do not encounter major border problems with China, but certain territories are not yet demarcated. We still have to discuss it and draw a line," he told the newspaper.
Tshering said that "There are three of us. There is no big or small country; there are three equal countries, each counting for a third. We are ready. As soon as the other two parties are ready too, we can discuss," he told the Belgian daily.
Bhutanese PM downplayed Chinese incursion
Besides, the Prime Minister also downplayed the multiple media reports claiming China constructed villages inside the Bhutanese territory. During the interview, he denied any such actions by China and said, "This is an international border, and we know exactly what belongs to us."
India's concerns
Bhutanese Prime Minister comments triggered concerns in India after he asserted China has equal rights in resolving the border dispute in Doklam-- an area in Bhutan with a high plateau and a valley, lying between China's Chumbi Valley to the north, Bhutan's Ha District to the east and India's Sikkim state to the west. India, in no case, is ready to accept this situation and will be pretty aggressive if rechallenged by the Chinese troops in the area.
India's other concern is China's attempts to expand its influence over Thimphu, regular visits by their officers and diplomats and increasing border talks between the two countries. The last border talks between the two countries were held in January 2023. In October 2021, Bhutan and China signed a "three-step roadmap" agreement to expedite negotiations to resolve their boundary dispute. Bhutan shares around the 400-km-long border with China, and the two countries have held over 24 rounds of boundary talks to resolve the dispute. China has no embassy in Bhutan and is desperate to open one.
Bhutan's importance for India
Bhutan is a strategically important country for India, and the defence and security ties between the two sides have witnessed significant expansion in the last few years. New Delhi considers Bhutan one of the oldest allies, and any attempt by China to make a base in Bhutan will not go well strategically for India. The strategic ties witnessed an upward trajectory in the last few years in the backdrop of a 73-day face-off between Indian and Chinese troops in the Doklam tri-junction in 2017.
The Doklam plateau is considered an important area for India's strategic interest. The standoff at Doklam tri-junction in 2017 began after China tried to extend a road in an area that Bhutan claimed belonged to it. India had vehemently opposed the construction as it would have impacted its overall security interests. The India-China face-off was resolved following several rounds of talks. India has consistently been Bhutan's top trading partner and remains the leading source of investments.
Bhutan is also the largest benefactor and has earmarked $282 million for its development during 2022-23. New Delhi accounts for 82% of Thimphu's total external trade. Besides, during the COVID-19 pandemic, New Delhi was the first nation to send at least 13 Covid shield vaccine consignments at the virus wave's peak. In November 2021, India formally opened seven new trade routes for Bhutan's bilateral and transit trade with India. New market access allowed the formal export of 12 agriproducts from Bhutan to India.
Raising Arunachal Pradesh boggy
In addition, when the Bhutan king is visiting India, China once again raised the boggy of rechristening into Chinese names for 11 places in Arunachal Pradesh which they claim as the southern part of Tibet. China's Ministry of civil affairs released the official names of the 11 places.
India outrightly rejected China renaming places in Arunachal Pradesh, asserting that the state is an integral part of India and assigning "invented" names does not alter this reality. "Arunachal Pradesh is, has been, and will always be an integral and inalienable part of India. Attempts to assign invented names will not alter this reality," he said. It was the third batch of standardised geographical names for Arunachal Pradesh issued by China's civil affairs ministry.
The first batch of the standardised names of six places in Arunachal Pradesh was released in 2017, and the second batch of 15 places was issued in 2021.
Meanwhile, The United States came up with a strong statement recognising the territory (Arunachal Pradesh) for a long time (as an integral part of India). The US also strongly oppose any unilateral attempts to advance territorial claims by renaming localities," White House Press Secretary Karine Jean-Pierre said.
Why is Chinese Provocation currently
In the current year, India will hold two crucial multilateral summits, SCO and G20. In both these summits, top Chinese officials along with other global leaders are going to participate. Also, India's image as a future international player is gaining amongst the world powers and global south countries. India's gain is jittering with the Chinese, who want to add a spook in the wheel on smooth happenings in India and try to divert the building of the Indian narrative globally.