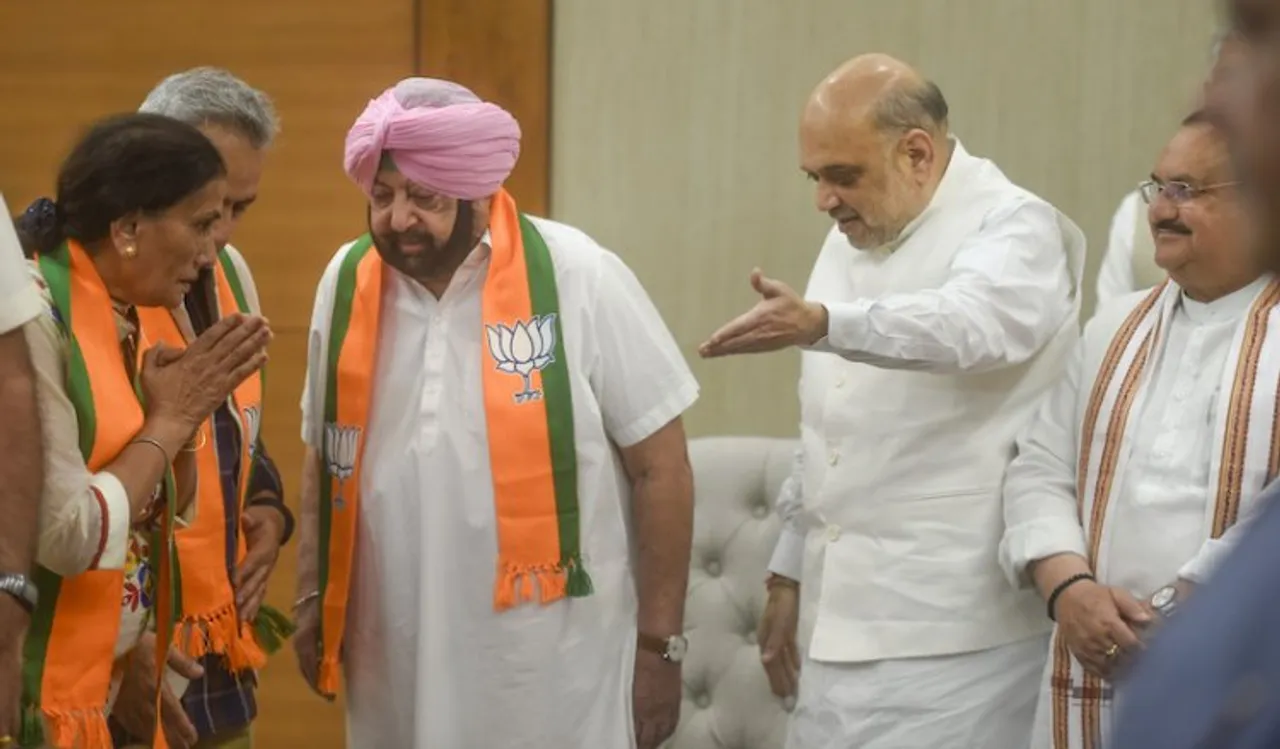 New Delhi: Soon after the announcement, former Punjab chief minister Captain Amarinder Singh thanked Prime Minister Narendra Modi, home minister Amit Shah and Bharatiya Janata Party (BJP) chief JP Nadda for including him in the BJP national executive, a high-profile panel that has 83 members. 
The BJP's national executive is equivalent to the Congress Working Committee (CWC), the grand old party's highest decision-making body. The national executive is also a central decision-making body of the BJP. It has 55 special invitees and 179 permanent invitees, including chief ministers. 
Amarinder has fully realised that this is the best he could get in the BJP after having quit the Congress following his unceremonious removal as the Punjab chief minister last year. He later formed his own party, the Punjab Lok Congress, which he later merged with the BJP. 
Even his close aides say that this is just a symbolic appointment and that he would have no major role in the jumbo panel. 
One of his aides in fact went on to claim that had he remained in the Congress, there were high chances that he could have been its president rather than Mallikarjun Kharge.
At 80, Amarinder had already crossed the age bar of 75 years set by the BJP leadership for its members to hold any post in the government or the party or to contest any election. 
It was widely speculated that Amarinder might be appointed as a governor but with his inclusion in the BJP's national executive that door seems to have been closed too. 
NewsDrum had earlier reported that Amarinder does not bring much to the BJP table except that he is a prominent Jat Sikh face with good credentials, having served the Indian army apart from being the chief minister of Punjab twice – first from 2002 to 2007 and then from 2017 to 2021. 
Also read: Will BJP relax its 75-year age ceiling for Capt Amarinder Singh?
Amarinder has lost the connect with the ground over the years though he tried to stay politically relevant by supporting the farmers in their agitation against the three farm laws, which were eventually withdrawn by the central government after a year-long protests at Delhi borders. But even that didn't help him win his own seat (Patiala Urban) in the assembly elections earlier this year. He lost to Aam Aadmi Party (AAP) candidate Ajit Pal Singh Kohli, barely managing to save his deposit. 
The BJP wants to use his experience to make some inroads in Punjab in the 2024 Lok Sabha elections. As of now, it seems a tough task for Amarinder to help the saffron party achieve its goal in the state.