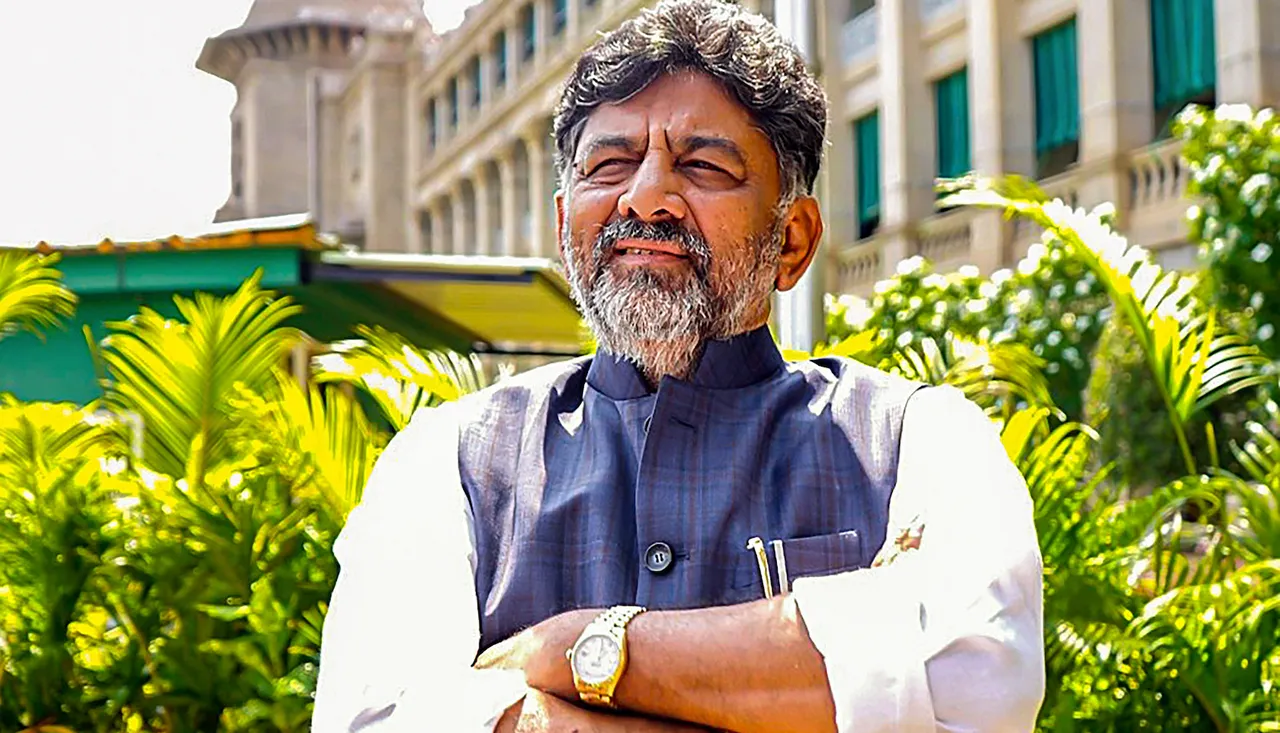 New Delhi: Is it the end of the road for Karnataka Deputy Chief Minister DK Shivakumar?
Any political pundit worth her or his salt would like to answer in negative to the question posed above. And some may like to call the question outrageous too. 
But history, as they say, is a great teacher. 
One just has to go back to Rajasthan in 2018 to look for answers to the question.
Everything was going right for Sachin Pilot - he was chief of the Pradesh Congress Committee. The party had won the election in his leadership but everyone knew Ashok Gehlot will not allow Pilot to even dream of the chief minister's chair. But still Pilot staked his claim for the top post. Following much deliberations at the high command level, Gehlot emerged as the choice for CM's post and Pilot joined the Gehlot cabinet as Deputy CM.  
Now shift to Karnataka in 2023 as Rajasthan Congress continues to feel the after-effects of the 2018 decision by the high command. 
DK Shivakumar was state party president in Karnataka like Pilot and he too staked a claim on the top post but lost out to Siddaramaiah and joined his cabinet as the Deputy CM.
Tensions are already emerging in both camps as a state Congress leader MB Patil said there was no power-sharing formula between the CM and Deputy CM. 
Shivakumar responded to his remark by saying, "Let them say what they want. There is the All India Congress Committee (AICC) president, there is the chief minister and then there is the AICC general secretary to take the decision."
Shivakumar is no novice in politics and he would know that there was talk of similar power-sharing formula between Chhattisgarh CM Bhupesh Baghel and senior party leader TS Singhdeo wherein it was said both of them would share the CM post for 2.5 years each. But as Chhattisgarh goes to poll later this year, Baghel continues to remain the CM. 
Similarly, it is highly unlikely that Siddaramaiah will vacate the chair for Shivakumar after half of his term is over. 
Now let's come back to Pilot.
Pilot remained stifled in the Gehlot cabinet and in an effort to topple his government, he rebelled by gathering 19 MLAs loyal to him but his effort failed and Pilot had to give up his rebellion. In the process, he lost the posts of Deputy CM as well as of state party chief. 
Siddaramaiah too, like Gehlot, is unlikely to provide Shivakumar with any space to operate freely in the governance of the state. He will hold all the levers of power tightly and like Pilot, it is very much likely that Shivakumar may feel totally stifled in the cabinet. 
But like Pilot, will he rebel? He can, he might as he has enough resources to buy the loyalty of MLAs but such a situation is still months away. 
Here his situation is a bit different from Pilot's as he is unlikely to hobnob with BJP to topple Sidda. But political observers say he could very well like to force the hands of high command to topple Sidda. 
Now all these moves are fraught with many dangers with many unknowns and there is no guarantee that he might be able to unseat Sidda.
Hence, let's go back to the question asked at the outset - is it the end of the road for DK Shivakumar? 
To beat a wily leader like Sidda, Shivakumar needed to think out of the box and it seems he played traditionally and didn't improvise. 
Learning a lesson from Pilot and avoiding his fate, Shivakumar could have avoided joining the Sidda cabinet and preferred to remain the state party chief at least till the 2024 general elections which are just a year away. 
In this manner, Shivakumar would have maintained his independence and the status of a leader who is equal to Sidda. If the party performed better in Karnataka, he could have forced the high command to anoint him the CM. But Shivakumar could not resist tasting the fruits of power and now the fate of a fellow Congressman from Rajasthan awaits him.