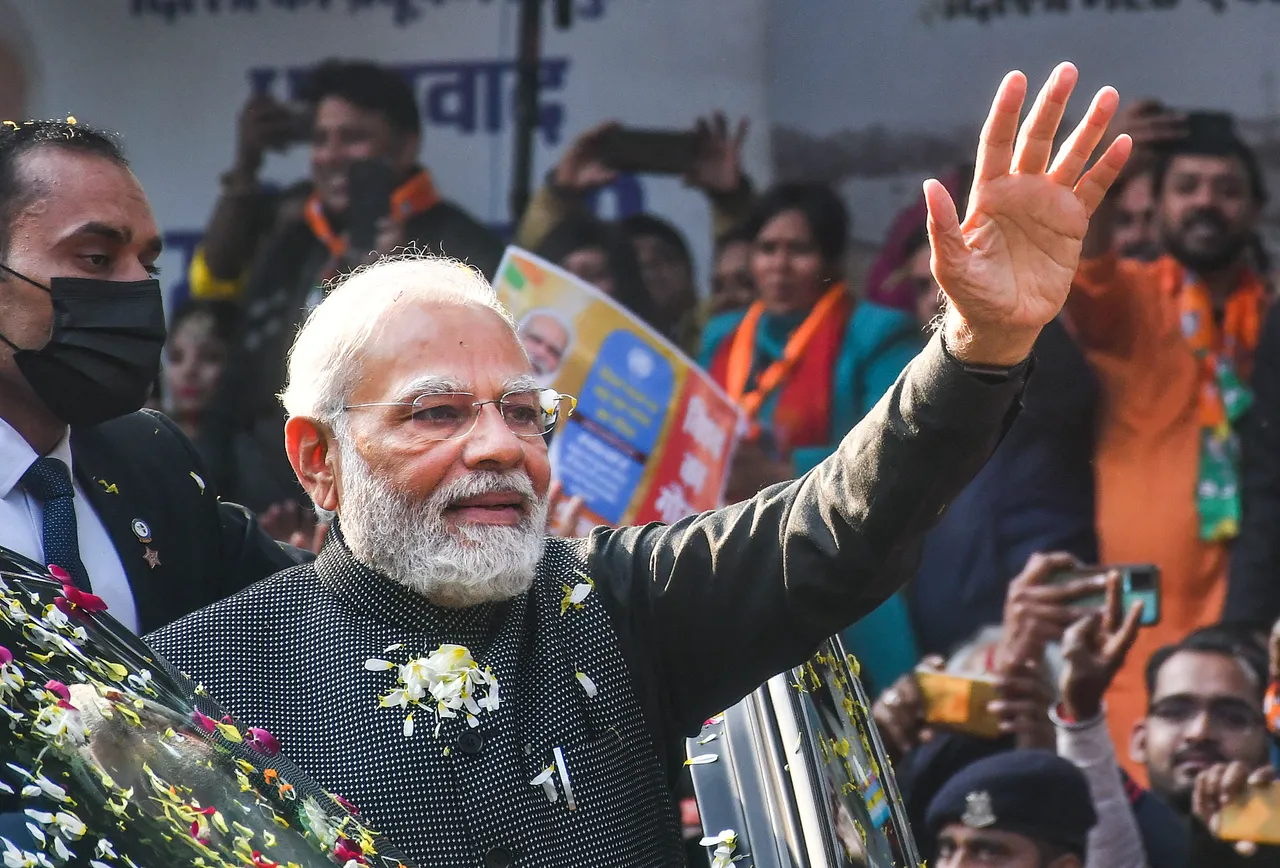 New Delhi: Prime Minister Narendra Modi is flooded with requests to contest the 2024 Lok Sabha elections from south India apart from Varanasi in Uttar Pradesh.
Bharatiya Janata Party (BJP) leaders claim that the move will give a huge boost to the party workers from southern states.
The first such hint was dropped by Tamil Nadu BJP chief K Annamalai who said that the Prime Minister was considered an insider in the southernmost state of the country and that he had in the past eight years transcended regional barriers.
It is widely speculated that Modi will be contesting from Ramanathapuram though there is no official confirmation yet.
Modi had fought the 2014 Lok Sabha elections from two seats -- Varanasi in Uttar Pradesh and Vadodara in Gujarat. He won both seats but opted to represent Varanasi. He was re-elected from Varanasi in 2019.  
The move will help the BJP to strengthen its support base in entire south India. As of now, it is strong in Karnataka and trying its best to make its presence felt in Telangana and Andhra Pradesh. The BJP had been trying to make some inroads in Kerala for years now but has failed so far while it is trying to piggyback on the All India Anna Dravida Munnetra Kazhagam (AIADMK) in Tamil Nadu.
Out of the total 543 Lok Sabha seats, 130 are in southern India — 39 in Tamil Nadu, 28 in Karnataka, 25 in Andhra Pradesh, 20 in Kerala, 17 in Telangana, and one in Puducherry.
According to Annamalai, Modi has blurred the lines such as an outsider and a regional identity. "Caste identity, Tamil-based identity and a lot of things go into people's minds in deciding who they vote for. But Modi ji has transcended everything. Probably he is the first outsider in Tamil Nadu. Nobody has done it. It is a sign that Modi ji has transcended everything. 2024 would be a very different election," he said.
Asked if it would be a difficult proposition for Modi to venture into Tamil Nadu as even the Gandhi family fought from Karnataka and undivided Andhra Pradesh but never thought of contesting from the southernmost state, Annamalai said the Prime Minister is seen as a unifier and, there is a wave in his favour.
"Modi ji is seen as a unifier, as the first person who took the effort to reach out to Tamil Nadu. The way his magic translates into votes is an art. We are working like a wire now, putting people in booths. They know which house to go to, which person to approach, and which voter is voting for us," he said.
In 2019, the then Congress president Rahul Gandhi contested from Wayanad in Kerala apart from Amethi in Uttar Pradesh. While he won decisively from Wayanad, BJP's Smriti Irani defeated him in Amethi.
Prior to Rahul Gandhi, his grandmother Indira Gandhi and mother Sonia Gandhi contested Lok Sabha polls from Karnataka in the past.
Indira Gandhi successfully contested the Lok Sabha by-elections from Chikmagalur in 1978, a year after she was defeated by Raj Narain of the Janata Party from Rae Bareli post the Emergency. One of her loyalists, DB Chandre Gowda, had vacated the seat for her. The former Prime Minister defeated former chief minister and Janata Party candidate Veerendra Patil by a margin of more than 77,000 votes.
The victory was a turning point in Indira Gandhi's career and effectively revived her political chances. Two years later, she swept back to power in the 1980 Lok Sabha elections, with the Congress winning 353 seats. She contested from Rae Bareli in Uttar Pradesh and Medak in undivided Andhra Pradesh. However, she retained Rae Bareli.
Following the footsteps of her mother-in-law, soon after joining politics, Sonia Gandhi contested the 1999 Lok Sabha elections from two seats – Bellary in Karnataka and Amethi in Uttar Pradesh. She defeated BJP leaders Sushma Swaraj from Bellary and Sanjay Singh from Amethi. She chose to represent Amethi and gave up Bellary.
Adding to the speculation was the Prime Minister's remarks during his address to students at the sixth edition of the Pariksha Pe Charcha event held on Friday when he said that Tamil is the oldest language of the world and is a big treasure and source of pride for all Indians.
"Did you know Tamil is the oldest language of the whole world, not just of India? Shouldn't such a country be proud? We have such a big treasure, a big source of pride. Our chest should swell with pride, and we must tell the world this," Modi said, adding that he had spoken in Tamil during an address at the UN General Assembly in 2019 to spread this message.
The indications are there but it remains to be seen if Modi finally decides to go to south India.