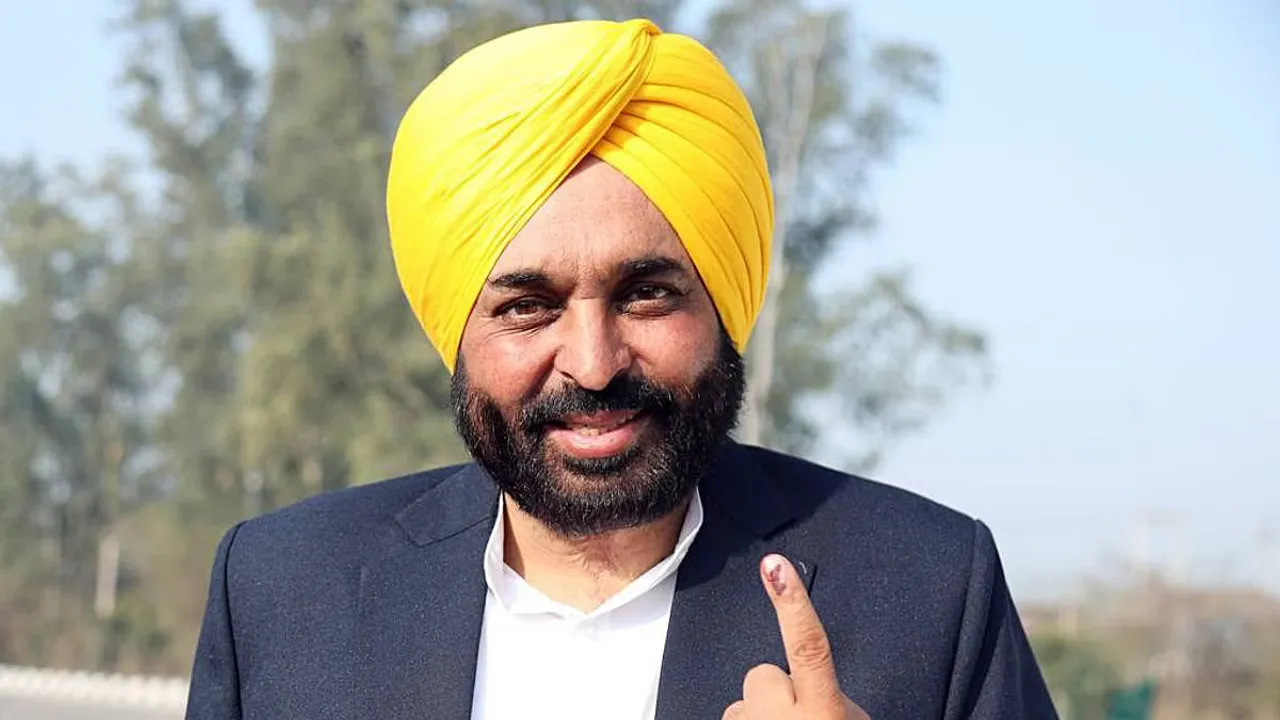 Chandigarh: Several newspapers on March 16 carried front-page advertisements issued by the Aam Aadmi Party (AAP) government in Punjab in which it claimed a list of major achievements on the occasion of its first year in office.
Political observers believed some of the decisions by the AAP government like regular jobs to 26,800 people and clearing encroachments on 10,000 acres of panchayat land was well taken.
Focusing on health, it opened 500 Aam Aadmi clinics on the lines of the Mohalla clinic by the AAP government in Delhi in a bid to strengthen primary health services and diagnostic test facilities.
There are teething problems like staff shortages in these new health premises, which affected the working of other government-run health centres. But the state has assured to deal with it on priority in near future.
Its track record in fighting corruption too was better than previous regimes but some of its own MLAs and ministers were too caught in corruption scandals, thereby bringing a bad name to their own government.
It also fulfilled its pre-election promise of 300 units of free electricity every month although it bleeded state finances and created a potential scenario for the steep rise in Punjab debt since Punjab's revenue collection is still not adequate.
But one area where it struggled throughout the year and faced maximum criticism from the opposition is law and order.
Murders, gang wars, the rise of separatist politics and drug-related deaths - Punjab saw it all in the last year of AAP rule.
Senior journalist Baljit Balli told NewsDrum that law and order have been a major challenge for the AAP government in the past 12 months of its rule.
Punjab being a border state is a complex state to rule. It is therefore very critical to keep the morale of the police up all the time. But the recent events in the state did bring down the police morale, said Balli.
Balli was indirectly referring to the Ajnala episode where a Sikh hardliner Amritpal Singh and his supporters laid siege at a police station in Ajnala town near Amritsar following the arrest of one of his aides.
Recently, BJP Punjab vice president Kewal Singh Dhillon during a press conference in Ludhiana questioned why no action was taken against the accused in the Ajnala case, despite Punjab DGP's statement that they had used force to take over the police station and beat up police officers.
On a day AAP celebrated a year in office, Congress leader Sukhpal Khaira shared a video on his Twitter handle about a drug addict injecting himself in broad daylight, suggesting rampant drug abuse in the state.
Only two days ago, a news channel broadcasted the interview of a dreaded gangster Lawrence Bishnoi from inside the jail, in what the opposition called another instance of deteriorated law and order situation in the state, where gangsters are operating freely despite being in prison.
Even as the Punjab prisons department denied that the interview was done from Punjab jails, the Punjab chief secretary has sought detailed reports from DGP, particularly about the place and time of the recording following the sharp criticism from the opposition parties.
Shiromani Akali Dal president Sukhbir Badal even claimed in his latest tweet that the AAP govt was helping gangsters in expanding criminal networks by patronising them, something AAP leaders denied as political mudslinging.
Responding to the criticism, AAP spokesperson Malvinder Singh Kang said that his government had cracked down on the gangster culture.
The anti-gangster task force (AGTF) arrested 567 gangsters, neutralized 05 gangsters, busted 156 criminals, and recovered 563 weapons and 125 vehicles used in criminal activities in the past year.
The crime situation deteriorated in the state because the previous government patronized them but now under the Bhagwant Mann government law and order situation is intact, he claimed.
Political observer and sociologist Manjit Singh, however, told NewsDrum that the AAP government's silence on the Ajnala episode and broadcasting of Lawrence Bishnoi's interview speaks a lot about how it has been handling law and order.
Manjit also said the protest by faculty and students at Punjabi University, Patiala was also an indication of how public universities in the state are struggling with finances.
"While AAP may have fulfilled many of its election promises but it did not go well for state finances. Subsidies must be targeted for the economic benefit of weaker sections. But 'subsidy for all' culture as practised by AAP is not a step in the right direction, he added.
In the AAP government's first budget, Punjab's debt has already increased by Rs 30,000 crore in the past year and more than Rs 35,000 crore is set to add up in the next 12 months.
AAP spokesperson Malvinder Singh Kang however defended the rise in Punjab debt in his recent press conference, saying money borrowed was used in bailout packages of vital institutions including Markfed- critical for Punjab's rural economy.
On the contrary previous Congress, SAD and BJP governments pushed Punjab into colossal debt for their own vested interest.
Kang said the Mann government had worked dedicatedly to increase revenue and cut down Punjab's debt by Rs 36000 crore in the last year.
He stressed that most of the poll promises have been fulfilled by the Mann government in the first year and the remaining will be fulfilled very soon.