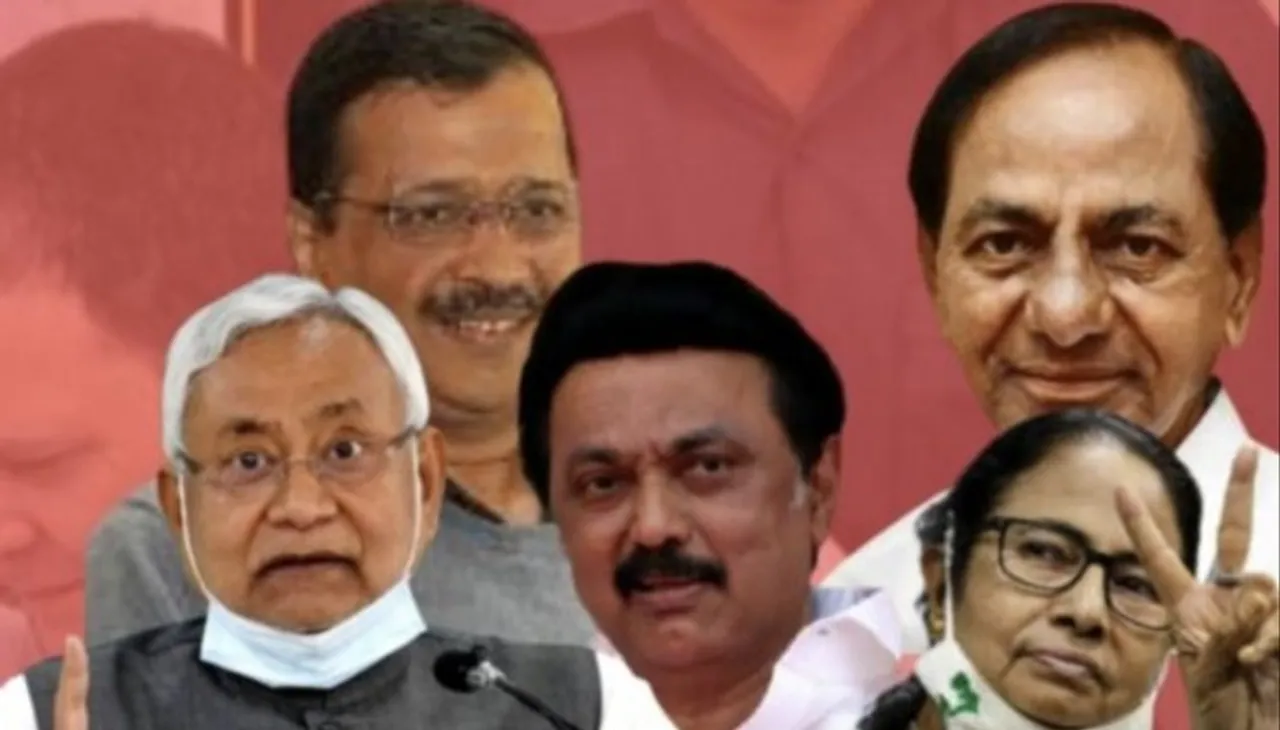 New Delhi: As many as eight top Opposition leaders have joined hands to bring together all non-National Democratic Alliance (NDA) parties and take on the Bharatiya Janata Party (BJP in the 2024 Lok Sabha elections.
The group has been named G-8 and comprises seven chief ministers – Nitish Kumar (Bihar), Mamata Banerjee (West Bengal), K Chandrashekar Rao, popularly known as KCR, Arvind Kejriwal (Delhi), M K Stalin (Tamil Nadu), Hemant Soren (Jharkhand) and Bhagwant Mann (Punjab) - apart from Bihar's deputy chief minister Tejashwi Yadav.
According to sources, the G-8 has so far held one round of discussion and will soon approach the Congress and other Opposition parties to give a final shape to its plan of launching a united front against the BJP.
On the face of it, G-8 appears to act as a pressure group in forcing Congress to come around without putting any terms and conditions.
"It is not important who leads the front but bringing about the Opposition unity is imperative to oust the BJP in 2024," said a leader familiar with the developments.
The Congress has so far insisted that it must be the fulcrum of any Opposition grouping, maintaining that it is the only party with a pan-India presence.  
However, Opposition parties such as the Bharat Rashtra Samithi (previously Telangana Rashtra Samithi) of KCR and Kejriwal's Aam Aadmi Party (AAP) are wary of joining any Congress-led front.
The Trinamool Congress (TMC) of Mamata Banerjee too shared a blow-hot, blow-cold relationship with the grand old party.
The sources claimed that G-8 is also working to rope in Andhra Pradesh chief minister and YSR Congress Party (YSRCP) supremo YS Jaganmohan Reddy who remains vehemently opposed to the idea of forming any grouping that is led by the Congress.
The development coincides with the Bihar chief minister's statement that he is waiting for a signal from Congress to work towards bringing all the Opposition parties on one platform.
Addressing a national convention of the CPI(ML) in Patna on Saturday, Kumar said if the Opposition is united, the BJP would not be able to cross 100 seats in the 2024 Lok Sabha polls.
Kumar further confirmed that he had met leaders of different parties and discussed the broader Opposition unity.
Reacting to his statement, the Congress stressed that the grand old party was well aware of its role and maintained that the Opposition unity would be neither possible nor successful without it.
"We are not two-faced. We have only one face…," Congress general secretary in-charge of communications Jairam Ramesh said at a press conference also addressed by top leaders KC Venugopal, Kumari Selja, Tariq Anwar, and Pawan Kumar Bansal.
The party further said that its top brass will deliberate and give direction on ways to forge the Opposition unity during the three-day plenary session, beginning on Friday at Raipur in Chhattisgarh.
However, these remarks by Venugopal and Ramesh have apparently not gone down well in the Opposition camp with some leaders arguing that such statements smack of arrogance on the part of the Congress and could be a stumbling block for the much-needed unity.