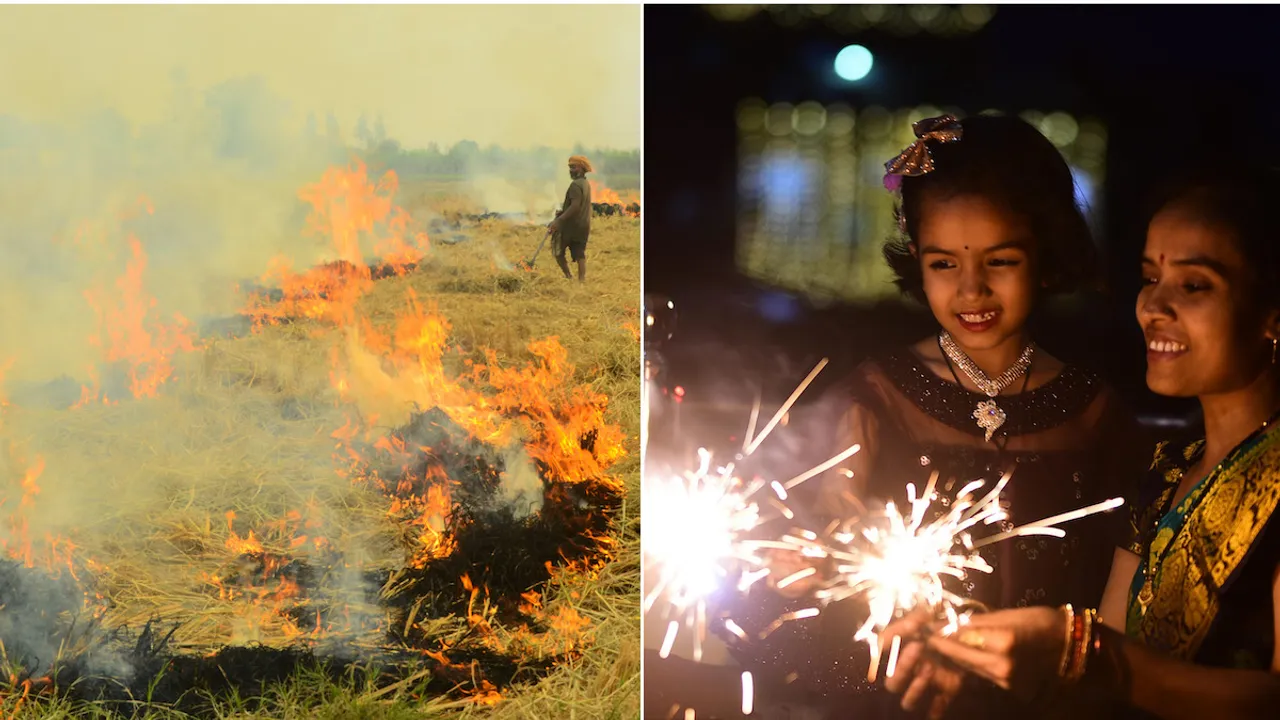 New Delhi: Even as Delhiites woke up to the hazy sky the next morning after celebrating Diwali, the data about pollution suggests the problem may be lying elsewhere even as a section of people were hell-bent on banning the Hindu tradition of using firecrackers.
Punjab witnessed more than 9X fire farms on Sunday in comparison to the previous day. There were 987 cases of stubble-burning in Punjab on Sunday against 104 cases on Saturday.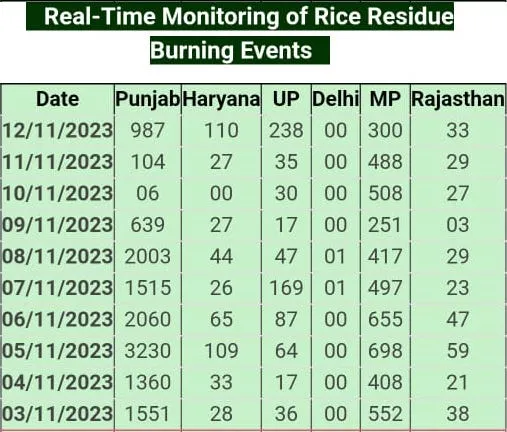 Due to rains, the farm fires in Punjab dropped to 6 on Friday after a peak of 3220 on November 5. But it again increased substantially on the day of Diwali.
The Decision Support System, a numerical model-based framework capable of identifying the sources of particulate matter pollution in Delhi, estimated that stubble burning in the neighbouring states, particularly Punjab and Haryana, accounted for 35 per cent of the PM2.5 pollution in the city on Sunday. It is likely to be 22 per cent on Monday and 14 per cent on Tuesday.
The data also found that transport -- another major cause of pollution in the city -- contributed 12 to 14 per cent to Delhi's foul air over the past few days.
Last week too, the stubble-burning made the air in Delhi and NCR unbreathable with AQI levels crossing 450-500.
As farm fires again made a return, it is not clear if the jump in air pollution in Delhi NCR was due to pollution from firecrackers as it is often blamed or if it has been the constant result of toxic smoke coming from farm fires in Punjab.
On Sunday, Delhiites experienced clear skies and abundant sunshine and the city's 24-hour average air quality index stood at 218 at 4 pm, the best in at least three weeks and also in the last eight years on Diwali day
On Monday, Delhi recorded a jump in pollution levels and a smoky haze returned on Monday morning. At 7 am, the AQI stood at 275 (poor category).
Pollution levels even entered the 'very poor' category in some areas, including Shadipur (315), Ayanagar (311), Lodhi Road (308), Pusa (355) and Jahangirpuri (333).
The city's AQI a day after Diwali stood at 360 in 2015; 445 in 2016; 403 in 2017; 390 in 2018; 368 in 2019; 435 in 2020, 462 in 2021 and 303 in 2022.
An AQI between zero and 50 is considered good, 51 and 100 satisfactory, 101 and 200 moderate, 201 and 300 poor, 301 and 400 very poor, 401 and 450 severe and above 450 severe plus.
Delhi government stoops to playing politics to hide its incapability?
Delhi environment minister instead praised the Punjab government for controlling farm fires and blamed BJP supporters for the pollution in a video byte given to the news agency.
#WATCH ...आज प्रदूषण का स्तर बढ़ गया इसका एक मात्र कारण है पटाखे जलाना। सुप्रीम कोर्ट के आदेश के बाद भी भाजपा अपनी ज़िम्मेदारी को नहीं निभाना चाहती, ये दुर्भाग्यपूर्ण है...भाजपा चाहती थी कि पटाखे जलाए जाएं और तीनों राज्यों(दिल्ली, हरियाणा, उत्तर प्रदेश) में पुलिस भाजपा के पास… pic.twitter.com/CXKgtf8ArS

— ANI_HindiNews (@AHindinews) November 13, 2023
BJP leader and national spokesperson Shehzad Poonawalla reminded Rai of the rise in farm fires after a brief pause and asked him to stop abusing Hindus for his government's faults.
As expected AAP has TARGETTED Hindus again

Is anyone surprised?

Cut deals with polluters for 9 years & then blame Hindus who celebrate on one day! One day of Diwali led to pollution 15-20 days ago?

Shameful HINDU PHOBIC narrative https://t.co/6VlF3HbNvl

— Shehzad Jai Hind (@Shehzad_Ind) November 13, 2023