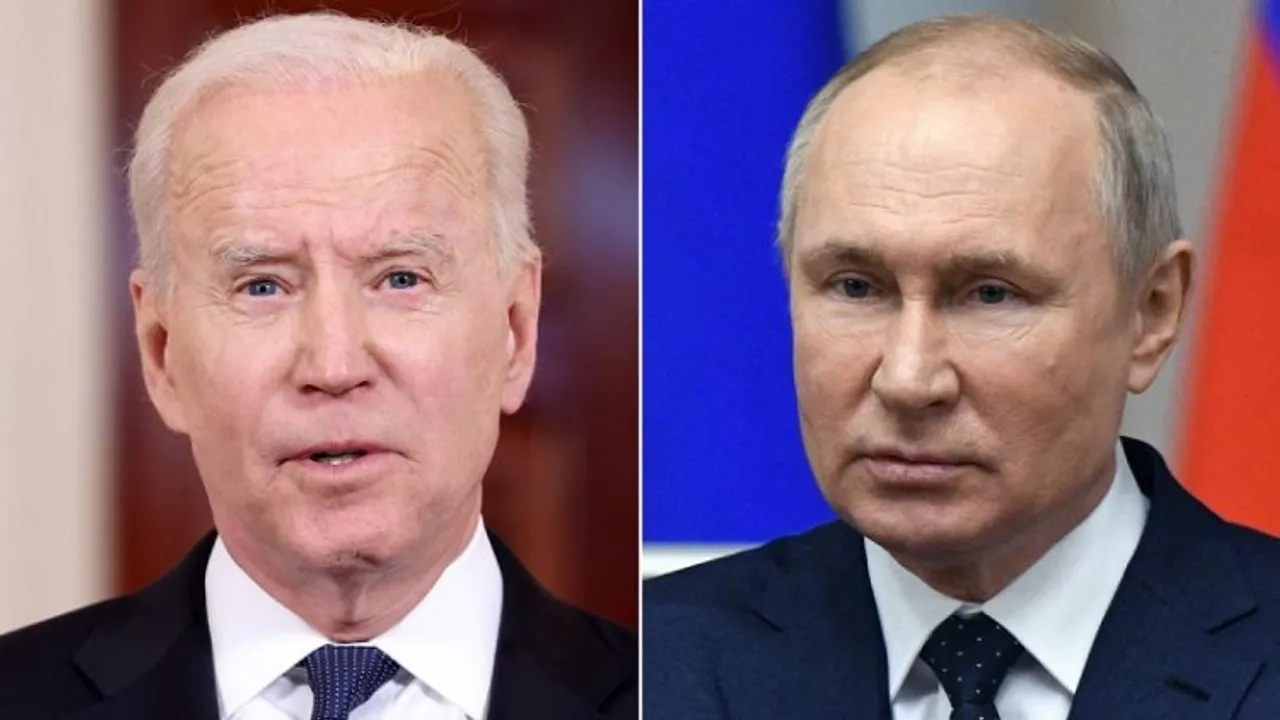 New Delhi: Russia's war in Ukraine has not only escalated this week on the ground but on September 21, there was a war of words between the Presidents of the US and Russia, respectively, in their separate speeches.
In a national television address, President Putin announced that partial mobilisation of the country's military is activated, and reservists will be sent to Ukraine as part of Russian forces. Putin added that it was a necessary step to ensure Russian territorial integrity. It may activate 300,000 reserved Russian soldiers, further escalating the conflict.
President Putin blamed the United States and its allies for engaging in "nuclear blackmail," Putin said, "I want to remind you that our country has different types of weapons as well, and some of them are more modern than the weapons NATO countries have."
Russian President's warning came when Ukraine forces were advancing and pushing Russian troops out of their areas. Russia's military faces setbacks and troops are demoralised as the war enters the eighth month.
In response to Russian President Putin's veiled threat of using nuclear weapons in retaliation, US president Joe Biden rebuts in his speech at the UNGA that Russia's invasion of Ukraine violates the doctrine of the UN charter. Biden asked the world to see Russia's outrageous acts for what they are - saying no one sought conflict apart from Moscow.
Putin, in his speech, warned, that the territorial integrity of Russia cannot be compromised and added that all available means to protect the people and land will be used: "This is not a bluff, he had lots of weapons to reply."
The Russian mobilisation was the first order in Russia since World War II. Russia has around Two million reservists and can be called for duty in an emergency.
Putin clarified that only military reservists, primarily those who served in the armed forces with specific military experience ann occupational specialities will be called.
Ukraine's counter-offensive in recent weeks has changed the contours of the war. Earlier this month, Ukrainian forces made a rapid offensive in the northern region, regaining over 1100 km of territory from the Russian troops. Ukraine also has been pushing the southern Kherson region, although with limited gains. Ukraine conflict has entered nearly the eighth month since the start of the Russian military operation. Hundreds of thousands of civilians were displaced, and around 6,000 Indian medical students were evacuated from Ukraine.
Many experts believe that weak Russia may be the more dangerous and use all its power when most of the western world is boycotting Russia and slapping sanctions. In his address, Vladimir Putin renewed his nuclear threats accusing the West of engaging in "nuclear blackmail" against Russia. "I am referring
to the statements made by some high-ranking representatives of the leading NATO countries on the possibility and admissibility of using weapons of mass destruction – nuclear weapons – against Russia," Putin said.
US President, on September 16, in an interview to the CBS "60 Minutes," US TV show with Scott Pelley, spoke about Ukraine's war and the dangers it could bring.
The interviewer asked the President, "As Ukraine succeeds on the battlefield, Vladimir Putin is becoming embarrassed and pushed into a corner…, and I wonder, Mr President, what you would say to him if he is considering using chemical or tactical nuclear weapons."
"Don't. Don't. Don't. You will change the face of war unlike anything since World War II," Mr Biden said.
Russian political scientist Sergei Markov, speaking to BBC Radio 4's issued a warning in light of Putin's speech. Accusing Britain, as well as US President Joe Biden, of being "fully responsible for the war in Ukraine" and suggested that Russia could launch nuclear warheads that "could kill a lot of people in the western countries."
Western leaders and military officials derided Putin's speech on Wednesday, saying the mobilisation was a desperate move indicative of Russia's invasion not going to plan. In a statement, Britain's defence minister Ben Wallace said Putin had "sent tens of thousands of their citizens to their deaths, ill-equipped and badly led."
Putin's latest speech has been described as a gambler's throw by Robert Fox, Defence Editor at the Evening Standard, who claimed Putin was worried about the pressure coming from extreme people.
Meanwhile, in a broadcast, Ukrainian president Volodymyr Zelensky vowed to continue to resist the attempts to carve up his nation. "We enjoy the full support of our partners in this," he said. "So let's maintain the pressure. Let's preserve unity. Let's defend Ukraine. We are liberating our land. And we are not showing any signs of weakness."
Any mishap or attack on any nuclear plant is a ticking time bomb that one wrong step can lead to a full fledge nuclear war. The Doomsday Clock, as a symbol in the University of Chicago that represents the likelihood of a man-made global catastrophe, is presently at 100 seconds to twelve. Which means closest to disaster. It used to be 13 minutes to twelve. Since 1947, the clock represents is a metaphor for threats to humanity.