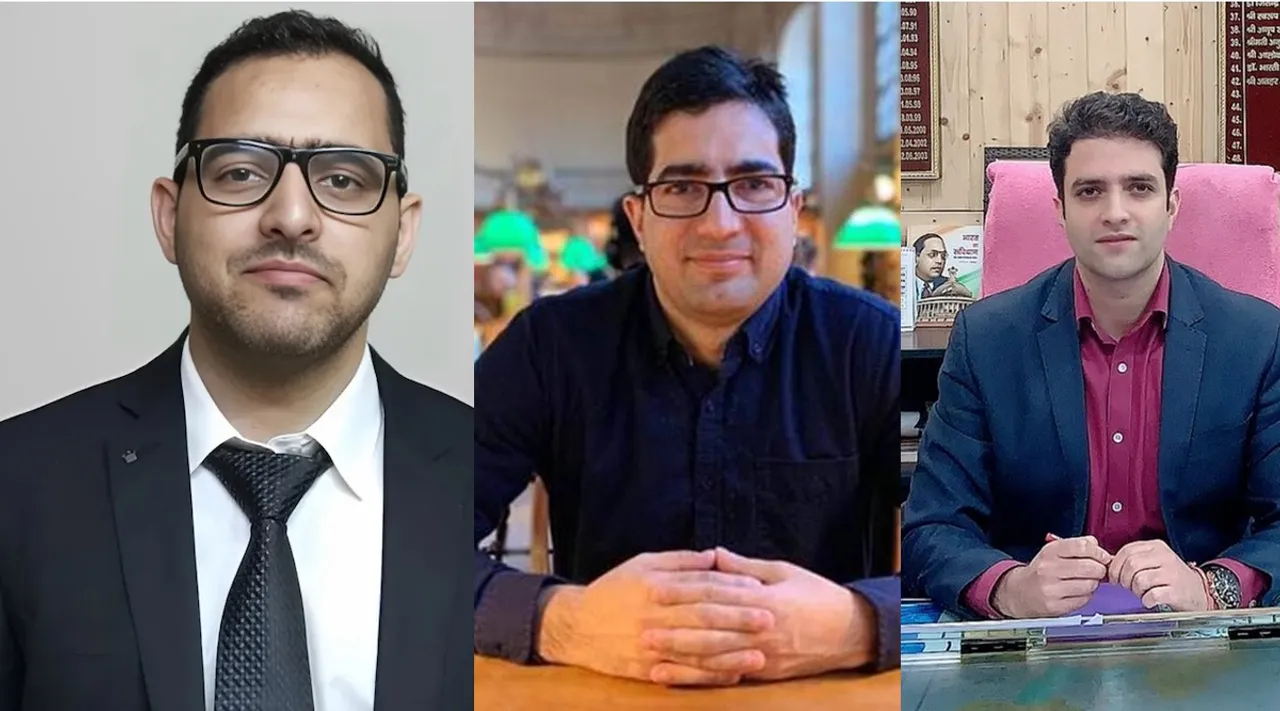 Srinagar: Jammu and Kashmir has seen a steady entry into the competitive scenario in the Civil Services Examinations over the years as the aspirants continue to prove their mettle after they got inspiration from the result in 2010 when Shah Faesal topped the list of successful candidates of the prestigious test.
This year again proved that the aspirants are not lagging behind their compatriots in the rest of the country as 16 of them from the Union Territory, 13 from Jammu and three from Kashmir, cracked the CSE 2022, the results of which were declared yesterday by the Union Public Service Commission (UPSC).
Faesal's emergence as the topper marked a watershed in the aspirational story for IAS as local youth idolized him as an icon for his success in the competition which has seen a lot of changes since 1982 when Khursheed Ahmad Ganai brought laurels to the erstwhile state by securing second All India rank. Ganai, a resident of the Mattan area in Anantnag district was an engineering graduate when he qualified for IAS examinations and retired as Commissioner Secretary and served as Advisor to Governor Satya Pal Malik in 2018.
After Faesal, Athar Aamir-ul-Shafi Khan secured second rank in CSE-2015 and became a household name in Jammu and Kashmir. Aamir is currently serving as Commissioner of Srinagar Municipal Corporation and is also CEO of Smart City Project.
Also, the names of Syed Abid Shah, Dr Shahid Iqbal Choudhary, Aijaz Assad, Sehrish Asgar, and others --- remind the aspirants about success in this competitive examination will help them become officers to run the UT.
The endeavour of LG Manoj Sinha and the Minister in PMO Dr Jitendra Singh to rope in local officers in the administration is reflected in the posting and placement of these officers in the administration with all the toppers in the IAS examinations being placed on top positions in Jammu and Kashmir. This has helped the administration to tap on talent who are young and innovative in administration to deliver a vibrant model of governance in UT.
This step, as per Kashmir observers, has yielded positive results in terms of success in the CSE examinations as more and more aspirants seek to emerge as qualifiers in the tough UPSC test for the prestigious examination.
This competitiveness has been reflected by the aspiration of a village boy from Brahgam in Dooru area of Anantnag district in Kashmir who continued to slog for years to score seventh rank in 2023.
Waseem Ahmad Bhat got seventh all-India rank this year in the top 10 list. Earlier, he had qualified for UPSC 2021 and got AIR 225 and is presently posted as Indian Revenue Services (IRS) officer in Nagpur. Waseem is an engineering graduate from the National Institute of Technology Srinagar. He did his B Tech (2019) and quickly started preparations for UPSC.
"I have realised my dream of 2018. Recognize one's potential, work diligently, and strive to achieve goals. Make a difference by setting clear objectives and pursuing them with unwavering passion. For those interested in pursuing a career in Civil Services, the need for proper guidance at the right time is a must," Waseem affirms.
"I even during my B. Tech course used to study anthropology, philosophy, sociology, psychology, history, political sciences, economics, and international relations," he said.
Waseem believes that it was important that students should commit themselves from an early age to study if they want to qualify for this exam. "Success depends on how committed you are towards achieving your goal," he said, adding that the commitment to qualify for competitive examinations has to be total.
He said that though guidance from teachers is necessary, self-study is more important. "What matters is how you plan your studies," he said. "Qualitative study is more important."
On his Twitter handle, Waseem said: "UPSC journey for me, like anyone else, has been a rollercoaster ride. But, today after the results are out, I am grateful for everything I have got".
UPSC journey for me, like anyone else, has been a rollercoaster ride. But, today after the results are out, I am grateful for everything I have got. I want to thank all the well wishers who have been calling, texting or tweeting.

— Waseem Bhat (@bhtwasim) May 24, 2023
Another youngster who is a resident of the border town of Poonch has excelled in her first attempt and secured 11 rank without going for any regimented coaching but relying on internet modules.
Prasanjeet Kour secured 32 rank in Jammu and Kashmir Administrative Service last year and is serving in Accounts Department as a probation officer in Srinagar.
"I completed my master's in Chemistry from Jammu University in 2022. In 2021, I had written the examination for JKAS, the results of which were out in 2023," Kour said. "In 2022, I appeared for the UPSC exam and I am really thankful that I got selected."
Parsanjeet is the daughter of Pharmacist Nirmal Singh and Darshan Kour of Poonch where both her parents work in the medical department.
She completed her education up to graduation in Poonch and obtained her Master's in Chemistry from Jammu University. She attributed her success to self-study. "I relied on self-study and joined a test series. Hard work, consistency, and patience were crucial factors in my journey," she added.
The successful candidates from Jammu and Kashmir include Wasim Ahmad Bhat from Dooru in Anantnag, Parsanjeet Kour from Poonch and Nitin Singh from Kathua have secured 7th, 11th and 32nd rank, respectively. Others, who have qualified the UPSC, are Naved Ashan Bhat from Sopore (84th rank), Ambika Raina (164th rank), Namneet Singh from R S Pura (191), Manan Bhat of Soura in Srinagar (231), Arjun Gupta from Trikuta Nagar Jammu (228), Manil Bejotra from Bishnah in Jammu (314), Mohd Irfan from Thathar Bantalab in Jammu (476), Dwarka Gaadhi from Bishnah in Jammu (505), Anjeet Singh of Bhalesa in Doda (565), Abhinandan Singh from Nardi Bala, Akhnoor (749), Nivranshu Hans (811) Dr Iram Choudhary from Rajouri (852) and Aadesh Basnotra (888).
The list of successful candidates from Jammu and Kashmir reflects upon how the 2010 result proved a game changer for aspirants as they stood motivated by Faesal's success.
Before him, there were Kashmiris like Muhammad Shafi Pandit who became the first Kashmiri Muslim to join the Indian Administrative Service in 1968. He was followed by Iqbal Khandey in 1978, Khurshid Ganai in 1982 and Asghar Samoon in 1993. In 1994, Abdul Gani Mir and Javed Geelani joined the Indian Police Service.
The role of Abdul Gani Mir, who is at present Inspector General ITBP, is significant in motivating youngsters towards the IAS examination.
Mir is considered Faesal's mentor as it was he who established the Initiative for Competition Promotion (ICP), which helped students to prepare for the exams in 2008.
Both Mir and Faesal hail from the Kupwara district Mir is a resident of Handwara while Faesal's parental house is located in the Sogam area.
He started ICP in 2008 for civil services aspirants of the state and about 50 officials, both civil and police, made donations to run the ICP as students were provided free accommodation and coaching.
Faesal described Mir as a pioneer in setting up the trend of coaching students for competitive examinations, and said "Abdul Gani Mir would be remembered for generations for his contribution to youth."
For most of the aspirants who treated Faesal as a role model, the year 2019 came as a shocker as he resigned from the services to form a political party. The reason behind his surprise move still remains a mystery.
It was in 2018 when Faesal got enrolled in the Mid-Career MPA program at Harvard Kennedy School as a Fulbright Scholar. Later on his return to J&K, he quit civil services and launched a political party, Jammu Kashmir People's Movement in January 2019. The government didn't accept his resignation though.
He was detained with other political leaders on August 5, 2019, after the abrogation of Article 370, and was released afterward. JKPM is hardly visible now with the rest of the leadership seen nowhere in the political space of UT.
After a few years, the Department of Personnel and Training (DoPT) reinstated Faesal and posted him as Deputy Secretary in the Union Ministry for Tourism in 2022.
Reacting to the success of J&K students on May 23, 2023, he tweeted: "I am particularly excited to see many candidates from Jammu and Kashmir getting top ranks, including Waseem Bhat (Rank 7), Prasanjeet Kour (Rank 11) and Naveed Ahsan Bhat (Rank 84). J&K candidates have done well this year."
The government of the day is encouraging local officers by approving inter cadre deputation of IAS officers to Jammu & Kashmir as is evident from the placement of the officers in the administration including Athar Aamir Khan, Basharat Qayoom, Akshay Labroo, and Sehrish Asgar. Besides them, Raghav Langar who is an IAS officer of the 2009 batch of Uttarakhand cadre has been appointed as Administrative Secretary in the Planning, Development and Monitoring Department while Asgar is the Deputy Commissioner Baramulla. Asgar belonged to the 2013 batch of IAS having been allotted the Punjab cadre.
All young IAS officers have been placed in top positions including Fazlul Haseeb Pir who secured rank 36 in 2018, Owais Ahmad (JK:2014), Mohd Shabir, Sushant Padha, Harvinder Singh, Dr. Bilal Mohiuddin Bhat, Baseer Ul Haq Chaudhary, who is posted as Managing Director, Kashmir Power Distribution Corporation Limited, Choudhary Mohammad Yasin, IAS (AGMUT:2015) posted as Deputy Commissioner, Poonch. Syeed Fakhrudin Hamid works as Deputy Commissioner, Anantnag, Faz Lul Haseeb is posted as Deputy Commissioner Shopian while Akshay Labroo is the Deputy Commissioner Budgam.
This move by the government is also to overcome the shortage of IAS officers as it intends to increase the sanctioned strength of IAS officers from 145 to 165, reducing the additional charge burden on current officers.