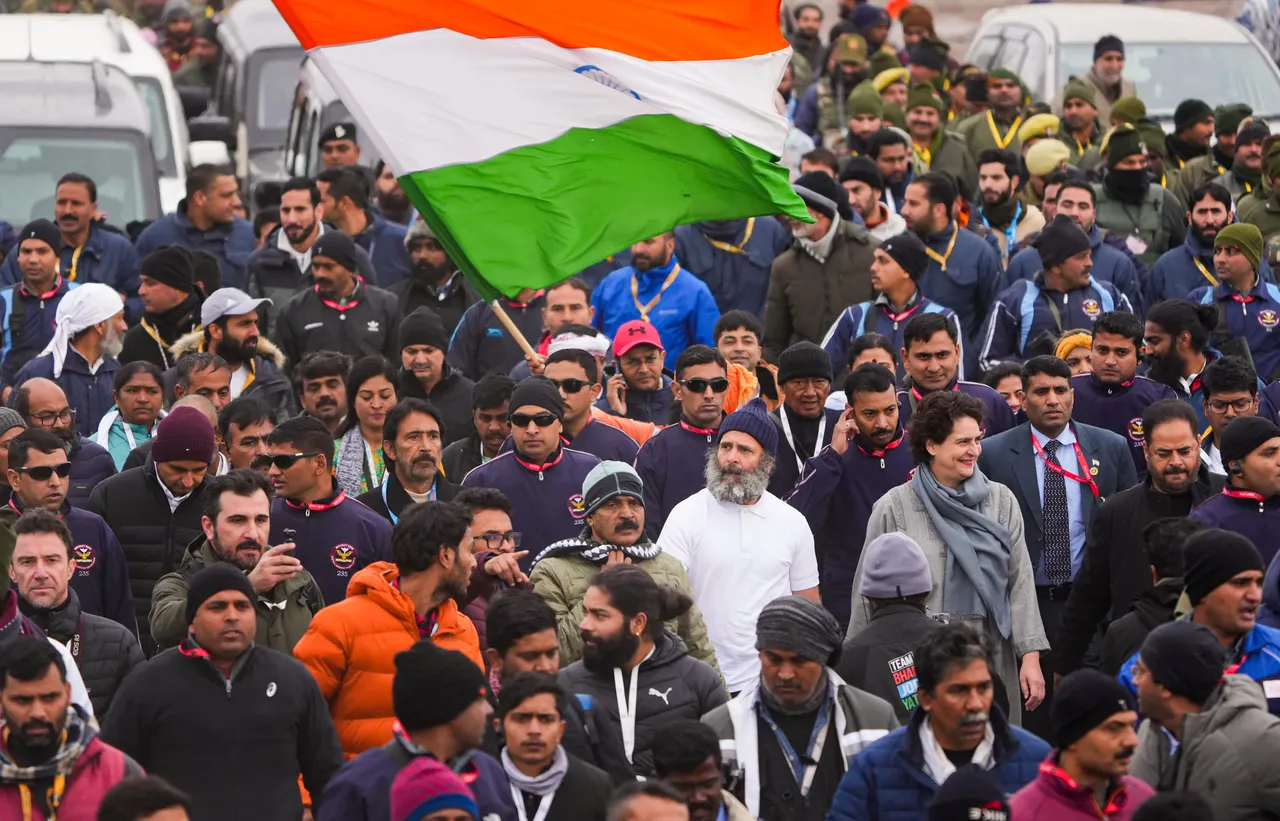 New Delhi: No boycott call by the separatists or their mentors as Indian political leaders unfurl the Indian national flag in historical Lal Chowk in Srinagar.
Rahul Gandhi reached Lal Chowk with hundreds of supporters at the famous Clock Tower. He saluted the National flag as it was hoisted atop the Clock Tower amid cheers and Pro-India, Pro-Gandhi, and Pro -Congress slogans.
Rahul Gandhi along with his sister Priyanka Gandhi drove to Lal Chowk, from the headquarters of the Congress Party, which is hardly less than 500 meters away from the clock tower.
Also read: Rahul Gandhi accuses Modi, Shah and Doval of orchestrating violence
There was earlier no announcement for flag hoisting in Lal Chowk, but locals could sense it once since last night strict security measures were being taken up in and around Lal Chowk.
Earlier, Rahul Gandhi resumed the Yatra from the fringes of Srinagar, called Pantha Chowk and walked towards Sonawar and then to the headquarters of the Congress Party along with his sister and Congress General Secretary Priyanka Gandhi and hundreds of people and local Congress workers.
Unlike earlier times, whenever some political leader or party announced the unfurling of the Indian flag, separatists or their mentors would give a call for a shutdown or boycott in Kashmir. Several times an unannounced curfew used to be imposed for the flag hoisting.
There was no such call this time, and people were seen enthusiastically participating in the rally without hesitation or fear. Rahul Gandhi in a Hindi tweet after the flag hoisting said, "By hoisting the tricolour at Lal Chowk, the promise made to India was fulfilled today. Hate will lose, love will always win. There will be a new dawn of hopes in India."
Hundreds of locals raising Bharat Jodo Slogans were seen walking along with Rahul Gandhi holding National and Congress flags in and around Srinagar today despite incremental weather conditions.
When the first time in 1991, on republic day,  the then Home Minister Lal Krishan Advani was hoisting the flag in Lal Chowk, the surroundings were wholly deserted, and one could hear the sounds of firing from the vicinity.
Even several times, when some political or Student group would announce hoisting a national flag in Lal Chowk, massive troops were positioned, and the politicians and security forces were discouraged from doing the act amid boycott calls.
But this time, nothing like that was seen, which speaks volumes of normalcy limping in the Valley and locals looking forward to the electoral process. Also, when Rajiv Gandhi in the early 1990s visited Kashmir with a group of parliamentarians, he witnessed a complete shutdown.
For a change, today, one could see the enthusiasm amongst the people as they walked through the streets and highways on the last leg of the Congress Yatra. Life was also normal in nearly all parts of Kashmir.
The Bharat Jodo Yatra was launched on September 7 last year in Kanyakumari and passed through 12 states and two Union Territories. It concludes tomorrow with a rally that will be joined by several different political party leaders in Srinagar.
Lal Chowk, a central hub in Srinagar, has witnessed nearly all political turmoil and incidents since 1931. It was here when the protests against the King or Maharaja rule started in the early 1930s.
Again, Lal Chowk, where India's first Prime Minister, gave a speech after J&K's accession with India.
It was also the stage where nearly every Chief Minister addressed the public, including Sheikh Mohammad Abdulla, Bakshi Ghulam Mohamad, Sadiq, Mir Qasim or Farooq Abdullah.
The scenic Palladium Cinema and Coronation hotel, Neelam Hotel, in the background of the makeshift stages, which usually used to be the rooftop of the twin buses of the Kashmir Motor Drivers Association, nicely dressed up with carpet, chairs, table, and buntings were a scene to be seen amid ecstatic slogan raising crowds who would assemble in thousands.
Now the political stage has been shifted some hundred meters away from the Palladium cinema, which no longer exists, to Clock Tower, which became more popular after it was seen in some of the movies on Kashmir.
In addition, the officials did not suspend the internet services, and most social media like Twitter and Facebook were exchanging live pictures and videos of the Yatra.
Suspension of mobile phone and internet services on such occasions has been part of the security drill in the Valley for decades, for security reasons.
For more than ten days, Rahul Gandhi and his entourage have been walking and holding rallies in Jammu and Kashmir. They will address a rally tomorrow, January 30, 2023, when Mahatma Gandhi was assassinated.
The Bharat Jodo Yatra is the first serious attempt by Congress to arrest its decline. The most outstanding achievement of the Yatra so far has been that Rahul Gandhi has decimated the tag of a non-serious leader on his back.
In the Bharat Jodo Yatra, Rahul spoke seriously and hardly one saw him getting angry even facing difficult questions from the media.
On the back side, one wonders how Rahul Gandhi or his political party will utilise his ground zero contacts for the next national elections; even though some polls suggest that he has gained in his image-making, will he be able to make an impact on the national elections remains a question.
One of the analysts in Kashmir said, "It is after more than three years since August 5 2019, that people got a chance to come out and vent and hence massive local response to the Bharat Jodo Yatra which does not necessarily mean that Congress is gaining in the Union Territory.
However, the political analyst warned, "Rahul Gandhi Yatra needs to move forward from here, which is a tedious task. He warned that the ice-cold winds of Kashmir and the snow-capped mountainous Valley where the Yatra ended should not freeze the Yatra there; it needs a next level of strength, which was so far not visible."