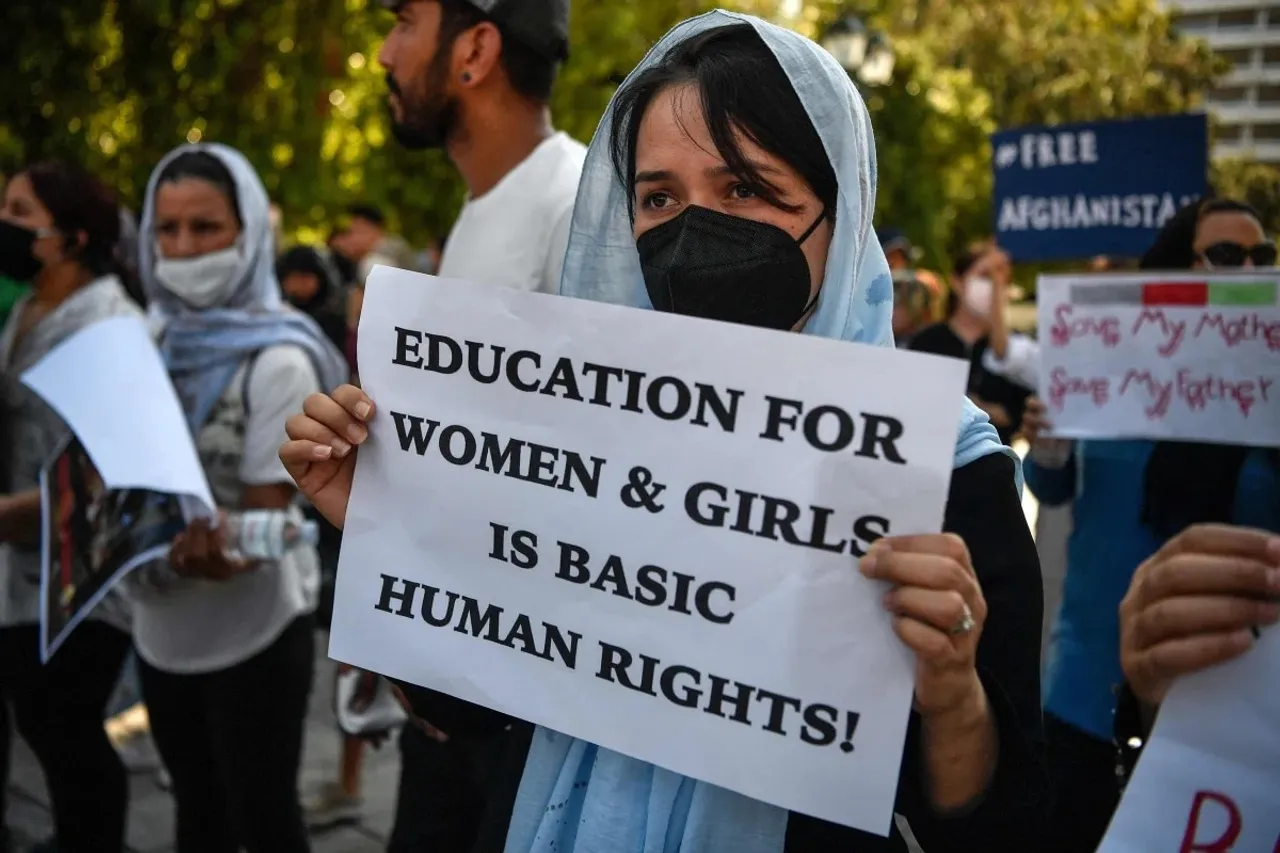 New Delhi: Voices against Afghanistan continue by nearly all the world powers demanding Afghanistan to lift the restrictions on women's higher studies and allow women to work in NGOs. The latest to join are Iran, China and ten women foreign ministers attending an international conference.
Despite pressure from the world powers, Afghanistan is yet to lift the mandate passed by their supreme Taliban leaders banning women from higher education for more than one year and doing jobs in different areas including international and national NGOs.
Ten female foreign ministers of Slovenia, Germany, Canada, Iceland, Liechtenstein, Belgium, Andorra, Albania, Mongolia and Libya who attended the 59th Munich Security Conference in a statement condemned the imposition of restrictions on girls and women in Afghanistan.
"We strongly condemn the Taliban's push to exclude women from all public life: women are kept from strolling in parks, are not seen on TV screens anymore, are deprived of their right to attend schools and universities, and are now also kept from working in humanitarian assistance," the statement reads.
China, Iran call to end restrictions on Afghan women
Meanwhile, the presidents of China and Iran together called for an end to restrictions on women's work and education in Afghanistan in their bilateral meeting last week.
The statement was made at the end of a visit to Beijing by Iranian President Ebrahim Raisi. The two countries, in a statement, "called on the Afghan rulers to form an inclusive government in which all ethnic groups and political groups participate, and cancel all discriminatory measures against women, ethnic minorities and other religions."
Earlier the United Nations, the United States, the European Union and heads of several countries including Muslim Countries and international organizations have been raising their voice for a year. Still, despite giving some assurances, the Afghan government has yet to take any step towards it.
Girl students have lost more than a year for their academic year of growth, and several women, who are struggling to run their households have lost their jobs in the ever-increasing insecurity where the majority of the population is suffering for food and employment.
The Taliban continues to remain rigid despite increasing humanitarian needs
Afghanistan has been isolated from nearly all countries, but several leaders of the Taliban ask foreign powers not to interfere in their country. The Taliban leaders maintain that the rights of all women are observed within an Islamic framework.
In a recent statement, the spokesperson of the Taliban, Zabiullah Mujahid, said, "The rights of women have not been violated in the Islamic community. Their rights have been addressed. The life of women is secured and protected. Their problems are solved by the court. Regarding their activities, there is a need for an environment within Sharia laws, and work on it is underway," he said.
The Taliban's supreme leaders like Mawawi Haibatullah Akhundzada who have commanded Islamic law and rule of law in the country continue to remain hard-line on their decision to ban women in public places and ask foreigners not to interfere in Afghanistan.
Some reports are emerging that differences between the moderates and radicals are brewing up in the ruling government.
Meanwhile, some political observers feel that by imposing restrictions on women, Afghanistan is trying to increase pressure demanding recognition of their current government by the international community."
The deputy spokesperson for the Islamic Emirate, Bilal Karimi, asked the international community to take steps to recognize the current government of Afghanistan.
"The countries worried about this should fulfil their responsibilities to eliminate the gaps and take action to address the issues," Karimi said.
Several donor countries, UN agencies, and their humanitarian partners want the world to take a robust and unified stance, forcing Afghanistan to allow women to attend higher studies and work in different sectors, more so in humanitarian aid delivery.