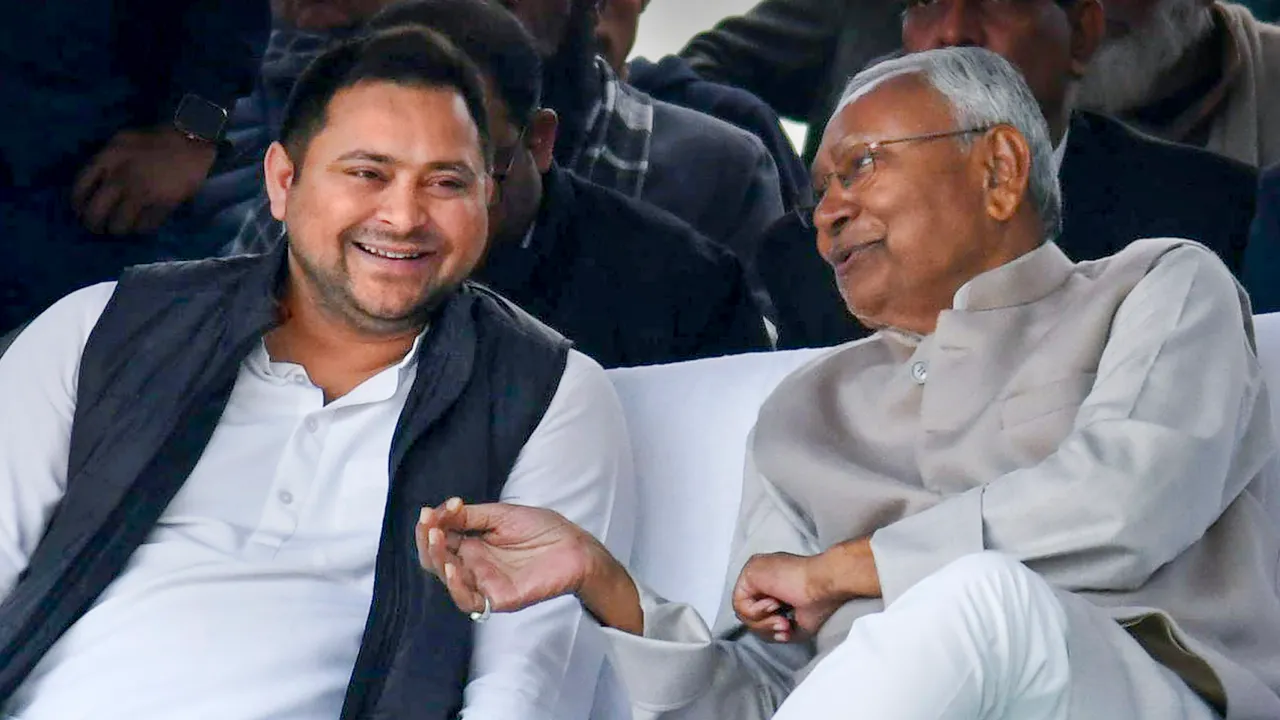 New Delhi: Former union minister and Janata Dal (United) parliamentary board chairman Upendra Kushwaha has opened a front against Bihar chief minister Nitish Kumar.
Kushwaha's diatribe against Kumar has fuelled rumours that he is likely to do an Eknath Shinde on the Bihar chief minister.
Shinde led a revolt against Shiv Sena president and the then Maharashtra chief minister Uddhav Thackeray in July last year, resulting in the fall of the Maha Vikas Aghadi (MVA) government in Maharashtra. Shinde later formed a government in alliance with the Bharatiya Janata Party (BJP) and assumed the chief minister's post with Devendra Fadnavis becoming his deputy.
Kumar has accused Kushwaha of being in touch with the BJP and asked him to leave the JD(U). Kushwaha retorted, insisting that he will not leave the party without his share in the paternal property.  
In the meantime, pictures of Kushwaha with three BJP leaders at All India Institute of Medical Sciences (AIIMS) in New Delhi went viral in the social media. This lent credence to Kumar's apprehensions that Kushwaha was planning to either join the BJP or go back to the National Democratic Alliance (NDA) fold.  
It all started in the beginning of this month when Kushwaha, feeling sidelined in the party by JD(U) president Lalan Singh, sought details of the deal with the Rashtriya Janata Dal (RJD).
Kushwaha was particularly unhappy with Kumar for promoting RJD leader and deputy chief minister Tejashwi Yadav as his successor. Kushwaha had apparently rejoined the JD(U) thinking that he would eventually be the natural successor of Kumar. Tejashwi had become a thorn in his flesh.
On January 8, Kushwaha suggested that the JD(U) should also get a deputy chief minister's post in the mahagathbandhan (grand alliance) government. He cited the example of the previous JD(U)-BJP government in which the saffron party had two deputy chief ministers.
Kumar outright rejected the demand and said that there were no discussions on it.
Soon after, Kushwaha attacked the RJD over its education minister Chandra Shekhar for his controversial remarks against Ramcharitmanas.
He also claimed that many JD(U) leaders were in constant touch with the BJP. The JD(U) had earlier expelled senior leader and Kumar's one-time close confidant RCP Singh for allegedly hobnobbing with the BJP to overthrow the mahagathbandhan government.
With Kushawaha refusing to leave the JD(U), Kumar called him for a meeting to discuss the organisational issues.
"Please ask Upendra Kushwaha to talk to me. He left the party earlier too. I don't know what he wants. I was not in Patna, so I am not aware of it. He is currently unwell. I will meet him and discuss this," Kumar said during his Samadhan Yatra in Gaya.
Kushwaha had in the past left the JD(U) in 2007 only to return in 2009 and then again in 2013 and rejoined it in 2021. In 2009, he formed Rashtriya Samata Party and in 2013, he floated Rashtriya Lok Samata Party and later merged them with the JD(U) when he returned to the party fold.
So, is it going to be the third time lucky for Kushwaha? Do watch this space for more on it.