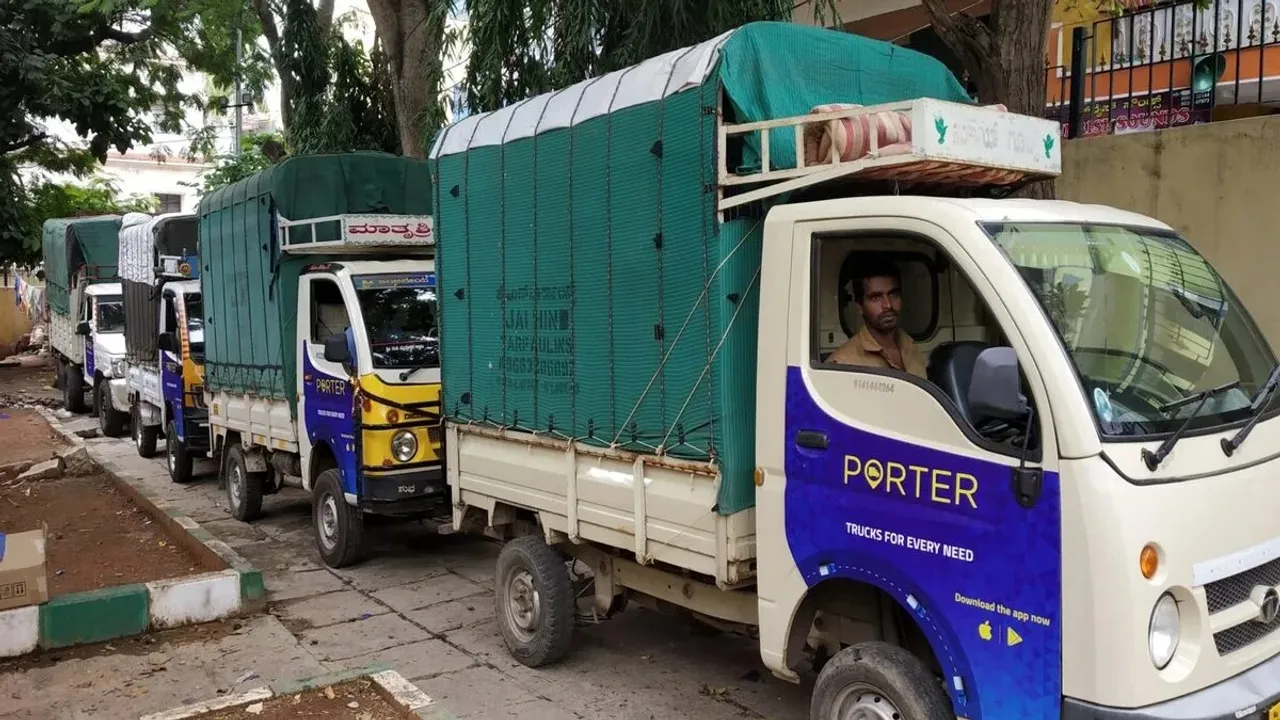 New Delhi: Porter, India's leading tech-based, on-demand logistics company, has seen a 2x growth in business year-on-year, a testament to its commitment to using technology to "address inefficiencies and establish a highly efficient logistics ecosystem".
"At Porter, we are dedicated to harnessing the power of technology and digital solutions to optimise our operations and deliver outstanding services to our valued users," Ambuj Singh, vice president, engineering, told PTI.
The Bengaluru-headquartered app and web-based intra-city logistics solution provider attempts to solve logistics solutions to businesses by offering intra-city pickups and deliveries through an efficient and reliable model.
Founded in 2014 by IIT graduates Pranav Goel, Uttam Digga and Vikas Chaudhary, the startup backed by Sequoia and Tiger Global started with services in Bengaluru, Hyderabad, Delhi and Chennai and is targeting reaching 35 cities by 2025.
Porter currently offers two-wheeler, tempo and LCV services on-demand for retail, SME and large enterprise consumers to carry goods within cities or same-day intercity logistic services. This year, it made its maiden overseas expansion, venturing into the UAE.
According to Singh, Amazon Web Services (AWS) helped Porter simplify database operations, optimise resource utilisation and launch new features quickly using its managed services.
Excerpts: Q: How has Porter addressed inefficiencies in the last mile logistics sector to transform the way goods are moved around cities, on-demand? What is the footprint of your current operations?
A: Porter has emerged as a pioneer in revolutionising and organising the logistics sector in India through innovative technology. Our matchmaking-based business model has transformed the movement of goods on demand within cities. At Porter, we are deeply committed to utilising technology to address inefficiencies and establish a highly efficient logistics ecosystem.
The primary focus is leveraging technology to enhance the experience for Porter's driver-partners, optimising their time, working capital, and increasing their income by 25-30 per cent. Through the implementation of advanced algorithms, Porter intelligently optimises pricing structures and meticulously selects the most efficient routes, resulting in highly cost-effective and streamlined logistics solutions.
With a customer base of over 1.3 crore across India, the extensive fleet includes 1.5 plus lakh mini trucks, 1 lakh two-wheelers, and 80,000 plus three-wheelers, providing reliable transportation options.
Emphasising sustainability, we have integrated over 4,000 electric vehicles in key metro cities. Currently operating in 19 cities, Porter is expanding to enter 35 cities, including tier 2 and 3 cities, within the next two years.
Alongside our core transportation services, we have diversified into various verticals, including Porter On-Demand (two-wheeler, trucks, and EVs), Porter for Enterprise, Porter Packers and Movers and Porter Intercity. To fuel our continuous growth and development, Porter has made significant investments, injecting approximately Rs 200 crore in FY23.
Q: At what rate have you been growing year-on-year? Can you provide some data/metrics on the number of active users, downloads, delivery partners, employees, revenue etc?
A: The company has achieved a 2x year-on-year increase since inception. In FY 2020-2021, Porter generated approximately Rs 328 crore, followed by around Rs 862 crore in FY 2021-2022.
Despite the challenges, Porter has made remarkable progress in reducing losses, decreasing from 16 per cent in FY22 to 9 per cent in FY23. Porter has achieved significant expansion in its delivery partner network, experiencing an impressive 3X year-on-year growth in employment.
These positive growth trends, coupled with the company's expansion into new regions, have garnered strong support from prominent investors, reflected in multiple successful funding rounds.
Q: How do you see growth in demand in the transport logistics sector in the coming year? What factors will drive your business momentum?
A: We are highly optimistic about the growth in demand for transport logistics services in the upcoming year. The company's strategic expansion into new cities, complemented by impactful initiatives such as vehicle branding and engagement-driven activities, will further contribute to its growth trajectory.
Q: How have you harnessed technology and digital for optimising your operations?
A: At Porter, we are dedicated to harnessing the power of technology and digital solutions to optimise our operations and deliver outstanding services to our valued users. Firstly, we have implemented route optimisation and tracking systems that utilise GPS and advanced technologies. These systems enable us to optimise routes for our driver-partners, ensuring efficient and timely service delivery. Additionally, real-time tracking allows us to monitor their progress and make necessary adjustments, resulting in faster and more reliable services for our users.
We have also prioritised cash flow management through the implementation of an advanced driver partner payout platform.
Looking to the future, we are committed to investing in key areas that will further strengthen our operations. Foremost, we plan to allocate resources to building a more robust and scalable technology infrastructure. This investment will empower us to support our growing business and accommodate increasing user demands effectively.
Q: How do you define Porter's tech and digital strategy? What are the key considerations in your approach to tech and digital infrastructure?
A: The primary objective is to provide a user-friendly experience that removes barriers and ensures seamless access to logistics services. By incorporating features such as voice typing for location and nudges, Porter enables even driver-partners and small and medium-sized enterprise (SME) consumers without extensive tech expertise to easily navigate and utilise the app.
In the near future, the logistics industry is poised for an incredible transformation as advanced technologies like ChatGPT, AI, robotics, cloud computing and 5G come together to revolutionise the way things are done.
With ChatGPT and AI-powered chatbots, companies can provide tailored and immediate customer support, allowing customers to conveniently make inquiries, track shipments, and receive prompt assistance. Real-time data and advanced analytics optimise route planning, vehicle dispatch, and load balancing, creating efficient routes and shorter delivery times.
Q: How has cloud technology and AWS enabled you in your operations? What did AWS enable you to do better, and what benefits have you experienced running on AWS?
A: AWS has been instrumental in enabling Porter to build a scalable and resilient technology infrastructure. For over eight years, we have relied on AWS, allowing our engineers to focus on solving user problems while minimising infrastructure management efforts. AWS' managed services, such as Relational Database Service, help us simplify database operations. We have also been able to leverage Elastic Container Service and Simple Queue Service to modernise our applications and maintain an asynchronous architecture.
Their cost-effective options like Auto Scaling Groups and EC2 Spot Instances help us optimise resource utilisation. Moreover, their secure infrastructure meets industry standards, while the availability of managed services enables us to launch new features quickly. We are grateful to AWS for being a crucial partner in our journey to build a world-class logistics platform.
(This story has been produced by PTI in collaboration with Amazon Web Services).