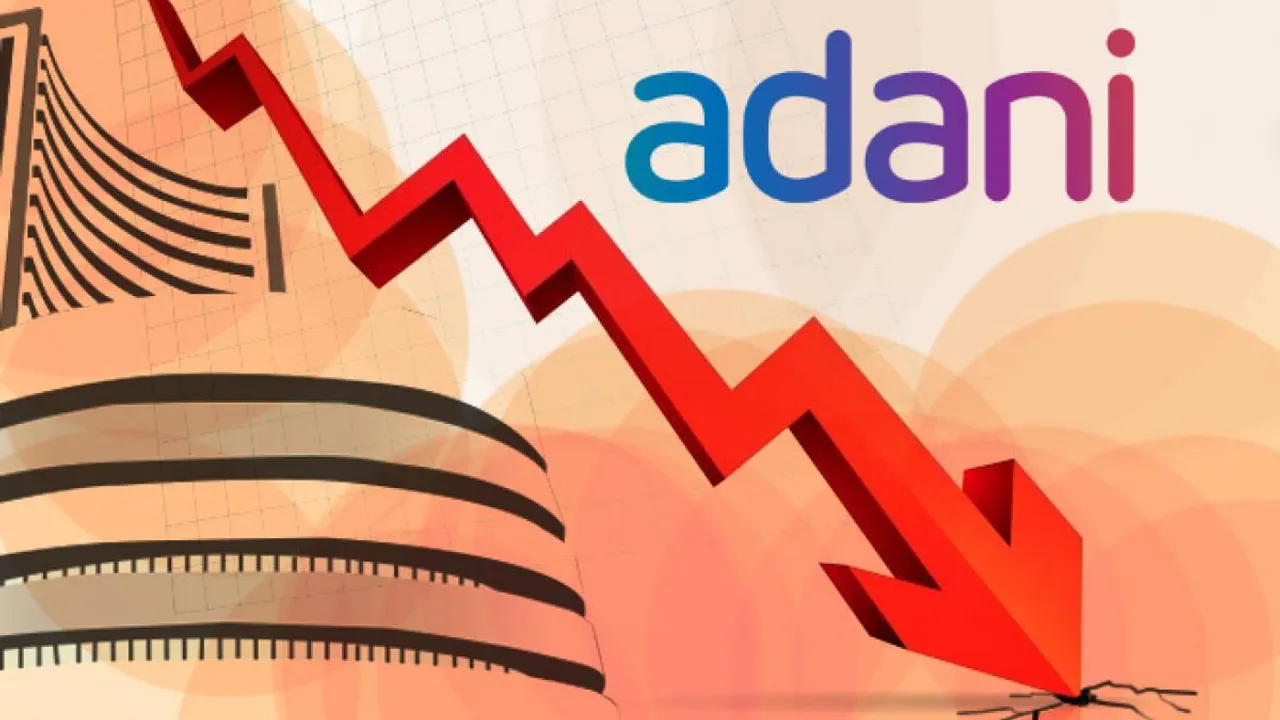 New Delhi: Nine out of ten listed companies of the Adani group closed with losses on Monday, snapping two-day of gains amid an across-the-board sell-off in the broader market.
While some Adani stocks hit their lowest circuit prices, flagship Adani Enterprises Ltd declined 3.84 per cent to close at Rs 1,805.10 on BSE. The flagship commanded a market capitalisation of Rs 2.05 lakh crore. The stock was the second biggest loser among Nifty stocks, dropping by 3.44 per cent.
Adani Total Gas plunged 4.99 per cent to end at Rs 853.10, Adani Power tumbled 4.83 per cent to close at Rs 190.30 and Adani Transmission went lower by 1.49 per cent to settle at Rs 1,009.60 per share. The three stocks hit their lower price bands on the exchange before recovering some ground.
Shares of Ambuja Cements nosedived 3.37 per cent to close at Rs 365.50, Adani Wilmar fell 3.16 per cent to end at Rs 413.85, NDTV dived 3.11 per cent to settle at Rs 199.30 and ACC declined 1.84 per cent to end at Rs 1,697.05 on the BSE.
Also, shares of Adani Ports and Special Economic Zone (APSEZ) fell 1.96 per cent to end at Rs 666.75 apiece on the bourse.
However, Adani Green Energy climbed 3.91 per cent to settle at Rs 848.75 per share. The company's market valuation rose to Rs 1.34 lakh crore.
The BSE Sensex benchmark plunged 360.95 points or 0.62 per cent to settle at 57,628.95 points. The broader NSE Nifty fell 111.65 points or 0.65 per cent to close at 16,988.40.
On Friday, seven Adani group companies had settled higher.
Last week, NSE and BSE announced that two Adani group stocks -- Adani Green Energy and NDTV -- will be moved to the first stage of the long-term additional surveillance measures (ASM) framework from Monday.
The move also comes close on the heels of the two exchanges excluding Adani Enterprises, Adani Power and Adani Wilmar under the short-term ASM.
After taking a beating on the bourses, following the report by US-based short seller Hindenburg Research, many of the group stocks have recovered some lost ground. However, amid sluggish broader market trends, the group's stocks have declined in the last few trading sessions.
The report had made a litany of allegations, including fraudulent transactions and share-price manipulation, against it. The group has dismissed the charges as lies, saying it complies with all laws and disclosure requirements.