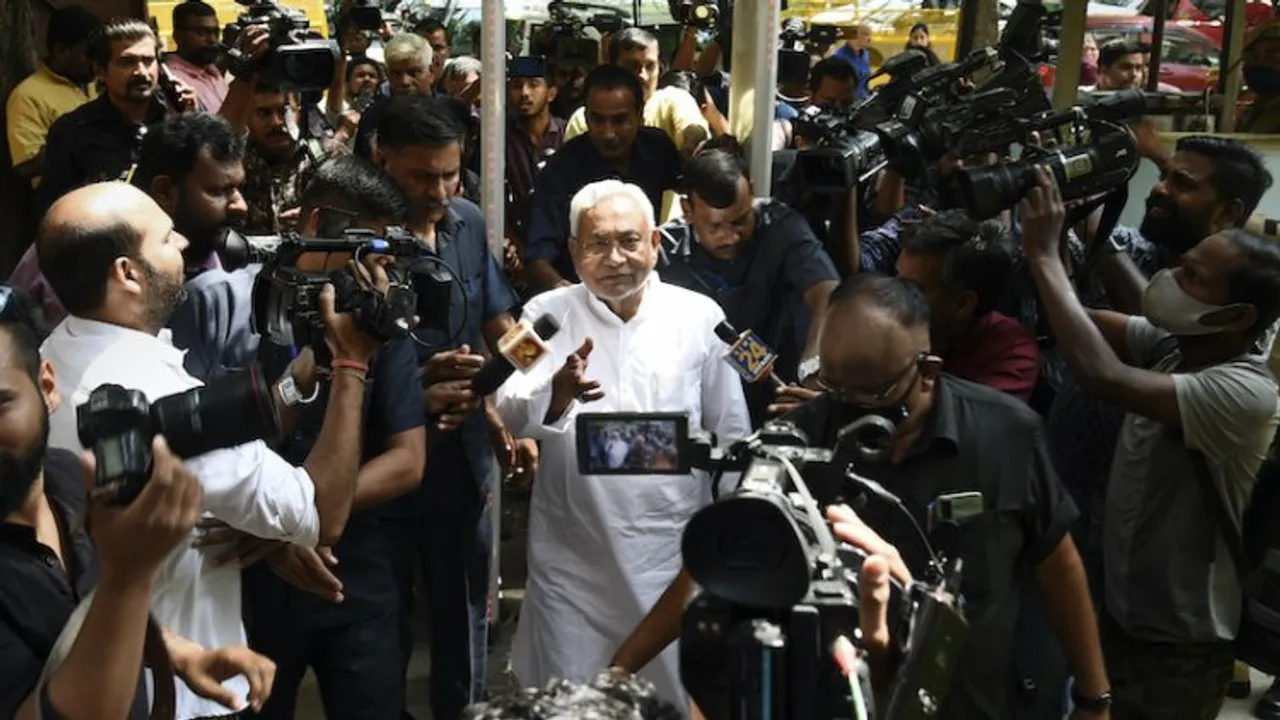 New Delhi: "Opposition unity" or "joint opposition" to unseat Narendra Modi and BJP from the centre is again in limelight in the run-up to the 2024 Lok Sabha elections. 
And this time around, media and a large section of opposition parties have put Bihar Chief Minister and JD(U) supremo Nitish Kumar on a pedestal, a role played unsuccessfully by Sharad Pawar before the 2019 elections.
Recently, former finance minister in the BJP government turned TMC MP Yashwant Sinha was provoked in a similar fashion to become the opposition's joint candidate in presidential polls.
It is widely known that Nitish Kumar had lost ground in Bihar and the public mood was very much against him. Of course, it was not in the favour of the BJP either. Kumar was very much aware of this and decided to switch into RJD's fold.
Basis the pact between Sonia Gandhi and Lalu Prasad, Kumar is expected to be jobless soon. 
The Congress party along with several other opposition parties has plans to use Kumar for creating an atmosphere against Modi. 
The open challenge to Modi in 2014 went in Kumar's favour among other opposition leaders. Back then, he was hailed by many opposition leaders and media as someone who can take Modi head-on. Since then, he has fancied himself as PM material, despite being in denial on public forums.
But it is also true that Kumar is indeed real when he says that he is not eyeing PM's position. 
Kumar could not win a single assembly election on his own. He became CM for a record eight times and each time with support from either RJD or BJP. He knows this well.
From Arvind Kejriwal to Mamata Banerjee to KCR to Navin Pattnaik, everyone else who has won several elections on their own and enjoys popular votes considers themselves suitable candidates for the PM role. 
If Kumar, whose last government was at the mercy of the BJP, can be considered a PM candidate, so can Uddhav Thackeray.
Each time Nitish Kumar made his government in Bihar, it was because he always played the card of kingmaker. 
However, this is seen as a quality in the corridor of power. And every opposition leader knows that Kumar has the capacity to use this quality to become PM as well even if his party wins just one seat like late PM Chandra Shekhar.
There are several other examples such as HD Deve Gowda, Inder Kumar Gujral and Vishwanath Pratap Singh, who became short-term prime ministers for about a year each and Kumar happens to be one of their bright students.
All said and done, Modi's performance in the remaining tenure and BJP Chief Ministers' proactive actions would decide Kumar's fate whether he will be like Yashwant Sinha or late PM Chandra Shekhar. 
Why a joint opposition?
What is being projected is far from reality.
Congress and other opposition parties are stressing the need for a united opposition in the name of religious disharmony and danger to the social fabric. But this is a norm before every election including twice-a-year assembly elections after 2014.
There are instances where issues like the Hijab would be raised in the country to rake up the issue of religious disharmony in elections. Then the issue disappears right after the voting. 
It is a trend that Indian voters know well. In fact, many political pundits say that these things help BJP instead.
Hardliners on either side do not even care about Prime Minister and they often troll and abuse him on social media. In fact, PM himself is the victim of the select hardliners.
Time and again, the opposition has failed to bring the masses into its fold over the issue of inflation and jobs.
The public at large is aware that job creation and recruitment are equal responsibilities of states and the centre. Whenever people lost patience, there have been unfortunate violent protests. 
Except for Agnipath Scheme, such protests are largely against the state government. The opposition has been entirely blaming the Modi government which has given their version of job creation through the private sector and mudra scheme. 
On economic parameters, the Indian economy overtaking the UK keeps people content with the country's performance.
Now, the reality. Narendra Modi almost made Congress-free India at the national level. While the grand old party is struggling to revive itself as the only national party with a country-wide presence, other parties at the state level are also frightened of being toppled by the BJP. 
Plus, the Modi government is believed to have cracked down heavily on cash hoarders who were funding various political parties.
Additionally, this government is also believed to have shut shops of top journalists who once enjoyed the corridors of power.
In all, the Modi government has made every opponent's life tougher. And this "joint opposition" is their compulsion and fight for survival. After all, how many more years can the once powerful people wait in order to get back to normalcy?
Impact of a joint opposition
From the post-poll alliance perspective, everyone knows that all the opposition parties are already united in case Modi falls short of a majority and the kingmaker will become the PM.
Kumar's talks with several leaders of political parties are not for a post-poll alliance. It is for a pre-poll alliance where only one joint opposition candidate will fight with NDA candidates across the country.
Kumar is learnt to have discussed with every leader he met in Delhi ways to unseat the BJP by targeting Modi's nominees in most parliamentary constituencies.
People will take this kind of cartelisation as polarization and hence, it has the potential to create opportunities for the BJP more than challenges.
Overall, BJP may have secured 38% vote share and NDA 45% in 2019, but BJP got more than 50% votes in its strong areas.
Largely speaking, the only significant impact on BJP will be on its expansion plans in the states where it was expecting to win by thin margins.
Having said that, given the past experiences, the joint opposition is a mirage in the desert which uplifts your mood during the unending journey in search of water.