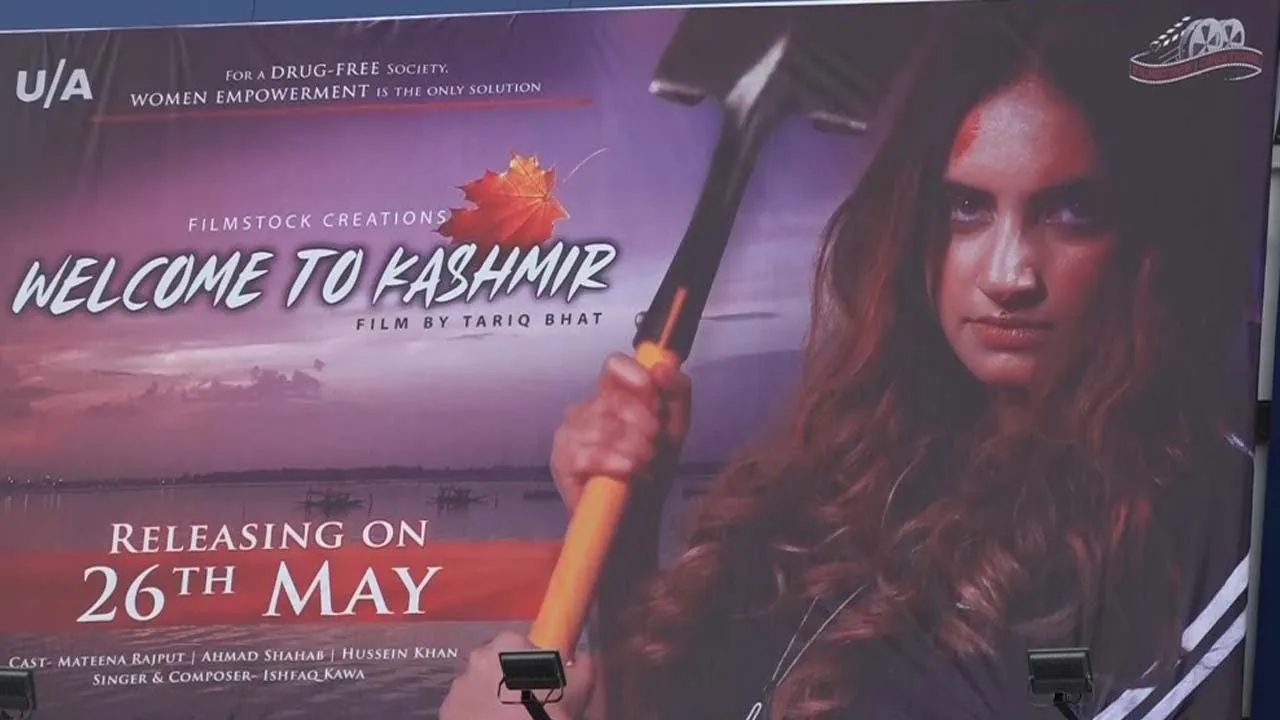 Srinagar: Braving threats and extremist elements, Inox Cinema here is ready to host the premiere of "Welcome to Kashmir" on Friday, a first of its kind film on Kashmiri people and starring people from the Valley, and that makes theatre owner Vikas Dhar a happy man.
Dhar, who fulfilled the dream of his father and prominent educationist Vijay Dhar by setting up a cinema hall in Srinagar 32 years after terror groups had banned or burnt majority of these theatres in the city, said Kashmiris want to watch films on the big screen.
He too wanted the Kashmiri people to watch movies in cinemas and that's how his family ended up opening a theatre in Srinagar, which became operational last September.
"The fact that people of Kashmir have accepted the return of the big screen... People are coming to cinemas and watching movies here. It is something that was in my system for a long time. I don't know how good it is as a business decision, but it feels like that dream has come true," Dhar, 56, told PTI TV in an interview.
The theatre owner also spoke about the film industry's long-standing relationship with Kashmir.
He said cinema icon "Shammi Kapoor's ashes were immersed in Dal Lake". Kapoor famously shot for songs "Diwana hua badal" and "Tareef karun kya uski" from 1964 Hindi film "Kashmir Ki Kali" at the famous Dal Lake. He also shot the 1961 film "Junglee" in the Valley.
"Welcome to Kashmir", set to be released on Friday, is directed by first-time filmmaker Tariq Bhat. Starring newcomers Mateena Rajput and Ahmad Shahab, the film revolves around a girl who dreams to work for women empowerment and women safety in Kashmir.
"Film has a Kashmiri director, actors, producers and the first world premiere in Kashmir. Now, this is a very amazing thing. The first show is completely booked and I hope that the momentum shall continue," said Dhar, who left his lucrative job in the national capital, to run the cinema hall.
Dhar said people of Kashmir have their favourite movies and stars.
"They critically dissect movies... They are knowledgeable about the films. I can also appreciate that they (people of Kashmir) now don't have to go outside Kashmir to watch movies. It's been a wholly positive response and feedback," he added.
Director Bhat hails from a village in Sopore of North Kashmir, called 'Chota Pakistan' during the peak of militancy.
Eager to find out the public response, the filmmaker said through "Welcome To Kashmir", he has attempted to highlight issues such as drug abuse, women safety and tiring conditions under which the Jammu and Kashmir Police works.
"I believe the movie will act as a bridge to connect to Kashmir youths and help me in building a film industry in Jammu and Kashmir. This will provide an opportunity to the youths and wean them away from illegal activities," he added.
Actor Rajput, who hails from a village in Handwara, once considered as a gateway for terrorists to enter the Valley, acknowledged the difficulties while shooting the movie.
"It is really difficult for a Kashmiri girl to get into this kind of profession (acting) because of the mindset of some extremists around... One has to be mentally strong enough to take a decision and follow her dreams. I feel lucky that perhaps I am the one who can bring about a change in society for our women," she said.
Shahab said "Welcome to Kashmir" shines a light on the daily problems faced by the Kashmiri people.
It showcases a positive side of Kashmir and the people of the region, which makes this movie a distinctive one, the actor said.