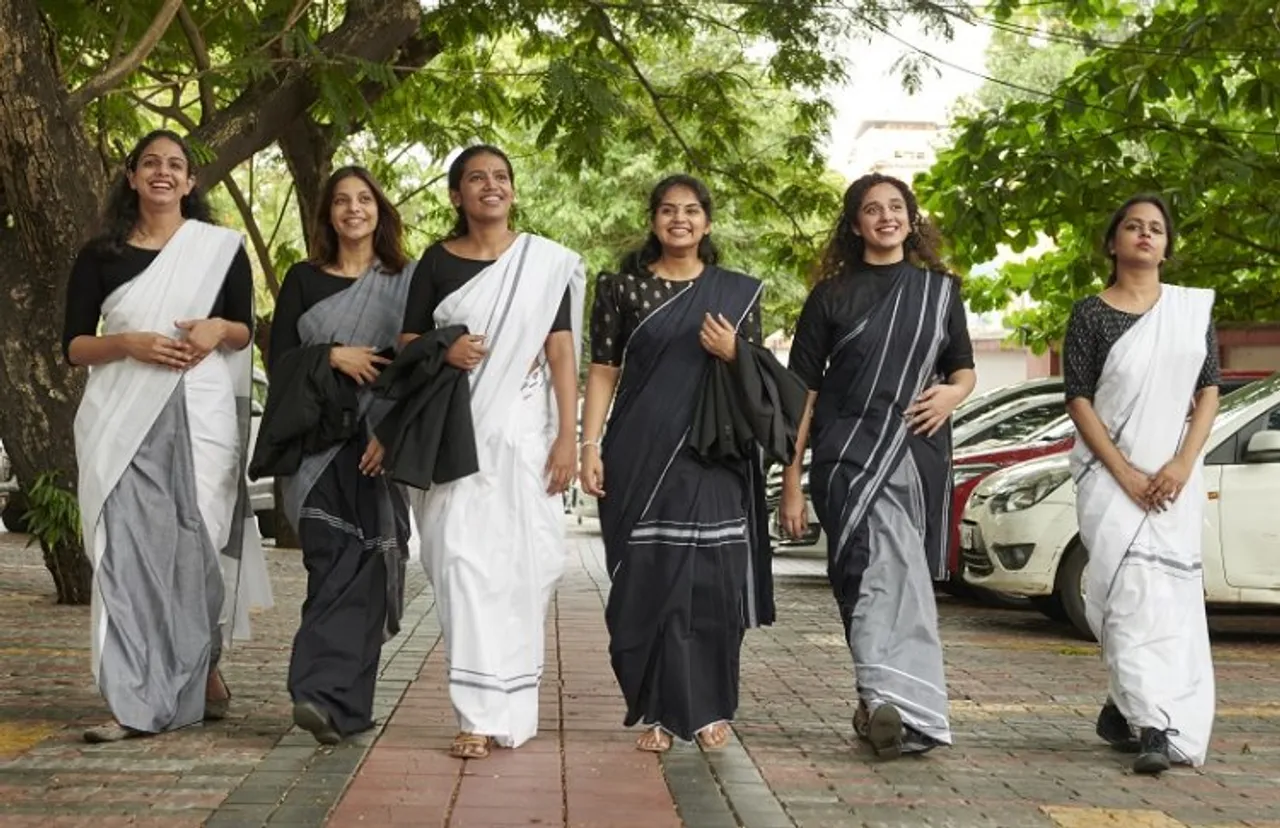 New Delhi: Save The Loom is a non-profit community group to revive, restore, and restructure the handloom industry in India. The organisation works with artisans in Kerala to hand-weave and craft an exclusive range of attire—named Vidhi— for women lawyers, who are governed by a dress code.
Save the Loom is a project started by Ramesh Menon following the 2018 Kerala floods during which some 300 looms were destroyed. We speak to him about his initiative, Vidhi. Vidhi is a range of handwoven premium cotton saris and textiles in achromatic colours of black, white and greys, that aims to present a fresh look at the 'uniform' directive of a dress code in practice over many decades in the courts of India.
How did you start Vidhi?
Having revived the looms and workspaces in handloom and khadi in late 2018 after the devastating floods in Kerala, we were looking at strengthening the backend processes in this sector and mechanisms to ensure better wages and consistent work that is not occasion/festival dependent. Our founding patron Late Justice KK Usha, and many in the lawyer fraternity, immensely helped and guided us in our early stages of setting up Save the Loom. The idea of relooking at the attire women lawyers wear to court came to our attention during those visits to court and we found it an interesting premise for us to work on and see where we can go with it.
And that was a path of many discoveries. We spent a couple of months in research, not just the dress code, and what are the working conditions of women lawyers, but also what young lawyers prefer to wear, to even the statistics of women lawyers over the decades.
When was the first collection launched?
We were ready with the first prototypes sometime in early 2021. The collection has a defined path. It will be a continuing process where designs will be added every few months, material and other R&D to be an ongoing process etc. Since the launch of six designs, we currently have a range of 15 designs now. Each sari pays tribute to a legendary woman lawyer or judge.
Tell us about the weaving clusters you work with.
The handloom sector is in a crisis. The cluster where we work has 96 per cent women weavers, with 85 per cent above the age of 45. This in itself brings its own problems, besides low wages, disturbed supply chain, availability of quality raw material (more so post-COVID) and many other such issues. Save the Loom focuses mainly on those aspects, with a product merely being a storytelling tool. Unless the backend is robust, the people involved in the entire process (Vidhi saris ensure engagement to close to 15 hands) make a livelihood and are happy there is no reason to celebrate handloom or its rich legacy.
What's special about Vidhi?
Vidhi saris are not season based. It aims to make handloom everyday wear with a vision to provide round-the-year work and fair wages to the people who work on the entire process.
Do you launch designs annually?
It's an ongoing process. We started work on Vidhi right in the middle of the pandemic when the entire supply chain system was broken, raw materials were difficult to get, and yarn prices had shot up. The launch was done with six saris, and every quarter we kept adding designs. Many early designs that were sold out went back on the loom to meet the demands from across the country as the courts started opening up to physical hearings. We have 15 designs currently and will have the next additions early next year. We hope the limitation of black, white and grey will still keep inspiring our design team and the inputs of women lawyers from across the country continue for us to keep working on new designs.
How has the journey been so far?
The journey has been of many revelations. We completed four years of working with handloom and khadi weavers in Kerala. It has given us enough ground insight into the realities of why these sectors continue to languish in spite of government support and patronage. The traditional sectors need far greater understanding and repurposing to find a new future where we find the young generation to come to practice it besides a young audience to consume it. The whole concept of patronising handloom because it helps someone or as an act of nobleness or charity needs to go away. There is nothing more luxurious than handmade and it's time we value it and also treat the practitioners of craft as a national treasure. The future is handmade.
How has the feedback been?
When we launched, the courts were functioning virtually. But word of mouth and the fact that it was the first ever time a focused effort was done to design something for women lawyers and adhering to the guidelines of the BCI (Bar Council of India)-stipulated dress code gave us enough reach and we had lawyers from across the country reach out to us. Interestingly enough, we had many law students approach us to buy the saris to wear to their convocation. All of this was organic and we felt that it was much needed and does have a good scope.
Recently an Indian-origin woman lawyer, Amanda Shalou, took oath at the admission ceremony at the New South Wales Supreme Court in Australia and chose to wear a Vidhi sari.
Do you sell online or do you also do retail?
Primarily we sell online, with a good amount of orders coming through social media platforms. We do sell through retail stores in different cities as part of brand promotions.
What next?
As a social impact organisation, our core emphasis is on the practitioners of the craft, their workspaces, and how the traditional forms can be retained, contemporised and made relevant for all times. The young need to practice the craft, find a living and aspirational future in it, and at the same time, we need the young to consume handmade with as much pride, for all qualities that it represents. We are working with green architect Vinu Daniel on making a modern weaving centre cum live museum in Chendamangalam, with CSR and crowdfunding.
Our research and design team constantly works to upskill artisans and allied workers, upgrade the looms and their mechanisms, bring in resources to experiment with natural fibres and natural dyeing, develop product lines that have a universal market, and collaborate with spaces, brands and designers that can place handwoven textiles in the luxury segment to fetch right value and positioning. Our concept space One Zero Eight reopens in time for the Kochi Muziris Biennale this year-end. That not only positions textiles from Kerala in a new light but also works with the finest Indian design talent that works with handlooms and khadi.
Can you share five USPs of Vidhi saris?
1. Colours permissible and guided by the rules of dress code for advocates in India
2. The textiles including saris are woven with sufficient texture to allow easy breathing and a process that absorbs and dries faster 
3. Lighter in feel using a higher count of yarn, enables easy wear and maintenance
4. The range includes reversible saris allowing two different patterns with black and white/grey presenting two ways to wear the same sari
5. All materials are woven by women weavers and hemmed and finished by women's self-groups.