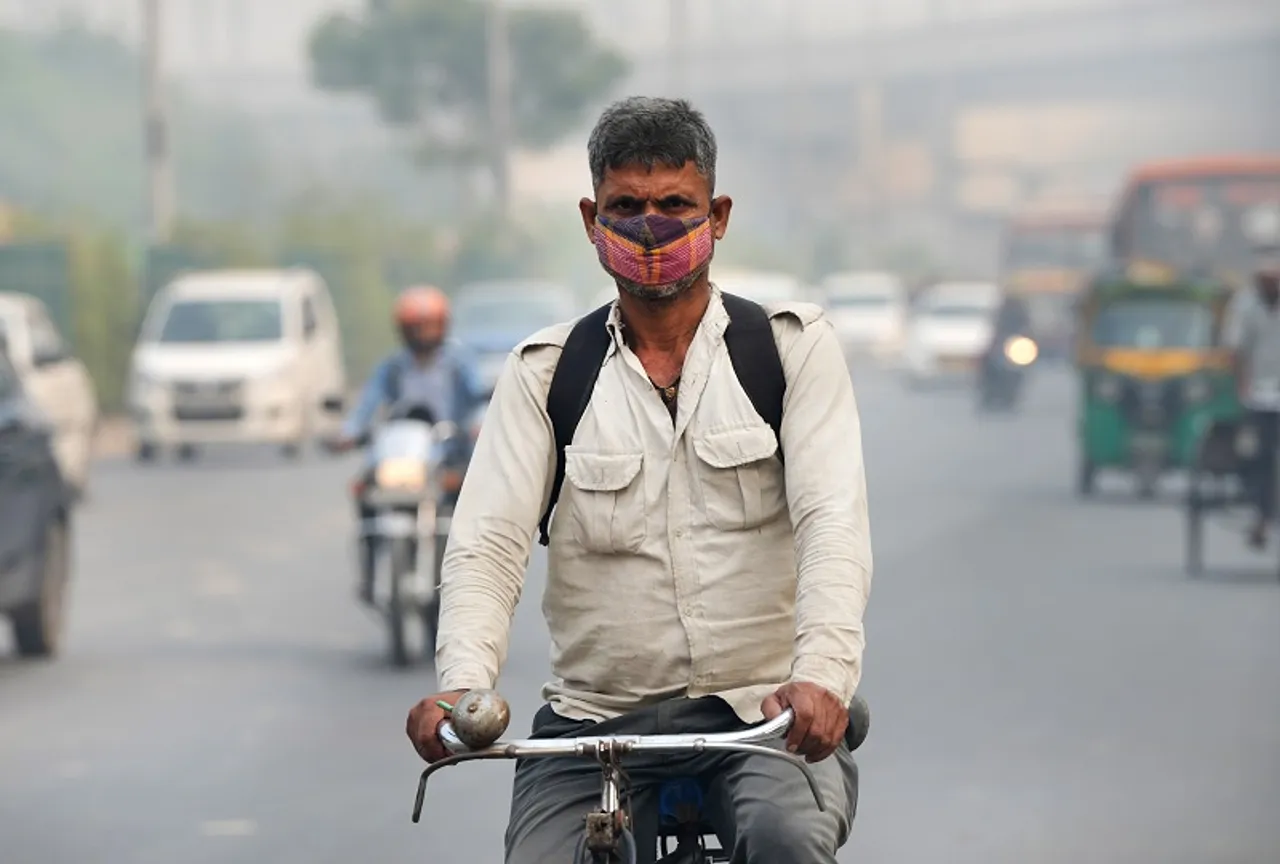 New Delhi: Now that the Diwali celebrations are over—which were a tad muted this year thanks to the AAP government's blanket ban on the bursting of firecrackers—let's talk of the proverbial Delhi problem of air pollution. Delhi's air quality has once again slipped into the 'severe' category with an overall AQI of 329.
The air quality in the national capital started deteriorating on October 24. Though, this year the air quality has seen a massive improvement post-Diwali. The city recorded its second-best AQI figure in the last seven years. Readings below 50 are considered safe, 51 and 100 are 'satisfactory' and anything above 300 is considered hazardous or 'severe'.
But we have little to cheer about. On Friday, Delhi was the world's second most polluted city worldwide, second only to Pakistan's Lahore.
Air pollution occurs because of many reasons. The biomass fuel from combustion activities in the cities, vehicle pollution, increasing construction activities, and burning of fossil fuels together leads to air pollution. It has been seen that cities experience more pollution than rural areas due to more vehicles, and low wind air.
Such poor air quality is naturally going to affect the health and well-being of city residents. Exposure to such bad air can cause both immediate and long-term health problems. The short-term effects are visible in the form of irritation in the eyes, nose and throat due to smog. Pneumonia or bronchitis can also be caused by rising pollutants in the air, while headaches, dizziness, and nausea are also some temporary effects of being exposed to bad air.
And with the winter approaching and smog becoming a reality thanks to stubble-burning in neighbouring Punjab, the situation is only set to worsen. The pollutants are highly toxic and bad for the lungs. It results in breathing problems that can be as serious as asthma and sinus which can cause multiple issues.
Excessive exposure to air pollution is linked to several acute and chronic respiratory illnesses, including chronic obstructive pulmonary disease (COPD), asthma, respiratory allergies, and in extreme cases even lung cancer.
According to the World Health Organization, air pollution is one of the biggest environmental threats to human health, alongside climate change. A study by Greenpeace Southeast Asia Analysis and Swiss firm IQAir last year claimed that an estimated 54,000 premature deaths in Delhi in 2020 were due to air pollution.
Dr Davinder Kundra, Consultant-Pulmonology, HCMCT Manipal Hospitals, Dwarka, says, "Exposure to pollution causes many problems such as sneezing, runny nose, nasal blockage, and throat irritation which can spread to the lungs, cause airway obstruction, shortness of breath, persistent cough, chest tightness and heaviness. It can even trigger asthma-like problems. People who already have asthma or COPD are prone to experience worsened symptoms. The chances of infections are higher in polluted areas. Infections such as swine flu and COVID could increase. Patients with lung diseases such as lung fibrosis require more oxygen support and must consult their line of treatment advice from an expert physician."
Airborne particles or pollutants, such as those found in haze, smoke, and airborne dust, pose serious air quality issues. And while air quality affects everyone, to some, the effects are far more adverse than others. Breathing in polluted air can irritate the airways, resulting in shortness of breath, coughing, wheezing, asthma attacks, and chest pain. Additionally, it can contribute to the rapid progression of chronic illnesses as well.
Dr Arjun Khanna, MD, DM, Head of the Department and Senior Consultant, Department of Pulmonary Medicine, Amrita Hospital and Research Institute, Faridabad, Haryana, advises, "The first preventive approach should be to ensure that you are able to identify as well as avoid possible triggers. Additionally, having an action plan ready in consultation with your doctor, an inhaler by your side—specifically in the case of asthmatics—and taking regular inhalation therapy as prescribed by your doctor is critical. To further manage your condition more effectively, monitoring your lung health with a peak flow meter can be an added layer of precaution."
Also, basic measures such as trying to maintain healthy air quality in your home, reducing time spent outdoors, reducing strenuous, outdoor exercise, and maintaining a safe distance from pollution hotspots can help manage conditions as well.
Other things to keep in mind are to not go outside when the AQI is very poor such as early mornings when there is smog. Experts advise that one should avoid going to parks, roads, and congested areas when the pollution is high. Also, direct contact with the pollutants should be avoided. Children and the elderly need particular care with proper and cautionary immunisation as per schedule, as infections rise with air pollution. While staying indoors should be stressed, it is equally important to exercise to keep the body healthy.
People with diabetes, hypertension and cardiovascular diseases are also at a higher risk and elderly people and children must take more precautions than average people. Wearing a mask every time they go out should be stressed. It not only prevents infections but also lessens contact with air pollutants.