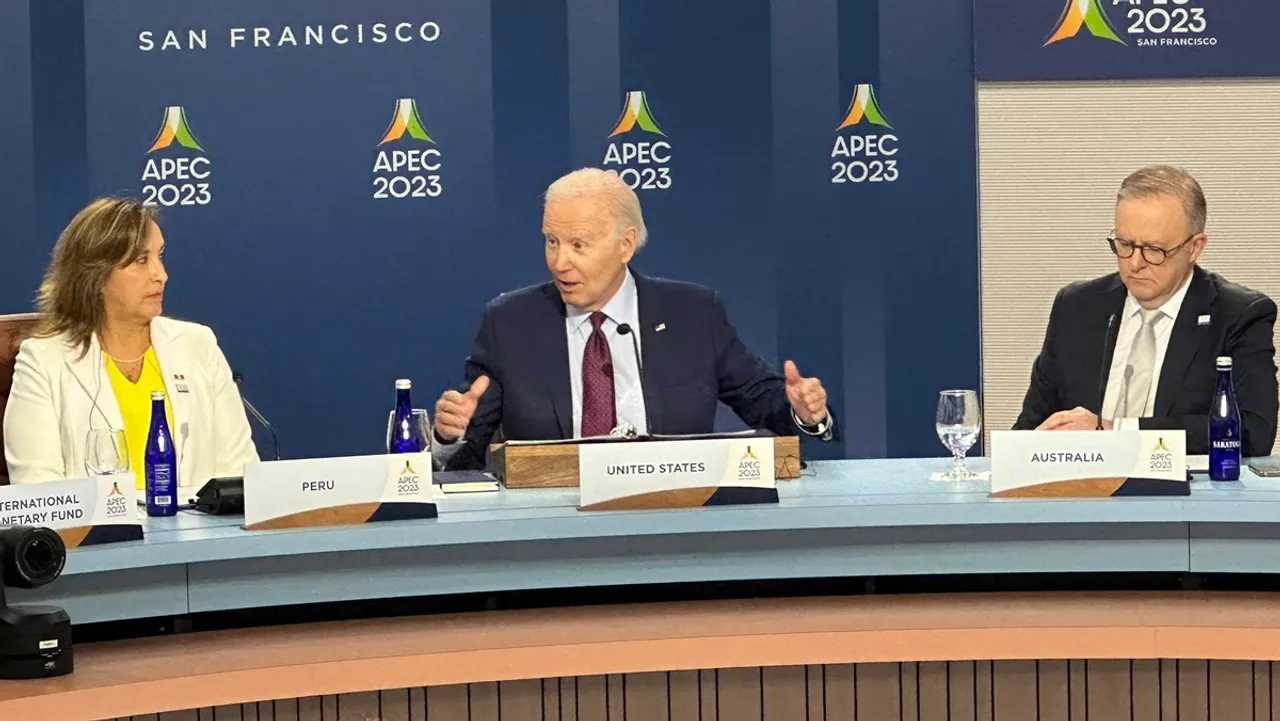 San Francisco: APEC leaders have worked together to find ways to build inclusive, resilient, and sustainable economies for the Asia Pacific, US President Joe Biden said on Friday at the conclusion of the annual leadership summit here.
Attended by leaders from the Asia Pacific region, including those from China, Japan, South Korea, Chile, Peru, Indonesia, Malaysia, Vietnam, and Hongkong, the APEC Leadership Summit was hosted by the US president. The next summit will be held in Peru in 2024.
"Together we laid out the work we'll be undertaking to avert the worst impacts of the climate crisis," Biden said.
The US companies have announced more than USD 500 billion in investments into APEC economies to build new subsea cables, decarbonise energy grids, and complete the largest US airline expansion into the South Pacific in history, Biden said.
"Alongside 13 of APEC partners, we've also made historic progress on the Indo-Pacific Economic Framework, with a first of its kind agreements to strengthen supply chains, accelerate our clean energy transition, and combat corruption," Biden said as he highlighted a few areas where he believed APEC can do even more.
"First, inclusive growth. When everyone in our economies has a chance to contribute, everyone gets a fair shot, and we all do better," Biden said as he announced the launch of Women in the Sustainable Economy Initiative.
Partners in this initiative have already pledged more than USD900 million, to increase women's participation in blue and green industries like forest management, clean energy, fisheries, and recycling, he said.
"We're also supporting programmes that expand access to STEM education, to address laws that limit women's equal access to land and natural resources, and we plan to invest in young women entrepreneurs in the maritime sector and to scale up these projects as well. I challenged us all to find new ways we can seize the full potential of all of our people," he said.
"Secondly, interconnected growth and technology. We're going to see more technological change in the next 10 years than we've seen in the last 50 years. And I don't think that's hyperbole. We are going to see that changing so rapidly. And together, we have to make sure change is for the better," Biden said.
Biden said he and his Chinese counterpart Xi Jinping had a brief discussion on the impact of artificial intelligence and how they have to work on it.
"Together, we must ensure that change is for the better. We must ensure that digital technologies like artificial intelligence are used to uplift, not limit, the potential of our people," he said, adding America's commitment to the Asia Pacific is unwavering.
In her remarks, President Dina Boluarte of Peru said APEC countries have worked on such an important issue, which is caring for the planet – "the only home we have".
"I believe that the economies who are here today, the leaders here today must take on this serious responsibility of continuing to work on this development, on searching for a better way to care for our home, for planet earth," she said.
"We hope to see each and every one of you in Peru next year. We will work together, hand in hand, all of us so that APEC next year shines with its own light from our imperial city of our beloved Peru out towards the world," she said.