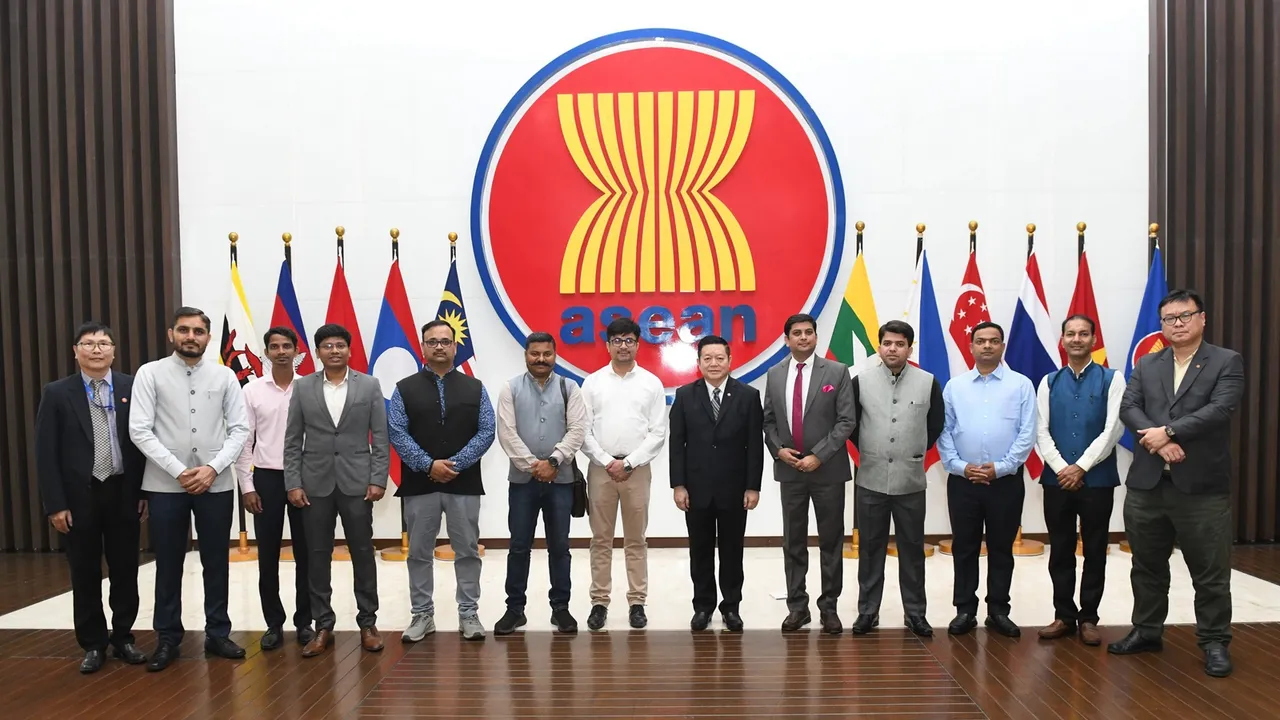 Jakarta: ASEAN Secretary-General Dr Kao Kim Hourn has said that the 10-member bloc of the Southeast Asian countries wants India to join the landmark Regional Comprehensive Economic Partnership (RCEP) for greater market access as he asserted that all partners stand to gain from the inclusive, open and rule-based trade pact.
Dr Kao also said that India and ASEAN have been working together across different sectors - from space to investment, to tourism, to the defence sector and counter-terrorism, among others - and advocated expanding such cooperation in new sectors.
Talking to a select group of Indian journalists here on Monday evening, Dr Kao said joining the Regional Comprehensive Economic Partnership (RCEP) would benefit India as the agreement would provide greater market access.
He added that all partners will gain from the inclusive, open and rule-based trade pact.
The RCEP is a free trade area (FTA) consisting of 10 ASEAN members (Brunei, Cambodia, Indonesia, Malaysia, Myanmar, Singapore, Thailand, the Philippines, Laos and Vietnam) and five of the bloc's dialogue partners -- China, Japan, South Korea, Australia and New Zealand.
The landmark agreement was signed in November 2020. Together, these RCEP participating countries account for about 30 per cent of the global GDP and 30 per cent of the world population.
India had pulled out of the RCEP as, according to officials, joining it would have resulted in fairly negative consequences for the country's economy.
"Looking ahead, of course, we hope to continue to expand the existing areas of cooperation and also to deepen our cooperation," he said, suggesting collaboration in the biotech sector, public health facility, renewable energy sector, people-to-people exchange, connectivity and in many other areas.
"We stand to benefit from the partnership between ASEAN and India. At the moment, we have many mechanisms for cooperation between the two sides," he added.
Recalling Prime Minister Narendra Modi's visit to Jakarta in September to attend the ASEAN summit, he said the grouping "highly value" its "partnership" with India.
"We were delighted to welcome Prime Minister Modi to Jakarta, where he participated in the ASEAN India Summit. And we highly value our partnership with India," he said.
During the Summit on September 7 in Jakarta, Prime Minister Modi presented a 12-point proposal to expand cooperation between India and ASEAN in a range of areas such as connectivity, trade and digital transformation even as he called for building a rules-based post-COVID world order.
The prime minister had reaffirmed that ASEAN is the central pillar of India's Act East Policy and it fully supports ASEAN centrality and its outlook on the Indo-Pacific.
Dr Kao said that ASEAN is a maritime community and India is a maritime nation. "We can collaborate in the maritime sector, for example, maritime cooperation, which is one of the four priority areas under the ASEAN outlook on the Indo-Pacific. Also (we can) work together in the digital economy and sustainability, in the renewable energy sector and people-to-people exchanges and connectivity."
Dr Kao also talked about the contributions of ASEAN-India dialogue relations to ASEAN's community-building efforts and underscored the important role of media in encouraging greater cooperation between ASEAN and India, especially in the areas of cultural exchanges, connectivity and people-to-people ties, among others.
He advocated a liberal aviation pact that would facilitate more direct flights between India and ASEAN nations and enhance people-to-people ties and boost tourism.
Responding to a question on conflicts in different parts of the world, Dr Kao said that ASEAN is a strong proponent of peace, dialogue and diplomacy.
"ASEAN has always been promoting a culture of dialogue, habits of consultation, and of course constructive engagement," he said, adding that things should be worked out through dialogue and the non-use of force.
He hoped that the United Nations would play a constructive role in the resolution of the ongoing conflicts around the world.
"We hope that the United Nations will play a constructive role in ongoing conflicts around the world. We believe that the UN has the means and of course, the commitment to work toward the resolution of the conflicts, particularly when we see a humanitarian tragedy unfolding before us," he said, referring to the Israel-Palestine conflict.
ASEAN wants "peace should be given a chance", he added.
The ASEAN or the Association of Southeast Asian Nations is considered one of the most influential groupings in the region, and India and several other countries including the US, China, Japan and Australia are its dialogue partners.
ASEAN-India dialogue relations started with the establishment of a sectoral partnership in 1992. This graduated to a full dialogue partnership in December 1995 and a summit-level partnership in 2002. The ties were elevated to a strategic partnership in 2012.
The ties between India and ASEAN have been on a significant upswing in the last few years with the focus being on boosting cooperation in the areas of trade and investment as well as security and defence.
The two sides elevated their ties to a comprehensive strategic partnership last year.
The 10 member countries of ASEAN are Indonesia, Malaysia, the Philippines, Singapore, Thailand, Brunei, Vietnam, Laos, Myanmar and Cambodia.