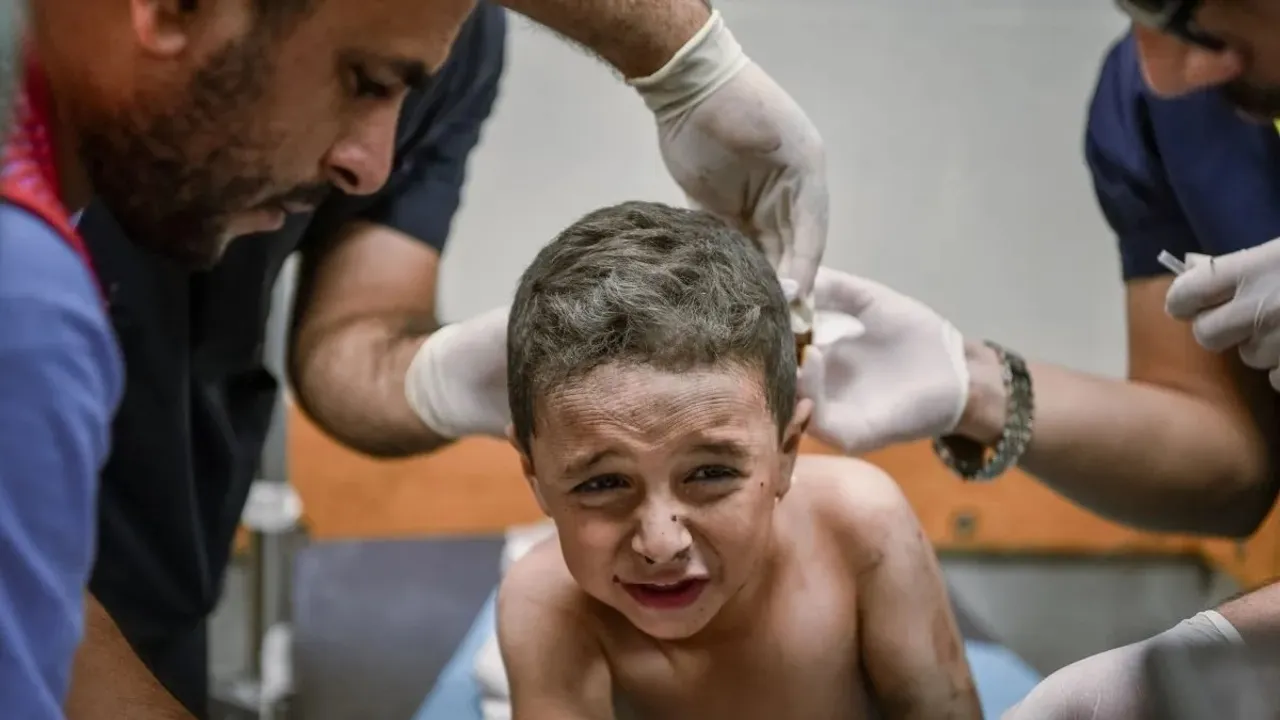 Newcastle upon Tyne: On 25 October, more than two weeks after the deadly Hamas raid on Israel, US President Joe Biden was asked about the Palestinian death count from Israeli bombardments launched on Gaza in retaliation.
"I have no notion that the Palestinians are telling the truth about how many people are killed. I'm sure innocents have been killed, and it's the price of waging a war," Biden said.
The Ministry of Health in Gaza responded by publishing the names of those killed, along with the sex, age and identity card number of each of the victims.
Seldom has the issue of civilian casualties been so politicised.
In Gaza in recent weeks, it has taken centre stage in debates about Israel's military operations in the besieged territory controlled by Hamas. And hidden behind those numbers is the reality that for many survivors, life will never go back to 'normal' – the injuries of war endure.
The grim list of the dead and injured grows each day. Although difficult to verify with absolute accuracy, thousands of Palestinians have been killed, a fact the Biden administration has not disputed.
The numbers of casualties are being reported by the World Health Organization, which publishes regular emergency situation reports.
And in any accounting of civilian casualties in this conflict, two points are critical.  First, in previous escalations of violence in Gaza, the major parties have broadly agreed on the final toll.
In the 2014 Gaza war, for example, which lasted approximately seven weeks, the Gaza Ministry of Health put the death toll at 2,310, while Israel put it at 2,125. For comparison, the United Nations noted the toll at 2,251. So, there may yet be a broad agreement in the fullness of time.
Second, it is the injured who tend to be forgotten. Although sometimes casualty counts distinguish between the injured and dead, there is often an assumption that, merely because they survived, the injured are going to be okay. But research shows this is not the case.
Before this war started, Gaza already had a great number of injured. Successive waves of military violence, including major escalations in 2008-9, 2012, 2014, 2018-19, and 2021 have created an enormous burden of injury.
Research at Al-Shifa Hospital in Gaza City found that Israeli military operations in Gaza from 8 July to 26 August 2014 injured more than 11,000, including at least 3,436 children. The UN recorded more than 36,100 injured, including nearly 8,800 children, in the Great March of Return, a mass protest calling for the Palestinian right of return that lasted from March 2018 to the end of 2019.
Each war in Gaza has brought its own patterns of injury – gunshot wounds, crush injuries, explosive blast injuries – which require complex and often highly-specialised medical intervention.
But with little opportunity or resources to absorb the mass of casualties from one conflict, another round of violence soon brings a new cohort of patients whose medical needs are more urgent. Inevitably, the logic of triage under siege dictates that the needs of those injured months or years ago are left at least partially unmet.
Amid the latest bombardment of Gaza, the aid organisation Médecins Sans Frontières said, "There are constant flows of patients and seriously injured people, with complex trauma wounds, burns, fractures and crushed limbs."
The current conflict only adds to the burden – not only on the injured, but also on a healthcare system that has been chronically 'de-developed' and is now near collapse.  Thousands of war-injured patients struggled to navigate everyday life long before 7 October. Those with disabilities are especially vulnerable, and evidence suggests evacuation orders are often impossible to comply with for those in wheelchairs and with other mobility restrictions.
The wounded often require long-term and complex care, and there are many complications associated with injury, including multi-drug resistant infection, amputation, prosthetics, and other medical issues.
All of these have an impact on the mental and physical health of not only the injured but also their families and the wider social fabric. And even after the military bombardments end, war and weapons continue to injure through toxic effects and exposure to carcinogenic and other harmful substances.
Physical injuries tend to be more visible, but the psychological distress of living under siege and through war should not be underestimated. There is an epidemic of serious mental health issues in Gaza, and findings by Save the Children suggest that four out of five children report living with depression, grief and fear.
Gaza has been under international blockade, enforced by Israel and Egypt and supported by much of the international community, since 2005, when Israel withdrew settlers and its army in what it called its 'disengagement plan'.
While Israel maintains that from then on the Gaza Strip was no longer occupied, the UN, international human rights organisations and many legal scholars regard the Gaza Strip as still under military occupation.
The blockade has shaped daily life, with everything from the economy to reconstruction efforts to health affected by extensive limitations placed on the movement of goods and people in and out of the territory. According to the UN, 95 percent of people lack access to clean water and more than 80 percent live in poverty.
When blockade and war combine, it's not only the injured who are at risk. Gaza is home to 350,000 people suffering from cancer, diabetes, heart, and kidney diseases. The total blockade announced by Israel on October 9 has placed the territory's entire healthcare system under insurmountable pressure, and patients are dying due to a lack of resources and services.
Casualty counts are not just an important metric for understanding the scale of war and conflict. They also serve as an important political and ethical reminder of the human costs of war.  In recent years, many militaries have become increasingly accountable for the civilian casualties and collateral damage they cause.
This is in part the result of internal pressures and the realisation that causing civilian casualties makes achieving military objectives more difficult as it creates resentment and opposition from affected populations. But it is also the result of external organisations like the US-based Center for Civilians in Conflict, Israel-based BTselem, or UK-based Airwars pushing for greater transparency and awareness.
Today both the US and Israel have extensive civilian casualty mitigation procedures, even if they are imperfect and allow for sometimes large amounts of civilian casualties.
The degree of restraint in Israel's current military operations is difficult to gauge. Early in the campaign, military spokesperson R Adm Daniel Hagari suggested that "the emphasis is on damage and not on accuracy" – a declaration of intentional disregard for civilian lives.
The Geneva Conventions do not outlaw civilian death and injury, but they make clear that any damage must be proportionate to the military advantage gained.
The surest and perhaps only way to prevent further civilian suffering in Gaza would be an immediate ceasefire. (360info.org)