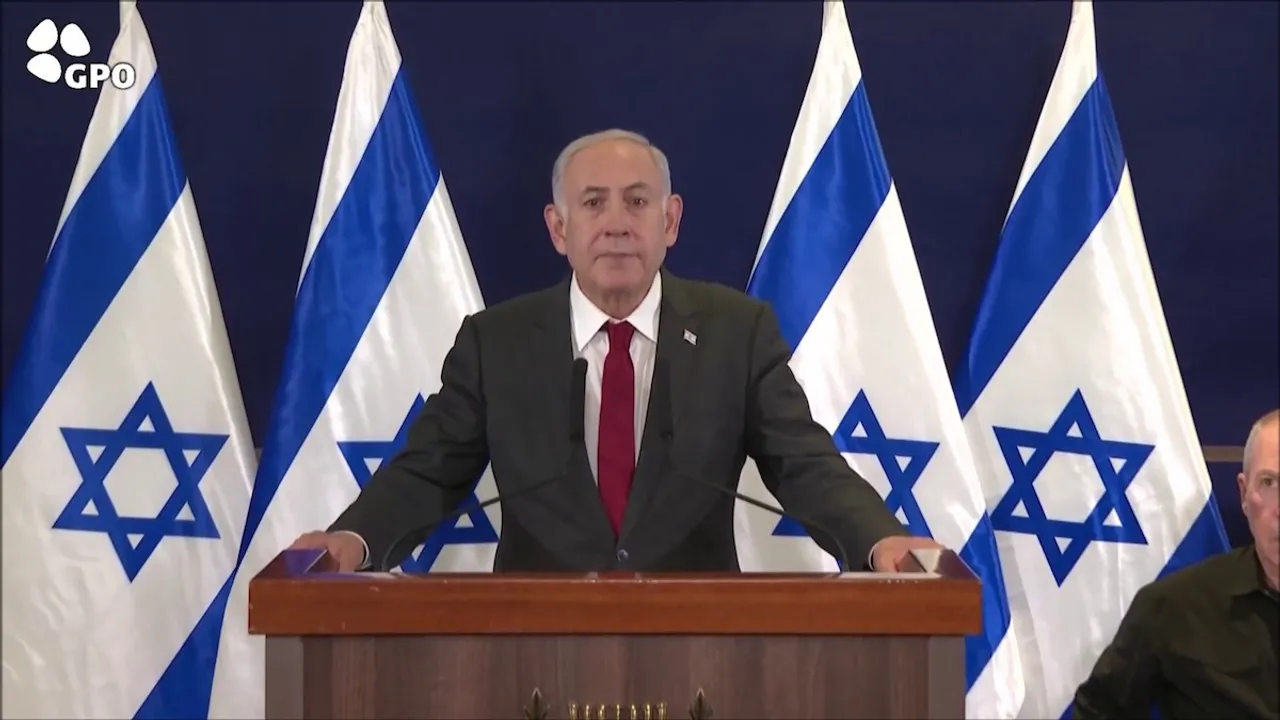 New Delhi: Prime Minister Benjamin Netanyahu pushed back Saturday against growing international calls for a cease-fire, saying Israel's battle to crush Gaza's ruling Hamas militants will continue with "full force."
A cease-fire would be possible only if all 239 hostages held by Hamas terrorists in Gaza are released, Netanyahu said in a televised address.
The Israeli leader also insisted that after the war, now entering its sixth week, Gaza would be demilitarized and Israel would retain security control there. 
Asked what he meant by security control, Netanyahu said Israeli forces must be able to enter Gaza freely to hunt down terrorists.
He also rejected the idea that the Palestinian Authority, which currently administers autonomous areas in the Israeli-occupied West Bank, would at some stage control Gaza. Both positions run counter to post-war scenarios floated by Israel's closest ally, the United States.
Secretary of State Antony Blinken has said the U.S. opposes an Israeli reoccupation of Gaza and envisions a unified Palestinian government in both Gaza and the West Bank at some stage as a step toward Palestinian statehood.
For now, Netanyahu said, "the war against (Hamas) is advancing with full force, and it has one goal, to win. There is no alternative to victory."
Pressure was growing on Israel after frantic doctors at Gaza's largest hospital said the last generator had run out of fuel, causing the death of a premature baby, another child in an incubator and four other patients. Thousands of war-wounded, medical staff and displaced civilians were caught in the fighting.
In recent days, fighting near Shifa and other hospitals in northern Gaza has intensified and supplies have run out. The Israeli military has alleged, without providing evidence, that Hamas has established command posts in and underneath hospitals, using civilians as human shields. Medical staff at Shifa have denied such claims and accused Israel of harming civilians with indiscriminate attacks.
Shifa hospital director Mohammed Abu Selmia said the facility lost power Saturday.
"Medical devices stopped. Patients, especially those in intensive care, started to die," he said by phone, with gunfire and explosions in the background. He said Israeli troops were "shooting at anyone outside or inside the hospital" and prevented movement between buildings.
Israel's military confirmed clashes outside the hospital, but Rear Adm. Daniel Hagari denied Shifa was under siege. He said troops will assist Sunday in moving babies treated there and said "we are speaking directly and regularly" with hospital staff.
Amos Yadlin, a former head of Israeli military intelligence, told broadcaster Channel 12 that as Israel aims to crush Hamas, taking control of the hospitals would be key but require "a lot of tactical creativity," without hurting patients, other civilians and Israeli hostages.
Six patients died at Shifa after the generator shut down, including the two children, spokesmen with the Hamas-run Health Ministry said.
The "unbearably desperate situation" at Shifa must stop now, the International Committee of the Red Cross director general, Robert Mardini, said on social media. U.N. humanitarian chief Martin Griffiths posted that "there can be no justification for acts of war in health care facilities."
Elsewhere, the Palestinian Red Crescent said Israeli tanks were 20 meters (65 feet) from al-Quds hospital in Gaza City, causing "a state of extreme panic and fear" among the 14,000 displaced people sheltering there.(AP)