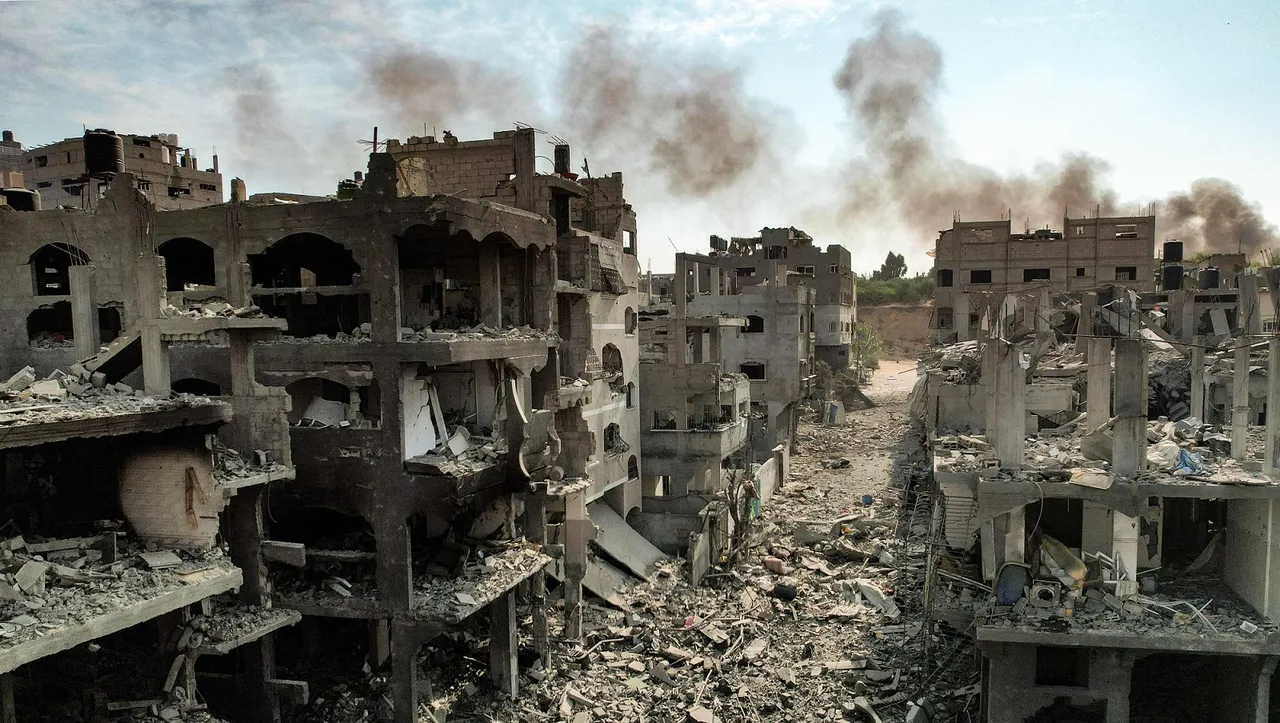 Lancaster: While most Western governments have united in supporting Israel's right to self-defence, China and Russia have made their own calculations. Along with the broader Global South, they have not shied from criticising Israel's military response in Gaza and its impact on Palestinian civilians.
Whether the fighting between Israel and Hamas benefits Russia and China will largely be a matter of perception. While the West may view Russian and Chinese positions as opportunistic and driven by their desire to oppose Western countries for strategic advantage, the opinion of the Global South may well still be up for grabs.
But Russia and China will need to make sure they do not suffer the same fate as the West, by being criticised for their hypocrisy in their contrary treatment of the Ukraine and Gaza crises.
To demonstrate their status as great powers and capture the support of the Global South, they will have to match their words with deeds by acting to protect civilians and uphold legal and humanitarian obligations, as expressed in the recent UN resolution they supported.
The division between the West and the Rest over Gaza has deepened since Hamas launched a surprise attack on 7 October, in which the Islamist organisation invaded Israeli territory, killing hundreds and taking more than 200 hostages. Israel's security establishment was caught off guard and the international community was shocked by the violence.
While many Western countries swiftly aligned with Israel, Russia and China sought greater balance in their statements, which included criticism of Israel's response, which has included displacing over a million civilians, placing the territory under a tight siege and restricting humanitarian assistance while also withholding the supply of electricity and water.
While the immediate impact of Israel's military action in Gaza may well be at the forefront of Russian and Chinese policymakers' minds, there are also wider regional and global considerations influencing their positions.
In the weeks following the Hamas attack, the UN Security Council struggled to reach a consensus. Four attempts to draft resolutions failed due to vetoes from the United States on one side and Russia and (occasionally) China on the other.
Although most of the proposed resolutions condemned attacks on civilians, American objections included the absence of any acknowledgement of Israel's right to self-defence and only a commitment to 'humanitarian pauses' to allow aid into Gaza.
By contrast, neither Russia nor China objected to the draft resolutions' lack of a call for a ceasefire. They have also differed from the West in not openly criticising Hamas. Indeed, a Hamas delegation even visited Moscow to discuss the prospects of a ceasefire and resolving the hostage situation.
Although both countries have cultivated diplomatic and economic relations with Israel in recent decades, from Chinese investment in the country to Russian and Israeli coordination during the Syrian civil war, they are mindful of public opinion in the Arab world, which has been critical of Israel's military response.
So great has been the anger that even governments in Saudi Arabia and the UAE, who have little patience for Hamas and had either normalised relations with Israel (like the UAE) or were in the process of doing so (like Saudi Arabia) have felt the need to publicly distance themselves from Israel.
Additionally, Russia and China's positions have reflected wider global sentiment. In the absence of a UNSC resolution, the General Assembly, where all member states are represented, successfully passed a non-binding resolution for a humanitarian truce on October 27.
The resolution condemned attacks on civilians and called for the "protection of civilians and upholding legal and humanitarian obligations." Russia and China, along with most of the Arab world and the Global South were among the 120 member states that voted in favour, with 14 against (including the US, which opposed the exclusion of any explicit reference on Hamas) and 45 abstentions, including Australia.
Russia's position may also be influenced by its ongoing war in Ukraine, where it has occupied parts of the country since February 2022. Moscow may hope that the Israel-Hamas conflict could deflect Western attention and practical assistance away from the Ukraine, including supplies of weapons.
While Russia and China's positions have so far been in line with that of the broader Global South in relation to the Israel-Hamas War, their stance could potentially work to their disadvantage.
For one, the past few weeks have contributed to increasing distrust of Russia and China within the Israeli political establishment.
Israel has never regarded Russia and China as allies or as offering comparable assistance as the United States, so the slowness of their response to the 7 October attacks followed by the criticism of Israel's military response could have repercussions down the line.
In recent years Chinese officials have played up Beijing's interest in becoming a conflict mediator in the Middle East, including on the Palestinian question. But given Israeli suspicion, it is unlikely that China would be welcome in any future peace process. Such an exclusion could be damaging to its aspirations of becoming a global power, with interests and influences beyond its own immediate neighbourhood.
The same might go for Russia. Moscow is already a member of the Quartet, a group of external parties (along with the UN, the US, the EU ) concerned with and supportive of the (currently frozen) Oslo peace process. Successive Israeli governments had tacitly accepted Hamas rule in Gaza, but the 7 October attack has uprooted those calculations.
Now Israel's government looks intent on eliminating Hamas. That has made Moscow's channel to Hamas less useful than before. Besides, Russia's refusal to condemn Hamas and its preparedness to host them only serves to offend the Israeli leadership further.
Russian and Chinese positioning on the Israel-Hamas war could potentially create problems with their partners, both in the region and beyond.
If those partners perceive Moscow's and Beijing's stances as driven by self-interest and not by principle, this could lead to suspicion and doubt about their own relations with each.
The goodwill generated in the recent past — through China's Belt and Road Initiative for instance, or their assistance to developing countries during the pandemic in the form of medical equipment, guidance and vaccine — could be undermined. (360info.org)