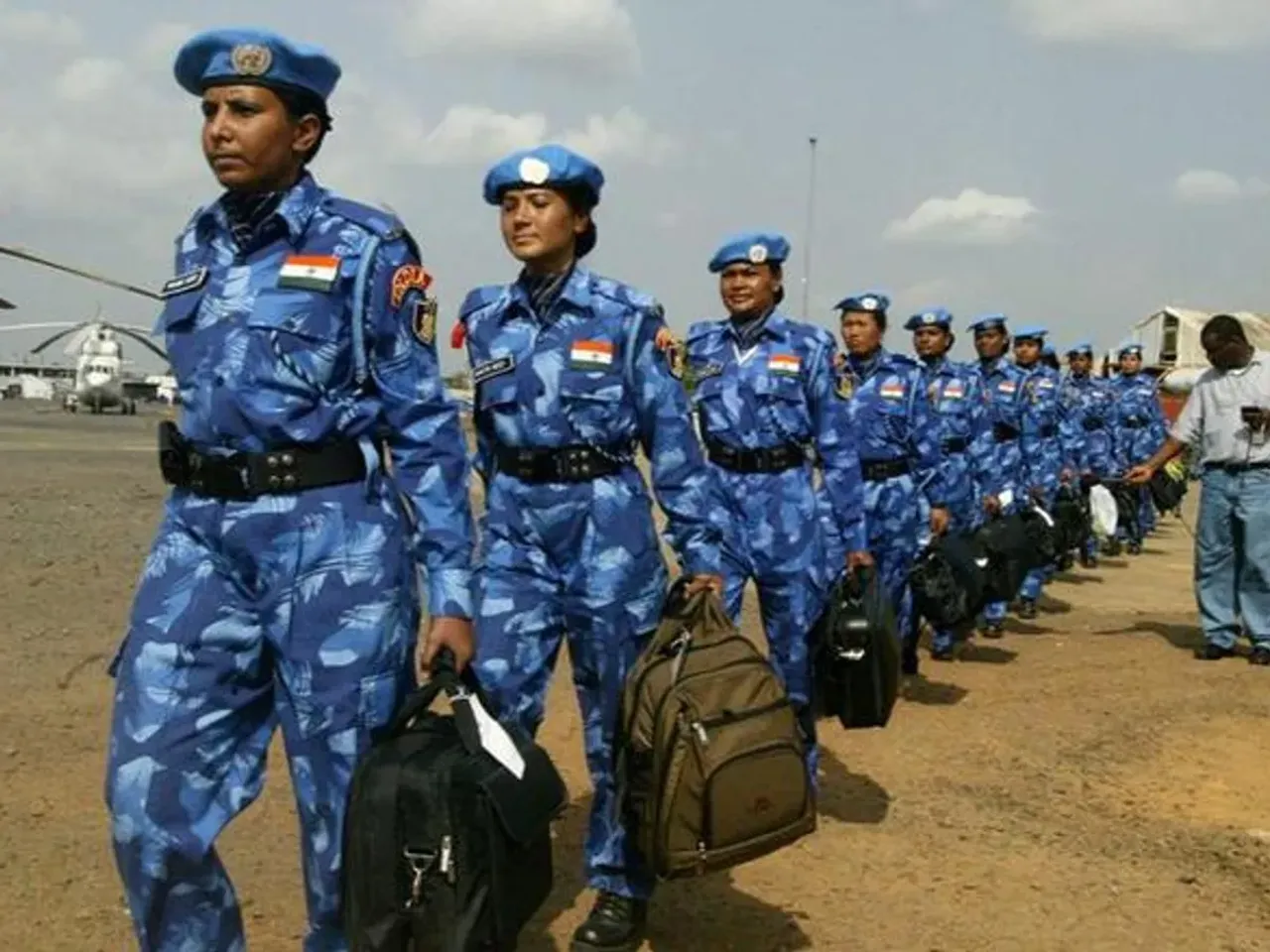 United Nations: India, among the largest troop-contributing countries to UN peacekeeping, is deploying a platoon of women peacekeepers in Abyei, the country's largest single unit of female Blue Helmets in a UN mission since 2007.
The move heralded India's intent of increasing significantly the number of women in peacekeeping contingents.
"India is deploying an all #women's platoon of peacekeepers as part of our battalion to the UN Mission in #Abyei @UNISFA_1. This is the single largest deployment of women #peacekeepers in recent years. Good wishes to the team!" India's Permanent Representative to the UN Ambassador Ruchira Kamboj tweeted Thursday, along with a photo of the contingent.
India's Permanent Mission to the UN said in a statement that the platoon of women peacekeepers will be deployed in Abyei as part of the Indian Battalion in the United Nations Interim Security Force, Abyei (UNISFA) on January 6, 2023.
"This will be India's largest single unit of women Peacekeepers in a UN Mission since we deployed the first-ever all-women's contingent in Liberia in 2007. It will also herald India's intent of increasing significantly the number of Indian women in Peacekeeping contingents," the statement said.
The Indian contingent, comprising two officers and 25 other ranks, will form part of an engagement platoon and specialise in community outreach and will be performing extensive security-related tasks as well. "Their presence will be especially welcome in Abyei, where a recent spurt in violence has triggered a spate of challenging humanitarian concerns for women and children in the conflict zone," it added.
In September last year, Kamboj had said in a Security Council briefing on United Nations Peacekeeping Operations that the role of women peacekeepers cannot be over-emphasised ineffective peacekeeping.
She had underlined that India took pride in having deployed the first-ever all-women peacekeeping contingent in Liberia in 2007, "which inspired a whole generation of Liberian women to take part in the country's security sector. We stand ready to contribute further to this regard." The Indian mission noted in the statement that women peacekeepers are "highly regarded" in UN missions throughout the world for their ability to reach out and connect with women and children in local populations, especially victims of sexual violence in conflict zones.
"Indian women particularly have a rich tradition in peacekeeping," the statement said adding that UN's first Police Adviser Dr Kiran Bedi, United Nations Military Gender Advocate of the Year Award 2019 honoree Major Suman Gawani and Shakti Devi have made a mark for themselves in UN Peacekeeping.   In 2014, Devi of the Jammu and Kashmir Police, who was deployed in the UN Assistance Mission in Afghanistan (UNAMA), was named the recipient of the International Female Police Peacekeeper Award by the UN's Police Division for her "exceptional achievements" with the UN mission in Afghanistan, including her efforts towards helping victims of sexual and gender-based violence.
"Our teams in the Congo and South Sudan have also done sterling work in mainstreaming women and children into community and social developmental projects at the grassroots level," the Indian mission said.
The role of the 125-strong women peacekeepers of the Indian Formed Police Unit deployed with the UN mission in Liberia has been lauded for inspiring women in the West African nation to become police officers. Then UN Secretary-General Ban Ki-moon had hailed India's women's peacekeeping unit in Liberia as an inspiration for all, saying their conduct served as an example of how women can help the world body in its efforts to combat sexual exploitation and abuse.
As of October 31, 2022, India is the second largest contributor to UN peacekeeping missions with 5887 troops and personnel deployed across 12 missions, after Bangladesh (7,017).