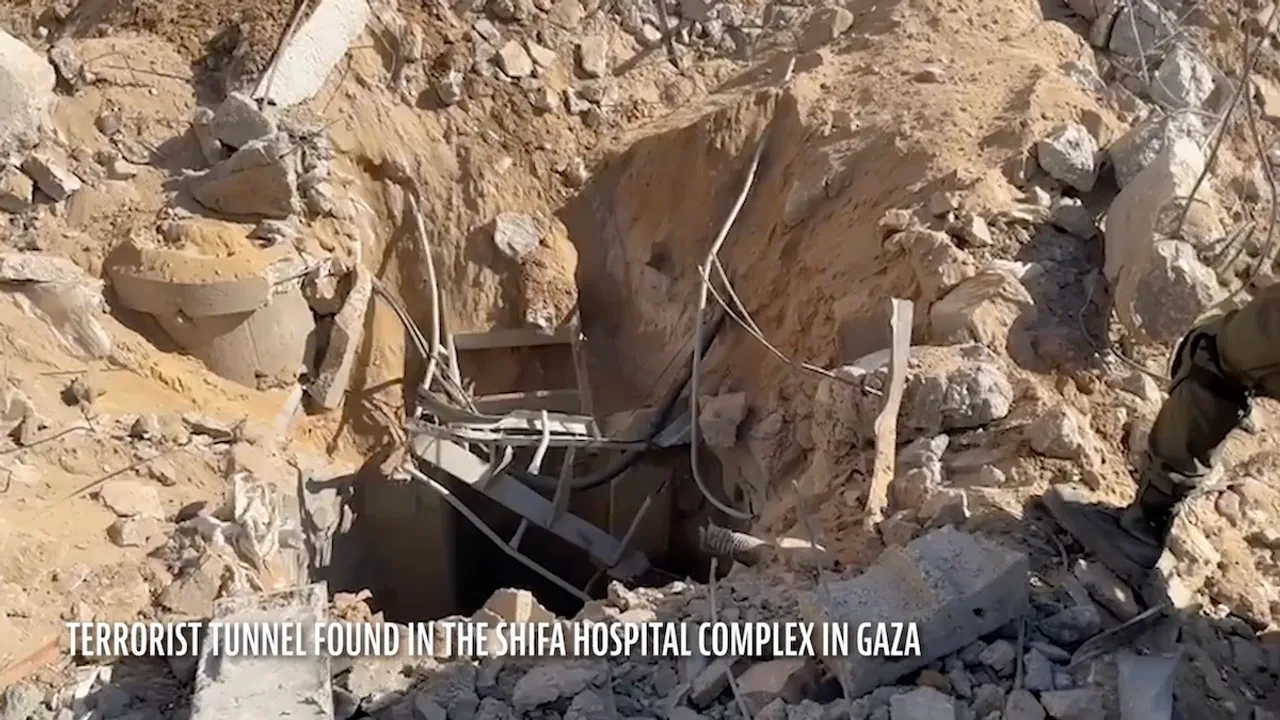 New Delhi: The Israeli military on Friday claimed it discovered a 'Hamas terrorist tunnel' inside the Shifa Hospital complex.
The Isreal Defense Forces released a video purportedly showing a tunnel.
Exposing another layer of Hamas' exploitation of three of the largest hospitals in Gaza:

🔻Inside the Shifa Hospital complex, a Hamas terrorist tunnel was uncovered.

1/3 pic.twitter.com/uGo4uBdTly

— Israel Defense Forces (@IDF) November 17, 2023
It claimed to unearth yet another 'terrorist tunnel' in Rantisi Hospital.
🔻Inside the Rantisi Hospital, yet another terrorist tunnel was unearthed by IDF troops.

2/3 pic.twitter.com/jUKVFNgeBb

— Israel Defense Forces (@IDF) November 17, 2023
In another hospital, Al-Quds, Israeli military seized a large amount of weaponry and ammunition.
🔻Inside the Al-Quds Hospital, a large amount of weaponry and ammunition were found.

This was all found over the past 24 hours.

3/3 pic.twitter.com/ZTvLRfQcCo

— Israel Defense Forces (@IDF) November 17, 2023
While Israel claims that all these findings tool place in the last 24 hours, Hamas maintains on the grounds of the hospital. Hamas and Gaza health officials deny militants operate in Shifa.
The army early Wednesday raided the Shifa hospital, Gaza's largest. After a daylong search, the army released a video on Thursday showing several AK-47 automatic rifles, ammunition, grenades, protective vests and other equipment used by Hamas. It said many of the items were in duffel bags in the hospital's MRI department.
"These weapons have absolutely no business being inside a hospital," Lt. Col. Jonathan Conricus, a military spokesman, said in the military's video.
Israeli troops on Wednesday stormed into Gaza's largest hospital, searching for traces of Hamas inside and beneath the facility, where newborns and hundreds of other patients have suffered for days without electricity and other basic necessities as fighting raged outside.
While entering, the Israeli army released video showing soldiers carrying boxes labeled as "baby food" and "medical supplies." Later, Gaza health officials talked of terrified staff and patients as troops moved through the buildings.
After encircling Shifa for days, Israel faced pressure to prove its claim that Hamas had turned the hospital into a command center and used patients, staff and civilians sheltering there to provide cover for its terrorists. 
The allegation is part of Israel's broader accusation that Hamas uses Palestinians as human shields. Israel released video late Wednesday of weapons it said it found in one building, but so far its search showed no signs of tunnels or a sophisticated command center.
Hamas and Gaza health officials deny militants operate in Shifa — a hospital that employs some 1,500 people and has more than 500 beds, according to the Palestinian news agency. Palestinians and rights groups say Israel has recklessly endangered civilians as it seeks to eradicate Hamas.
As Israel tightens its hold on northern Gaza, leaders have talked of expanding the ground operation into the south to root out Hamas. Most of Gaza's 2.3 million people have already crowded into the territory's south, where a worsening fuel shortage threatens to paralyze the delivery of humanitarian services and shut down mobile phone and internet service.
The war between Israel and Hamas erupted after the militant group killed some 1,200 people and seized around 240 captives in an Oct. 7 attack that shattered Israelis' sense of security.