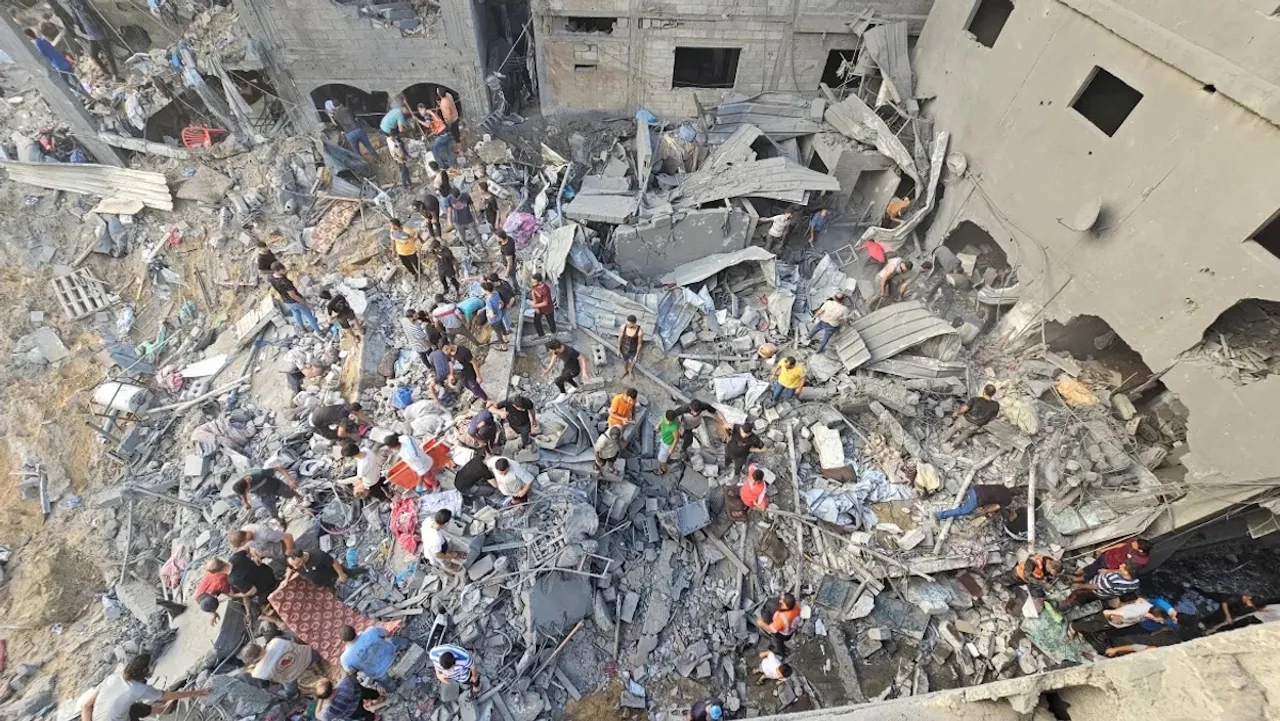 New Delhi: Israeli airstrikes hit two refugee camps in the central Gaza Strip on Sunday, killing scores of people, health officials said. The strikes came as the US keeps urging Israel to take a humanitarian pause from its relentless bombardment of Gaza and rising civilian deaths.
US Secretary of State Antony Blinken travelled to Ramallah in the West Bank for a previously unannounced meeting with Palestinian President Mahmoud Abbas. Blinken on Saturday met with Arab foreign ministers in Jordan, after holding talks in Israel with Prime Minister Benjamin Netanyahu, who insists there could be no temporary cease-fire until all hostages held by Hamas are released. President Joe Biden suggested that progress was being made on the humanitarian pause.
The Palestinian death toll in the Israel-Hamas war reached 9,700, according to the Hamas-run Health Ministry in Gaza. In the occupied West Bank, more than 140 Palestinians have been killed in violence and Israeli raids.
More than 1,400 people in Israel have been killed, most of them in the Oct 7 Hamas attack that started the fighting, and 242 hostages were taken from Israel into Gaza by the militant group.
Roughly 1,100 people have left the Gaza Strip through the Rafah crossing since Wednesday under an apparent agreement among the United States, Egypt, Israel and Qatar, which mediates with Hamas.
Michael Hertzog, the Israeli ambassador to the US, says Gaza is "the biggest terror complex in the world," with tens of thousands of fighters and rockets, among other weaponry and 310 miles (500 kilometers) of underground tunnels.
"This is what we're up against. And we have to uproot it, because if we do not, they will strike again and again," Hertzog told CBS' "Face the Nation" in an interview aired Sunday.
He also said Israel was making every effort to distinguish between "terrorists and the civilian population" in its war with the Hamas militant group that rules Gaza.
"This is a very complicated military operation in a densely populated area, and we're trying to move the population away from that war zone," he said.
Former President Barack Obama says "nobody's hands are clean" in the Israel-Hamas war and acknowledged that he's questioned in recent days whether his administration could have done more to push for a durable peace when he was in power.
"If you want to solve the problem, then you have to take in the whole truth," Obama said in an interview on "Pod Save America." "And you then have to admit nobody's hands are clean. That all of us are complicit to some degree." The former president went on to tell his interviewers, Obama administration alumni Dan Pfeiffer and Tommy Vietor, said that he has asked himself since the start of the war, "Was there something else I could have done?"
The former president did make an attempt at peace between Israel and Palestinians during his second term, but months of talks collapsed in 2014 amid disagreements on Israeli settlements, the release of Palestinian prisoners and other issues.
"I look at this and I think back what could I have done during my presidency to move this forward as hard as I tried, I've got the scars to prove it," Obama said in excerpts of interview released on X, the social media platform formerly known as Twitter.
The entire interview is scheduled to be released on Tuesday.
Gaza on Sunday fell under its third total communications blackout since the start of the war between Israel and Hamas.
Palestinian communications company Paltel announced that all of its "communication and internet services" were down once again. Internet-access advocacy group NetBlocks.org confirmed that communications were curtailed across the besieged enclave.
Alp Toker, the group's executive director, said that the blackout was likely to be experienced by most residents as a total or near-total loss of connectivity.
Juliette Touma, spokesperson for the Palestinian refugee agency UNRWA, told The Associated Press that the agency has lost communication with most of its team.
Iran's state-run IRNA news agency says the country's Supreme Leader Ayatollah Ali Khamenei met with Hamas leader Ismail Haniyeh.
The date of the meeting was not disclosed in the report on Sunday.
According to IRNA, Khamenei praised the patience and endurance of the people of Gaza and emphasized Iran's policy in supporting the Palestinians in the war between Israel and Hamas.
Khamenei urged Islamic countries and international organisations to take serious actions in support of Gaza's people.
Israel's military last week accused Haniyeh, who lives in exile, of flying to Iran on a "private jet" as the people of Gaza suffer in a devastating Israeli offensive against Hamas.
Israel accuses Iran of destabilising the region by supporting proxies like Hamas and the Hezbollah group in Lebanon.
Israel's president received the diplomatic credentials of the newly minted US ambassador to Israel on Sunday, with both men expressing the strong bond between the two countries during wartime.
Ambassador Jacob Lew said he had met with the families of those held hostage in Gaza during his visit, and that the release of the hostages was a top priority for the US. He reiterated US support for Israel in the war effort.
"As President Biden has said so passionately, Israel has a right and indeed a responsibility to defend this nation and its people in a manner that reflects the values that we share," Lew said. (AP)