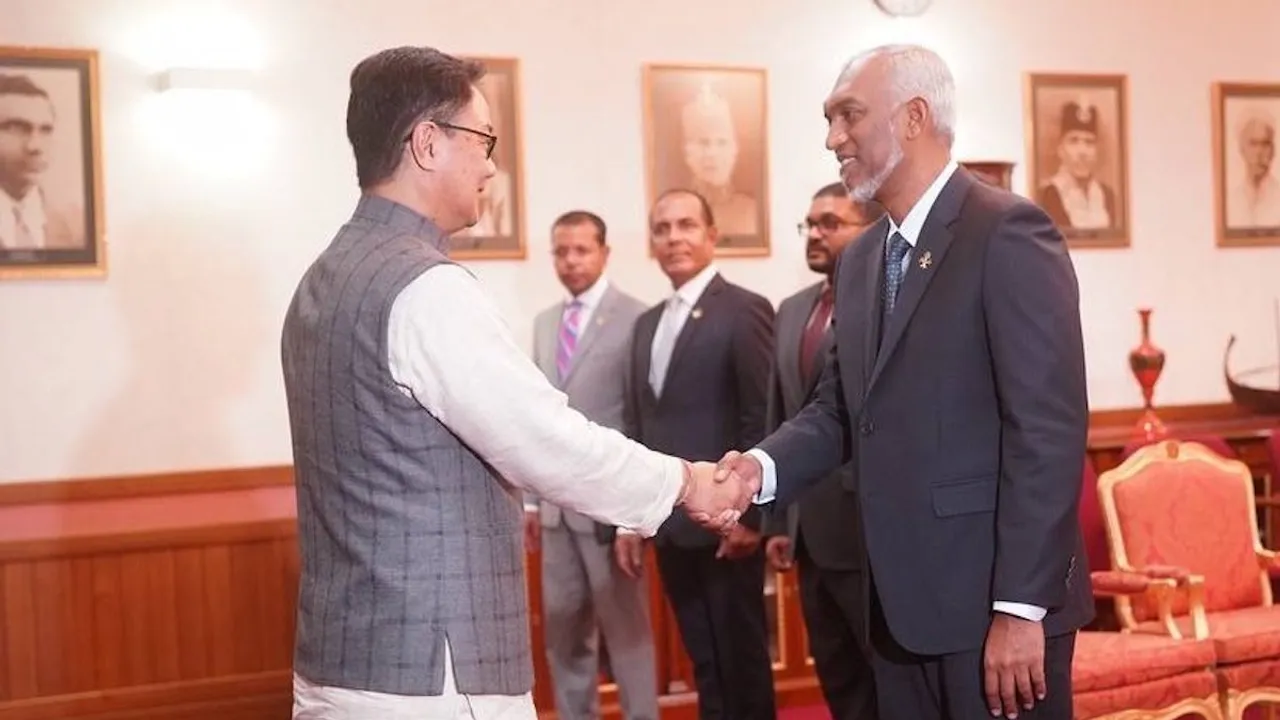 New Delhi: The Maldives government formally requested the Indian government to withdraw its military presence from the Maldives. The request was officially made during a meeting between the Maldivian President, Dr Mohamed Muizzu, and the Minister of Earth Science, Mr Kiren Rijiju, held at the President's Office of Maldives.
Dr. Mohamed Muizzu was sworn in as the eighth President of the Republic of Maldives during a special ceremony at Republic Square on Friday evening. Chief Justice Muthasim Adnan administered the oath and at the same ceremony,
Hussain Mohamed Latheef took oath as the tenth Vice President. The inauguration ceremony was attended by foreign heads of state and numerous foreign delegations, with Union Minister Kiren Rijiju representing India.
President Muizzu, in his address, emphasized his commitment to establishing a Maldives free of foreign military presence. He reassured the citizens that his administration would prioritize their interests above all else, echoing the promises made during his campaign.
"I am a Maldivian. For me, Maldivian citizens come first on the list. The first. Citizens of any other country will only come afterwards," President Muizzu affirmed. He expressed his intention to maintain friendly relations with nations, respecting those further away from neighbouring areas but firmly drawing the red line to safeguard Maldivian citizens' independence and sovereignty.
President Muizzu's election campaign pledge to remove Indian troops based in the Maldives remained a focal point of his inaugural speech. He stated that his greatest happiness lies in being faithful to the nation and reiterated his commitment to making the Maldives a nation secure in its independence and sovereignty, without the presence of any foreign military personnel.
Following the inauguration, the new Maldivian Foreign Minister, Moosa Zameer, conveyed to his Indian counterpart a positive outlook on working together on mutual interests.
Responding to Indian External Affairs Minister Dr S. Jaishankar's congratulatory message, Zameer expressed his eagerness to collaborate on issues of mutual interest and concern. Both ministers emphasized the importance of recalibrating and advancing the time-tested relationship between Maldives and India for the benefit of their respective populations.