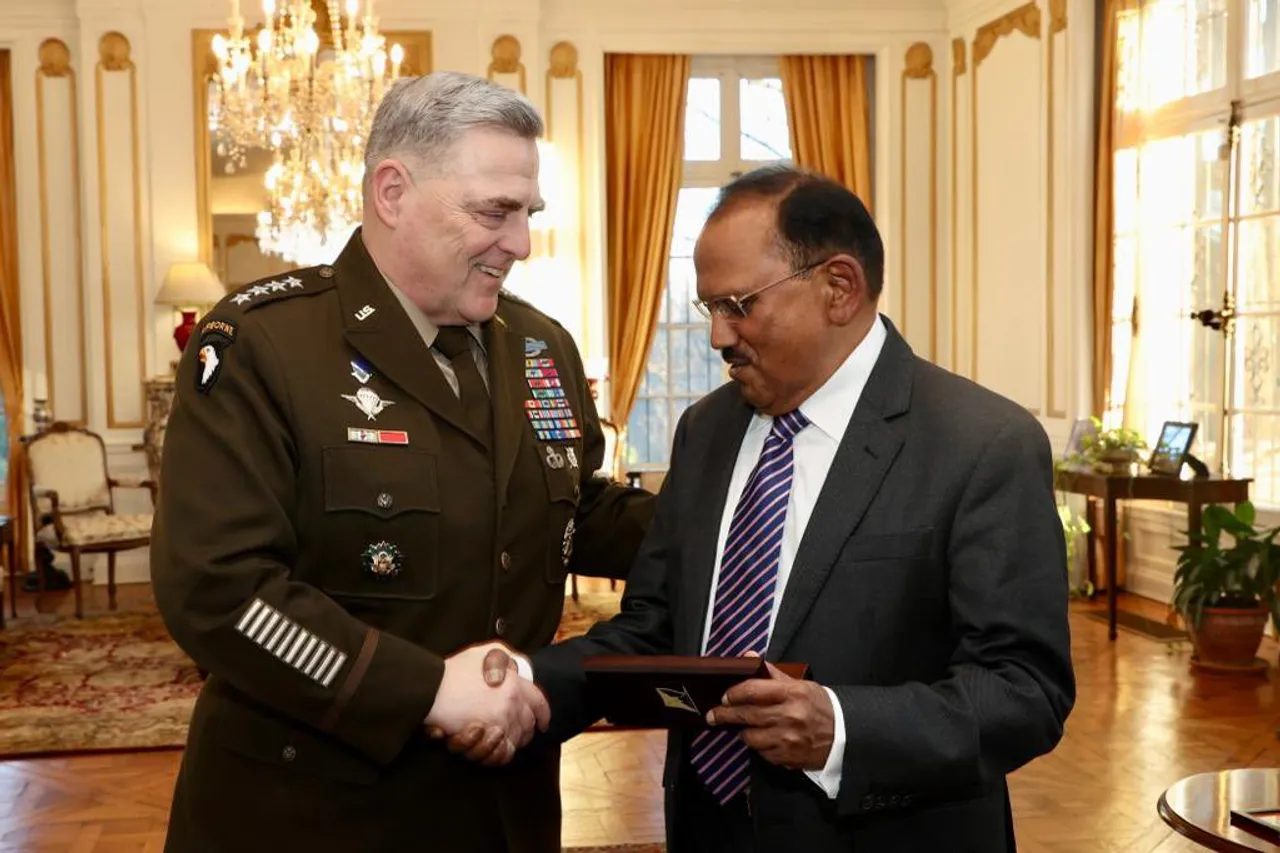 Washington: National Security Advisor Ajit K Doval has met US Chairman of the Joint Chiefs of Staff, General Mark Milley, and held a "fruitful" discussion on various aspects of India-US bilateral cooperation.
The meeting between Doval and Milley took place on Monday at the India House here, the official residence of India's Ambassador to the US Taranjit Singh Sandhu.
"General Mark Milley, Chairman of the Joint Chiefs of Staff @thejointstaff called on NSA Ajit Doval today. Fruitful discussion on various aspects of India-US bilateral cooperation," the Indian embassy here said in a tweet.
Later in the evening, Sandhu hosted a reception in honour of Doval, who is in Washington leading a high-powered Indian delegation for the inaugural India-US Initiative on Critical and Emerging Technologies (iCET) dialogue.
It was attended by top officials of the Biden administration, including US National Security Advisor Jake Sullivan. Commerce Secretary Gina Raimondo, Deputy Secretary of State Wendy Sherman, National Science Foundation Director Sethuraman Panchanathan; NASA Administrator Bill Nelson.
The reception was also attended by corporate leadership, academics and think tanks.
"A unique & special reception in India House! Delighted to host India NSA Ajit Doval, US NSA @JakeSullivan46, Commerce Sec @GinaRaimondo, CEOs frm India & US & leadership of prominent Universities. Insightful conversations on building bilateral cooperation in critical & emerging tech," Sandhu said in a tweet.
The American side had CEOs of Micron, Lockheed Martin, Applied Materials, Global Foundries, General Atlantic, General Atomics, General Catalyst, America's Frontier Fund in addition to Co-founder of LinkedIn, executive vice president of NASDAQ.
Presidents of US India Business Council (USIBC), US India Strategic and Partnership Forum attended the reception that also saw the presence of presidents of Western Digital and Qualcomm, several other US industry members, including Google.
Corporate leadership from the Indian side included those from Tata Sons, Bharti Enterprises, L&T, Bharat Forge, Reliance Jio, Adani Defence, Mahindra and Mahindra and ArcelorMittal. Leaders from several emerging startups from India also attended the reception of Doval.
Prominent among them being Dhruva Space which is working in the field of satellite development, Digan-tara (space tracking),  Pixxel (satellite imagery), 3rdi Tec (communication), Q Pi-Ai(AI & Quantum) and Saankhya Labs (wireless communication).
Announced during US President Joe Biden and Indian Prime Minister Narendra Modi's bilateral talks in Tokyo in May last year, the iCET is spearheaded by the National Security Councils of both countries.
It focuses on strengthening the US-India partnership on the technologies that will drive global growth, bolster both countries' economic competitiveness, and protect shared national security interests.