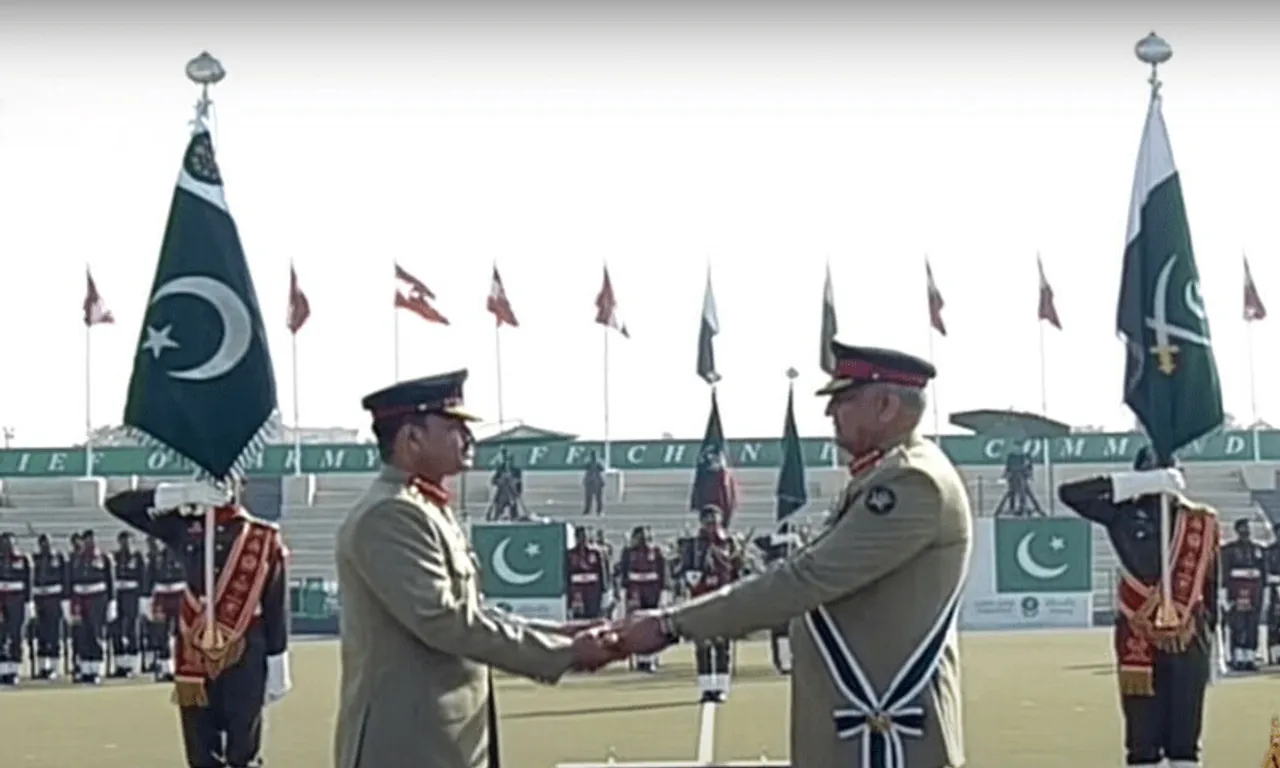 New Delhi: As outgoing General Qamar Javed Bajwa handed over the military's baton to General Asim Munir as Chief of Army Staff (COAS) today, Lt Gen Faiz Hamid, one of the contenders of the army chief, took early retirement, even though officials are yet to comment on his retirement or resignation. 
Some news agencies also reported that Chief of General Staff Lt-Gen Azhar Abbas, whose name was also on the list, has decided to resign — but they are still waiting for confirmation. Both officers were set to retire in April 2023.
Pakistan's Army is considered one of the most powerful institutions, ninth in the global ranking. General Munir took charge in one of the most unstable political uncertainties.
Pakistan is presently in deep political division, public resentment and unpredictability. Pakistan is also facing a massive economic crisis and post-flood rehabilitation. 
Although the appointment of General Munir to the top military post looks like a consensus decision, Imran Khan and his party Pakistan Tehreek-e-Insaf (PTI), will continue to act as a barrier. 
The first signs are visible. Pakistan's newspapers reported that a day before the change in command at the Army's General Headquarters (GHQ), Bahawalpur corps commander and former director-general of the Inter-Service Intelligence (ISI) Lieutenant-General Hamid opted to seek early retirement.
Lt Gen Hamid was among the six senior-most generals whose name was included by GHQ in the list of potential candidates for the top military offices, sent to Prime Minister Shehbaz Sharif for approval last week.
He sent his resignation to the high command. However, there was no official confirmation. Lt Gen Hamid had been the target of criticism from PML-N supreme leader Nawaz Sharif and his daughter Maryam Nawaz for allegedly having a role in their convictions and backing the previous set-up under Imran Khan. 
Meanwhile, social media is full of comments, mostly from non-resident Pakistanis, on the outgoing army chief General Bajwa's unprecedented wealth that he allegedly acquired in the last six years.
It is believed that supporters of Imran Khan and his political party continue to sledge and troll Gen Bajwa and the Pakistan government on the issue of his family's wealth, demanding accountability. 
One such vlog was tweeted by PTI Lahore's handle.
Meanwhile, the government of Pakistan has ordered a probe and said they had identified those who leaked the income tax report of Gen Bajwa's family. 
The website FactFocus released the tax details of Gen Bajwa and his family members, including that of his daughter-in-law's family. According to FactFocus, Gen Bajwa's family members and relatives became billionaires during his six-year tenure, making assets amounting to Rs 12.7 billion. 
The FactFocus website describes itself as a "Pakistan-based digital media news organisation working on data-based investigative news stories", and shares the alleged wealth statements of Gen Bajwa and his family from 2013 to 2021 on its page. 
Bajwa Munir transition
The ceremony kicked off in attendance of several officers, diplomats and government functionaries amid religious sermons, a military guard of honour and an army band performing national songs.
In his departing comments, Gen Bajwa congratulated Gen Munir on being the next Chief of the Army and hoped that "he will achieve new elevations and stature for the army." He added that he is satisfied that he is handing over the baton of the Pakistan army in safe and responsible hands."
Pakistan General Munir is the 17th Chief of the Pakistan army and took over the baton of responsibility amid hope and fury. He will also be the country's nuclear-armed military Chief. 
Who is Asim Munir?
Gen Asim Munir has replaced General Qamar Javed Bajwa, who retired after six years of his term as army chief. Munir has served in Pakistan-occupied Kashmir and Saudi Arabia, a significant financial supporter of Pakistan. Gen. Munir has a reputation for integrity. He is said to be a devout Muslim. 
He later headed Pakistan's two most influential intelligence agencies – Military Intelligence (MI) in 2017 and then the Inter-Services Intelligence (ISI) in 2018. He was removed as ISI chief after just eight months at the request of then-Prime Minister Imran Khan. Munir served as the Army's quartermaster general, in charge of supplies before joining as army chief. 
Gen Munir Ahmed is from the 17th course of the Officers Training School, Mangla, and passed out with the Sword of Honor in 1986. He was commissioned into the 23 Frontier Force Regiment. As a two-star general, he served as Director General of Military Intelligence (DG-MI) for roughly two years and, on promotion, was appointed to command the 30 Corps. After over two years, Munir was posted as Director General of Inter-Services Intelligence (DG-ISI). These two intelligence charges suggest he enjoyed the backing of the outgoing army chief, Gen. Qamar Javed Bajwa.
Why does Army Chief Munir's role in internal Pakistan matter?
 
During the 75 years since the independence and formation of Pakistan out of the Partition of India, the Army has seized power three times and directly ruled Pakistan for over three decades, fighting three and a half wars with India along the way.
The military has long been accused of manipulating the democratic process to maintain its dominance. Nineteen of Pakistan's 30 prime ministers were elected, but none completed their five-year terms.
The new army chief could play a key role in lowering the political temperature as Pakistan attempts to survive an economic crisis and recover from massive floods that brought enormous destruction and drought.
Equally, Pakistan is presently in the midst of political uncertainty as Imran Khan has led country-wide protests in an attempt to force Prime Minister Shehbaz Sharif into early elections.
Millions of Afghan refugees in their country further complicate their issues as Pakistan continues to struggle with radical militant and political groups, including militancy in ethnic Pashtun and Baloch, and the increased profile of the Tehreek-e-Taliban Pakistan (TTP). 
Gen Munir's future challenges
The role of General Munir will be much observed by the opposition leaders of Pakistan and global leaders, especially India, Washington, Beijing and Riyadh.
Pakistan's army action will have a crucial bearing on both internal (looking into the fragile democracy and economic crisis) and external strategy (role in Afghanistan and relationship with India). 
The experience in Pakistan has shown that even when a civilian government holds power in Pakistan, Army and intelligence agencies retain a dominant influence over security matters and foreign affairs. 
Much will be expected from Gen Munir on the strategy of how to tackle the war against terrorism and Pakistan's future role in Afghanistan, as well as how to handle and maintain a balance between the political fighting powers and Pakistan's fragile democracy.
Munir's differences with Imran Khan
The differences with Imran Khan started when Munir, as an ISI head, pointed out that people close to Bushra Bibi (Imran's third wife) were involved in favouritism and corrupt practices. 
Lt Gen Hamid replaced Munir as DG-ISI when Munir had just completed eight months on the job. Hamid was seen close to Imran Khan. When he was DG. (Counter Intelligence) in ISI, Lt Gen Hamid was said to have been involved in the political engineering that helped Khan become prime minister. 
Meanwhile, Munir is seen as a close associate of outgoing army chief Gen Bajwa and close to the Nawaz party. Munir again will have to walk on razor's edge not to be seen as Nawaz's man. 
Munir seems close to Bajwa and the current ruling government, so the Army's doctrine set in by Bajwa will continue. It also depends on how soon Munir will reshuffle and bring people of his trust to important positions. 
Will the relations between India and Pakistan improve?
The Pakistan army chief will not go soft on India viz-a-viz Kashmir issue. Pakistan's army chief always plays a crucial role in managing risks of conflict with India on its eastern border while dealing with potential instability and friction with Afghanistan on its western frontier. 
Gen Munir knows India well. He headed the ISI and Military Intelligence (MI), which dedicated much time to India. In the field, Munir commanded the Force Command Northern Areas (FCNA) under Gen. Bajwa, then commander of the X Corps and later appointed as Corps Commander Gujranwala. Both these military formations have an Indian focus.
Analysts feel that Pakistan and its Army are in no position to take cudgels with India because of their country's financial situation. It does not serve the Army's interests, nor can the government afford to risk a confrontation with India. 
However, the Pakistan army and intelligence agencies will continue to support the insurgency movement, mainly in J&K, through a proxy, which suits them both militarily and financially. 
India-Pakistan relations are fragile, and a single cross-border incident could lead to much tension and cross-border intervention. 
Suppose any repeat of incidents like Uri or Pulwama or Pathankot happens, a significant retaliation from Indian troops cannot be ruled out that may lead to an open confrontation between the two countries. 
India, of late, has been changing their narrative on Pakistan Occupied Kashmir. India is more aggressive and, on several platforms, has said that Pakistan illegally occupies Indian land. 
The general officer commanding-in-chief of the Northern Command, Lieutenant General Upendra Dwivedi, said the Indian Army is ready to take any order from the Indian government and is prepared for it.
"The military is always ready to make sure that the ceasefire understanding is never broken as it is in the interest of both nations, but if broken at any time, we will give them a befitting reply," Lieutenant General Upendra Dwivedi said recently. 
Political observers feel that, just ahead of the Indian national elections, any assault on Pakistan will suit the ruling Bhartiya Janta party. General Munir will have to handle some intense moments between the two countries. 
All eyes will also be on how long the LOC ceasefire will continue. Will the Pakistan army chief help in the dialogue between the two countries? It will remain an essential issue in the coming months. 
Pakistan military and Global policy 
Pakistan has maintained a relationship with the Middle East and controls OIC. Afghanistan, the United States and China have direct ties with Pakistan's military, given the country's strategic location and a coastline close to major shipping lanes serving the oil-rich Gulf.
Several Foreign governments have periodically questioned the safety of a nuclear arsenal, which includes long-range missiles, in a country which recently was under the Financial Action Task Force (FATF) 's grey list and several other sanctions. 
Pakistan so far has maintained balanced ties with China and the United States. At the same time, Islamabad uses India's issue to be closer to Beijing. Pakistan continues to remain closer to Washington on the subject of Afghanistan.
Pakistan army's relationship with the United States/Afghanistan
The role of Pakistan's defence with Afghanistan and issues of the war on terror will remain a priority. The Pakistan army will try to keep warmer ties with the U.S. The U.S. still wants to use Pakistan for its logistic operations against terrorists, more so for Al Qaeda and ISIS. The U.S., despite India's objection, gave an extension of a $ 450 million package for the F-16s for counterterror reasons to Pakistan.