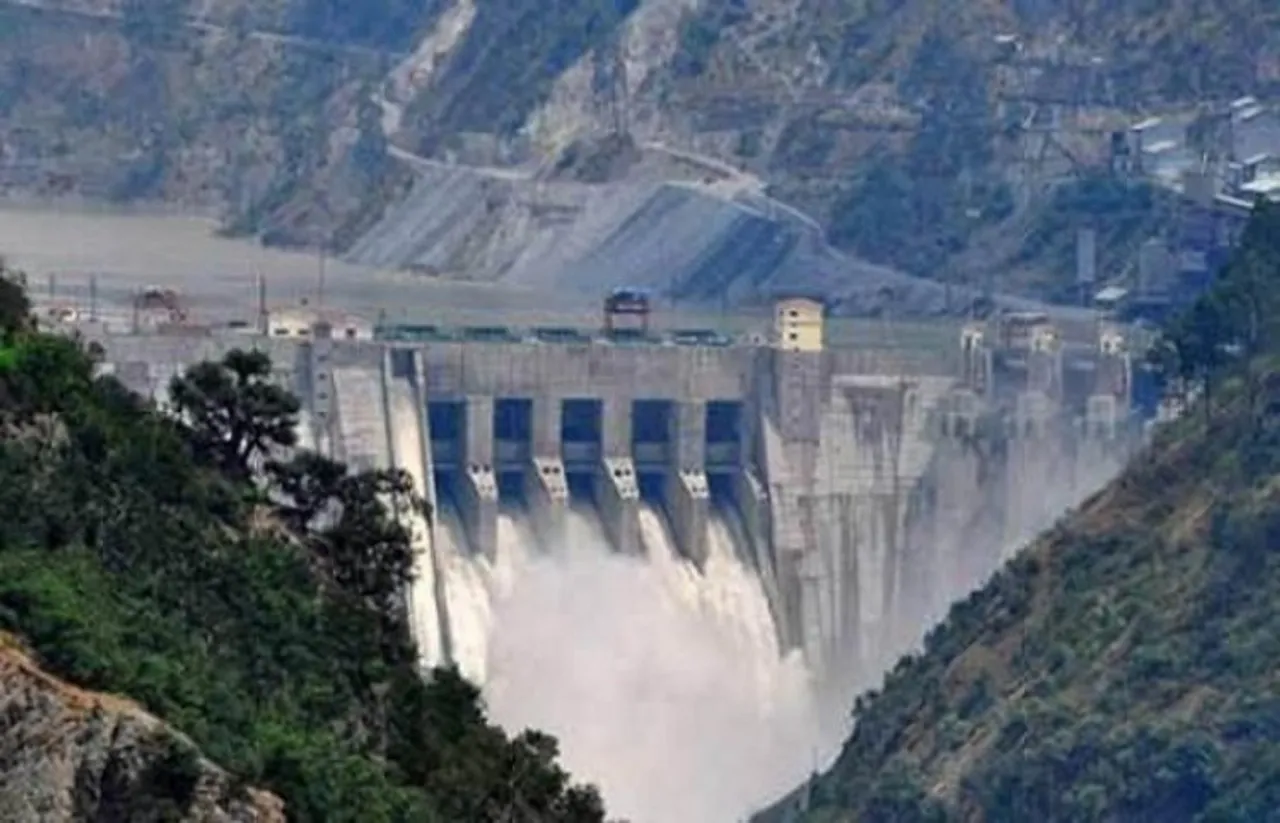 Islamabad (Pakistan): Pakistan has objected to India's Hydroelectric projects on the Western rivers in line with the Indus water treaty two nuclear-armed hostile Asian neighbours had signed years ago in 1960.
The Pakistani delegation raised the objection in the 118th meeting of the Pakistan-India Permanent Indus Commission (PIC) that was held in New Delhi on May 30-31, 2022. Under the relevant provisions of the Indus Waters Treaty (IWT) 1960, the meeting takes place alternatively in Pakistan and India annually.
"Pakistan has objected to India's hydroelectric projects on Western rivers under the relevant provision of Indus Waters Treaty," a press note issued from the Ministry of Foreign Affairs of Pakistan stated on Tuesday.
It is worth noting that Pakistan had conveyed its reservations to India first time in 2014 soon after India started construction of the first-ever water reservoir 'Pakal Dul Dam' on western rivers to increase its holding capacity which Pakistan considered in violation of the Indus Waters Treaty.
Concerned officials in Pakistan confirmed to NewsDrum that Pakistan had conveyed its reservations to the Indian side first in 2014 immediately after they came to know that India was planning to place a spillway of 1,000 megawatts of Pakal Dul Dam on Chenab River in Indian-administer Kashmir, about 15 meters down against the permissible limit.
Pakistani officials were under the impression that this strategy was aimed at giving the country undue leverage of holding 11,000 acres of water in addition to an allowed volume of water storage.
"After analyzing the information we had received in 2014, we concluded that India wanted to establish a water storage capacity of 88,000-acre on Chenab River with the setting up of Pakal 'Dul Dam'. We had shared our concern with India then," a senior official from Pakistan's Ministry of Foreign Affairs told NewsDrum on Tuesday.
Pakistan took eight years to finally object to India's construction of hydroelectric projects on Western Rivers.
"The 6-member Pakistani delegation was led by Pakistan Commissioner for Indus Waters, Syed Muhammad Mehar Ali Shah. The Indian delegation was headed by the Indian Commissioner for Indus Waters A K Pal. A wide range of water-related issues between Pakistan and India were discussed which included the advance sharing of flood information, the program of tours/ inspections, and signing of the report of the Permanent Indus Commission for the year ending March 31, 2022," according to a press note issued from Pakistan's Ministry of Foreign Affairs.
Pakistan also highlighted its objections to India's Hydroelectric projects on the Western rivers. Response to Pakistan's objections to Indian projects including Pakal Dul was also sought. The Indian side was also urged to communicate advance flood-flow information as per the provisions of the Treaty and the practice in vogue from 1989 until 2018.
However, the Pakistani side appreciated the Indian side for considering Pakistan's objections and agreeing to arrange inspections.
"Indian side assured to arrange tours/inspections after the flood season. India side also assured that Pakistan's outstanding objections would be discussed in the next meeting as the Indian side is still in the process of examining the details," Pakistan's Ministry of Foreign Affairs stated adding that both sides reiterated their commitment to implement the Indus Waters Treaty in its true spirit and expressed the hope that the next meeting of the Commission would be held at an early date in Pakistan.
According to Pakistani officials, Pakal Dul Dam is a reservoir-based scheme currently under construction on river Marusudar, the main right bank tributary of river Chenab in Kishtwar Tehsil of Doda district in Jammu and Kashmir which is a clear violation of the Indus Waters Treaty.
Information received from Pakistan's Ministry of Foreign Affairs has revealed that the power project envisages the construction of a 167-meter-high concrete face rockfill dam across the river Marusudar and an underground powerhouse. Its full reservoir level has been projected at 1,700 meters.
The annual power generation will be 3.387 billion units and it is expected to complete in around five years.