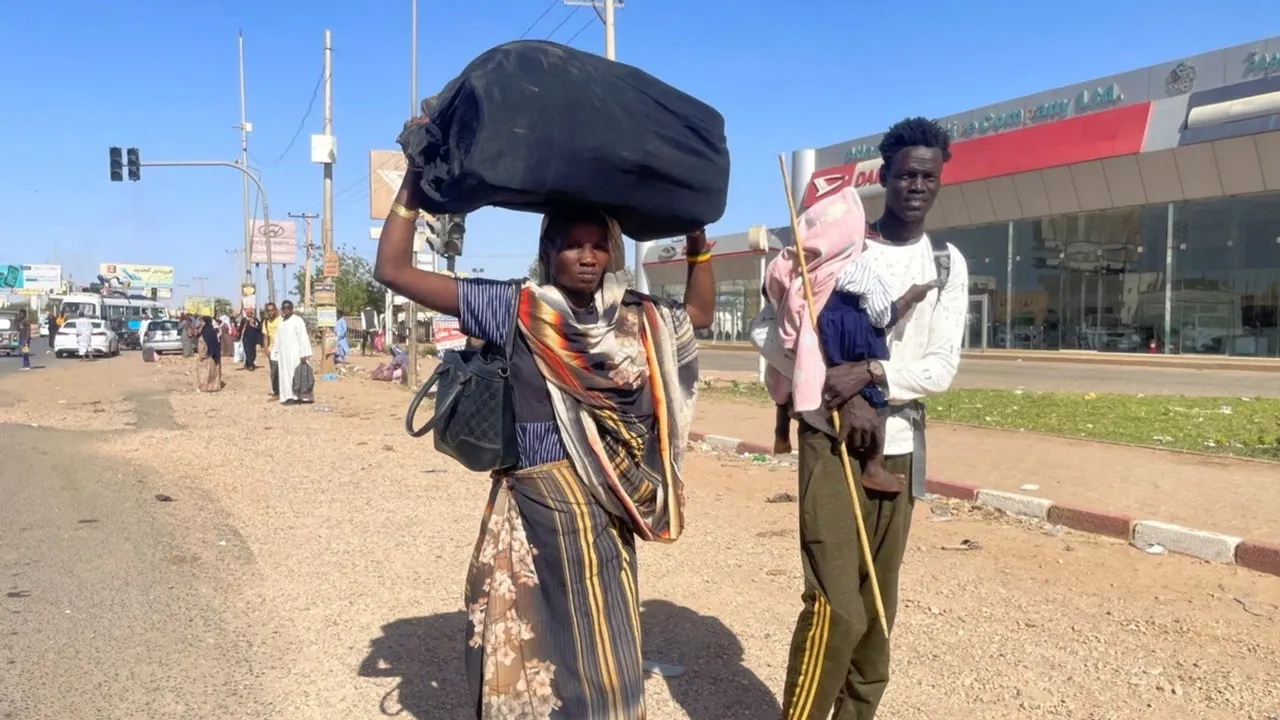 New Delhi: Amid massive diplomatic pressure, Sudan's paramilitary group Rapid Support Forces (RSF) has announced it will shortly begin a ceasefire despite continued heavy fighting with the army in the capital Khartoum, Al Jazeera and local media reported.
The RSF said in a statement that it would observe a 72-hour ceasefire, which would come into effect at 6 am (04:00 GMT) on Friday, which marks the beginning of the Muslim holiday of Eid al-Fitr.
"The armistice coincides with the blessed Eid al-Fitr, and to open humanitarian corridors to evacuate citizens and give them the opportunity to greet their families," the statement said.
Khartoum was rocked by heavy shelling in the early hours of Friday, with the RSF accusing the army of staging a "sweeping attack" on the capital. Since Last Saturday, Sudan's urban centres remain engulfed in a deadly battle, civilians struggle to find safe havens amidst the chaos and the absence of the rule of law.
With casualties numbering around 350, the conflict has witnessed a barrage of air strikes, shelling, and small-arms fire. Furthermore, unbridled armed fighters have harassed and physically assaulted an EU ambassador and a UN staffer at their residence. In addition, a US diplomatic convoy came under fire.
An Al Jazeera correspondent in the north of the city reported an exchange of fire between the RSF and the army a few minutes before the paramilitary's truce was supposed to start.
There was no word from the army on whether it would observe a ceasefire
There have been a series of failed ceasefires since the violent power struggle broke out last weekend between the army under General Abdel Fattah al-Burhan and the RSF, which is led by General Mohamed Hamdan Dagalo. The two men were previously in an alliance as leaders of Sudan's ruling military government.
United Nations Secretary-General Antonio Guterres had earlier also asked the fighting groups to observe a three-day ceasefire over Eid and allow civilians to reach safety. At least 350 people have been killed and hundreds injured in the fighting so far. Thousands of civilians have left Sudan crossing borders into Chad to flee fighting in the western region of Darfur.
Minister of Foreign Affairs discusses Sudan with UN, Egypt and Saudi Arabia
There are hundreds of Indians stranded in scattered towns of Sudan. The Indian embassy is in touch with those stranded and their families and has advised them not to venture out.
Indian Minister of External Affairs, S Jaishankar, who is presently in New York met the Secretary General of the United Nations and discussed the current situation in Sudan. S Jaishankar also spoke to the foreign minister of Saudi Arabia and the Foreign Minister of Egypt on the Sudan situation.
In response to the crisis, the Ministry of External Affairs has established a Control Room to offer information and assistance to those affected. The hotline numbers include 1800 11 8797 (toll-free), +91-11-23012113, +91-11-23014104, +91-11-23017905, and a mobile number at +91 9968291988. Alternatively, individuals can also reach out via email at situationroommeagov<dot>in.
The Indian embassy in Sudan issued several travel advisories requesting all fellow Indians to continue to stay where they are and not venture outside as the fighting has not subsided.  "Please stay calm and peaceful. Stay away from open spaces like balconies and terraces. Keep essential medicines, water, money, passport, OCI card, and food ready to ensure easy mobility when feasible."
The UN Under-Secretary-General for Humanitarian Affairs, Martin Griffiths, earlier said he is horrified by the deaths of humanitarian workers, including three World Food Programme (WFP) colleagues. He is also disturbed by reports of large-scale looting of aid and damage to humanitarian facilities.
Nearly one-third of the Sudan population, or almost 16 million people, needed humanitarian aid at the start of this year, with some 3.7 million people displaced within Sudan. There are around 4,000 UN staff on the ground, including 800 international teams in Sudan. In addition, dozens of international NGOs are working on the ground.