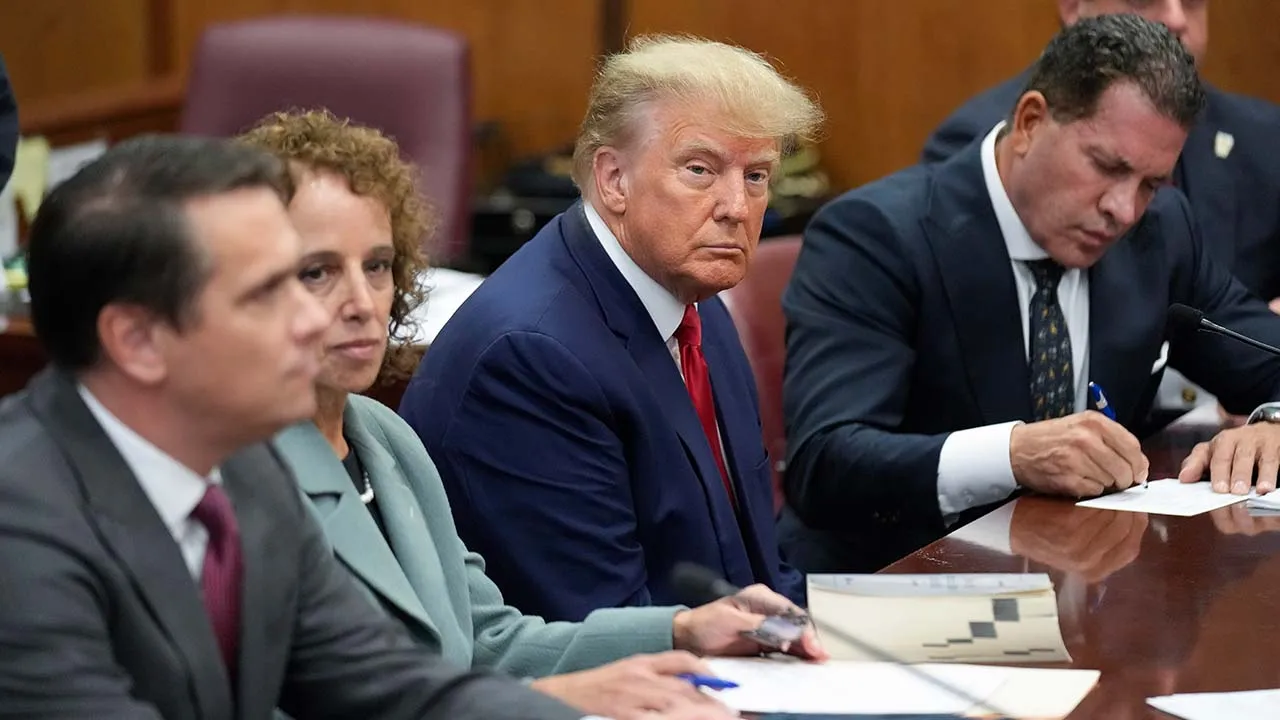 New York: Former US President Donald Trump spoke just six times, including when he entered the not guilty plea, before a judge in a Manhattan court during the nearly hour-long hearing at his arraignment, according to court records.
Trump, 76, the first former US President to be criminally charged, pleaded not guilty to 34 felony counts of falsifying business records in relation to hush money payments to porn star Stormy Daniels during the 2016 presidential elections at his arraignment here in Manhattan criminal court Tuesday afternoon.
During the nearly hour-long court hearing before Judge Juan Merchan, Trump spoke, almost in monosyllables, six times, according to the transcript from his arraignment that has been released.
When Merchan said "Let's arraign Mr Trump," the court clerk responded, "Donald J. Trump, the grand jury of New York County has filed indictment 71543 of 2023 charging you with the crimes of 34 counts of falsifying business records in the first degree. How do you plead to this indictment, guilty or not guilty?"
Trump replied, "Not guilty."
When Merchan said "Mr. Trump, as you know, you have an absolute right to conflict-free representation. The People have alleged that there is a potential, Mr. (Joseph) Tacopina has a conflict, and the basis for their belief is that he may have represented a former client who is a witness in this case….I simply want to inform you that because it is an important right. I also want to -- first, do you understand that right, Mr. Trump?"
Trump replied "Yes."
"And therefore, People are not filing a motion at this time, but you are certainly welcome if you wish between now and then to consult with other counsel, run this issue by them and see how you feel about it when it's over, okay?" Merchan added.
Trump replied, "Okay, thank you."
Judge Merchan then said he is required by law to inform Trump that there are ways that he can waive his right to be present at these proceedings. "Specifically, I would like to refer to two specific areas. You can waive your right to be present if you voluntarily absent yourself from the proceedings." "So, if it is determined that at some point down the road, you are not present at some stage because you chose not to be present, I do have the authority, I do have the right to find you voluntarily waived your right to be present and continue the proceedings in your absence. Do you understand that?" the judge said.
"Yes," Trump replied.
Merchan added that a second way Trump can lose his right or waive his right is to "become disruptive, and I do not have any reason to believe that will happen. But, if you become disruptive to such a degree that it affects my ability to preside over this case and my ability (to ensure) that the case is treated the way it needs to be treated for both sides, I do have the authority to remove you from the courtroom and continue in your absence, do you understand that?"
Trump responded, "I do."
Judge Merchan further said that if either of those situations were to happen, and the case would go to trial, "we would go to trial without you. If there were a verdict and that verdict was to be guilty, we would be able to take that verdict without you. And if there were to be a time for sentencing, we would be able to impose a sentence without you. Do you understand?"
Trump responded with a "yes."