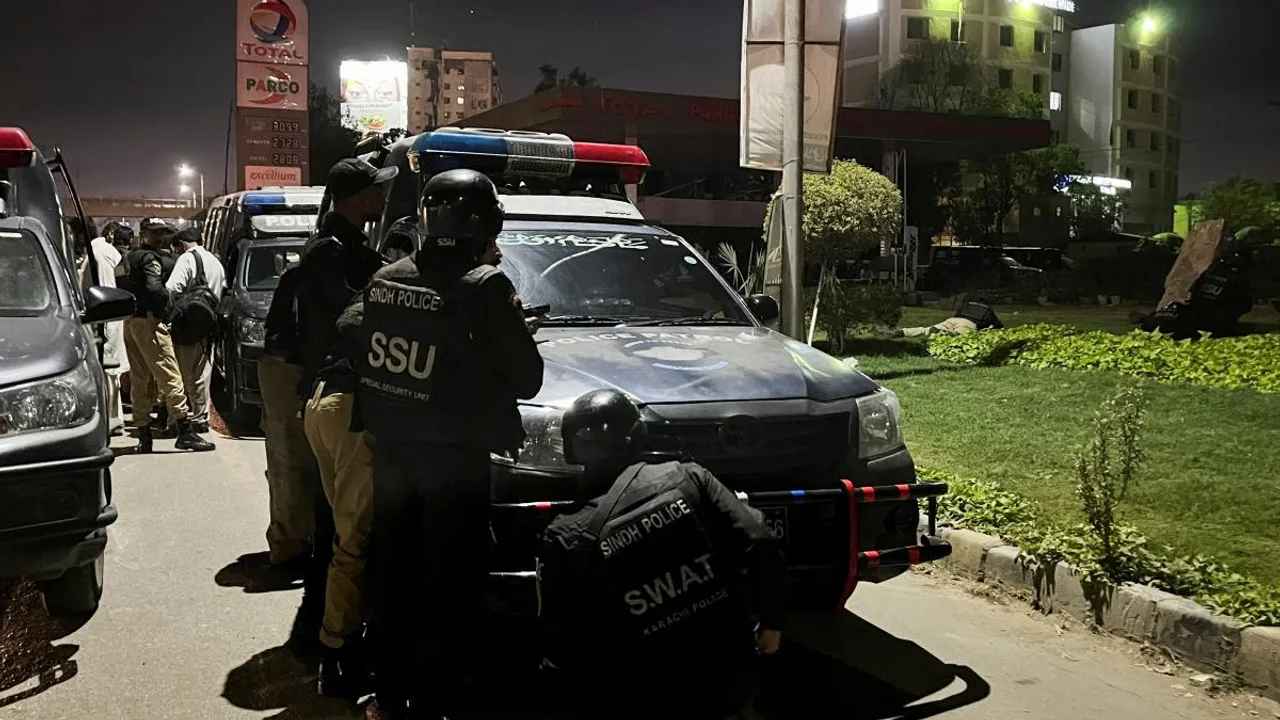 Karachi: Counter-terrorism personnel have killed two masterminds affiliated to the outlawed Pakistani Taliban outfit who orchestrated the audacious attack on the Karachi Police Office here last month during a pre-dawn raid, media reports said on Tuesday.
In February, heavily-armed Tehreek-e-Taliban Pakistan (TTP) militants stormed the Karachi Police chief's office in Pakistan's most populous city, sparking gunfire that killed three rebels and four others, including two police constables.
Pakistan police said 19 people, mostly police and rangers personnel, were also injured and were under treatment.
Pakistan's Counter Terrorism Department (CTD) received a tip-off on Sunday night that TTP militants would reach Karachi.
The four militants, who arrived on two motorbikes, were asked to stop by CTD officials on Monday morning.
Instead, they opened fire and in the ensuing gunfight, two militants were shot dead, while the other two surrendered, the Dawn newspaper reported. A suicide jacket was recovered from them, which was defused, it said.
The militants who were killed were identified as Aryadullah alias Hasan and Waheedullah alias Khalid alias Huzaifa.
"Both killed militants were masterminds of the KPO attack," Sindh's information minister Sharjeel Inam Memon said.
"This network had provided help, planning and reconnaissance to the KPO terrorists," the minister said.
A week prior to the attack on Karachi Police Office, three suicide bombers came to Karachi by bus and stayed at the home of the slain militant Waheed in Ahsanabad, the report said.
Suicide jackets, arms and other weapons were brought to Karachi through a truck from Khyber Pakhtunkhwa's Tank area, it said.
Memon said that the four militants had arrived in Karachi to carry out another terror act as he perceived that they did not achieve their objectives during the KPO raid, it added.
The attack was a major embarrassment for the provincial government as the Karachi Police Chief office and the Saddar police station are located on the main Shahrah-e-Faisal road, which serves as Karachi's main thoroughfare with a number of strategic installations, including the Pakistan Airforce's Faisal Base — and five-star hotels in close proximity.
On January 30, a Taliban suicide bomber blew himself up during the afternoon prayers in a mosque in Peshawar, killing 101 people and injuring more than 200 others.
Pakistan has been hit by a wave of terrorism, mostly in the country's Khyber Pakhtunkhwa province, but also in Balochistan, the Punjab town of Mianwali, which borders the restive Khyber Pakhtunkhwa province and in the Sindh province.
During the Apex Committee meeting held last month, Pakistan's civil and military leadership decided to seek Afghan Taliban chief Haibuttallah Akhundzada's intervention to control the TTP.
In November last year, the TTP called off an indefinite ceasefire agreed with the government in June 2022 and ordered its militants to carry out attacks on the security forces.
Pakistan hoped that the Afghan Taliban after coming to power would stop the use of their soil against Pakistan by expelling the TTP operatives, but they have apparently refused to do so at the cost of straining ties with Islamabad.
The TTP, set up as an umbrella group of several militant outfits in 2007, called off a ceasefire with the federal government and ordered its militants to stage terrorist attacks across the country.
The group, which is believed to be close to Al-Qaeda, has been blamed for several deadly attacks across Pakistan, including an attack on army headquarters in 2009, assaults on military bases, and the 2008 bombing of the Marriott Hotel in Islamabad.
The TTP has also orchestrated the heinous Army Public School attack in Peshawar in 2014, in which over 130 students were killed.