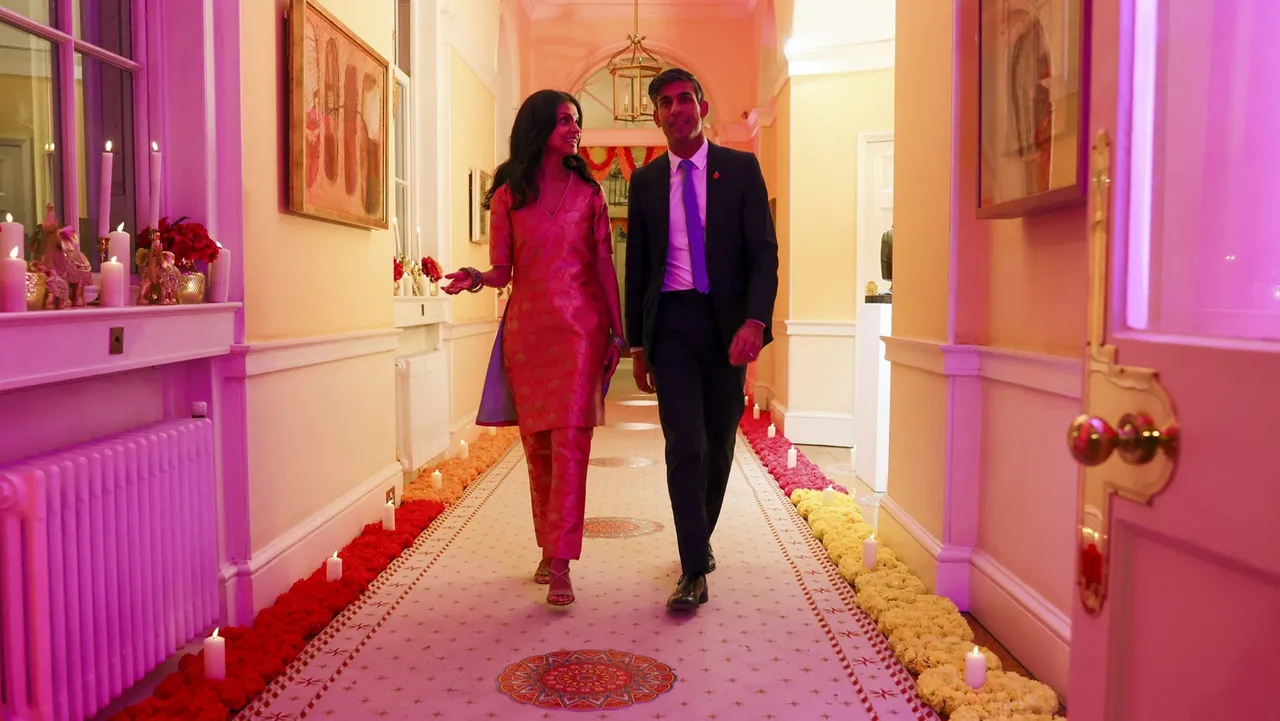 London: British Prime Minister Rishi Sunak and wife Akshata Murty lit Diwali lamps at a special reception at 10 Downing Street, attended by members of the Indian diaspora, parliamentarians, entrepreneurs and Bollywood celebrities.
The Prime Ministerial residence was decorated in a theme of vibrant marigolds and candles on Wednesday evening as the UK's first couple marked a year since Sunak took charge as Britain's first Prime Minister of Indian heritage.
The couple reflected upon their "extra special" Diwali one year on, with Sunak looking back at the "incredible moment" he visited India to meet Prime Minister Narendra Modi for the G20 Summit in New Delhi as the first British Indian Prime Minister.
"Diwali is an incredibly special time for all of us and our families, but for me, now, it also brings back amazing memories of becoming Prime Minister this time last year," said Sunak.
"It's been a year of incredibly hard work, some real progress, and of course, memories that will stay with me for the rest of my life… It was an incredible moment to go to India for the G20 as the first British Indian Prime Minister, and be there for India's big moment on the world stage with Modiji," he said.
"That was a very special moment for all of us, as we saw what has happened to India's development over the years. It was a proud moment for everyone, and it was an incredible success," he shared.
On a lighter note, cricket fan Sunak also touched upon the World Cup but admitted it was best "less said" about the England team and "switch" to the Indian side of the family in a nod to Team India's winning streak in the tournament.
Looking back on his first year as Prime Minister, the 43-year-old leader admitted that it had brought with it many challenges during which it was the values of his parents, Yashvir and Usha, that had sustained him.
"Values of hard work, a commitment to service, understanding the value of education in all things and making the right decisions, not just the easy ones… over the last year, I've spoken to quite a bit about my family's story – about my Naniji boarding her first-ever plane to come here from East Africa over 60 years ago, a journey that I know will be familiar to many of you in this room. It was a story about hope, faith, ambition, and putting the next generation first. We should be filled similarly with hope and ambition," said Sunak, whose grandmother migrated from Tanzania.
"And, what better way to celebrate this Diwali than with the brilliant people in this room who are lighting the way for our future," he concluded, with the words "Shubh Diwali".
Temples from around the UK had contributed to an Annakut display as festive offerings to God and children from the Avanti Court Primary School recited religious shlokas at the reception, during which Sunak and Murty interacted with guests including Indian High Commissioner to the UK Vikram Doraiswami and Bollywood stars Akshay Kumar and wife Twinkle Khanna and Preity Zinta.
Downing Street posted images from the event on social media, with the message: "Shubh Diwali to everyone across the UK and around the world celebrating from this weekend."