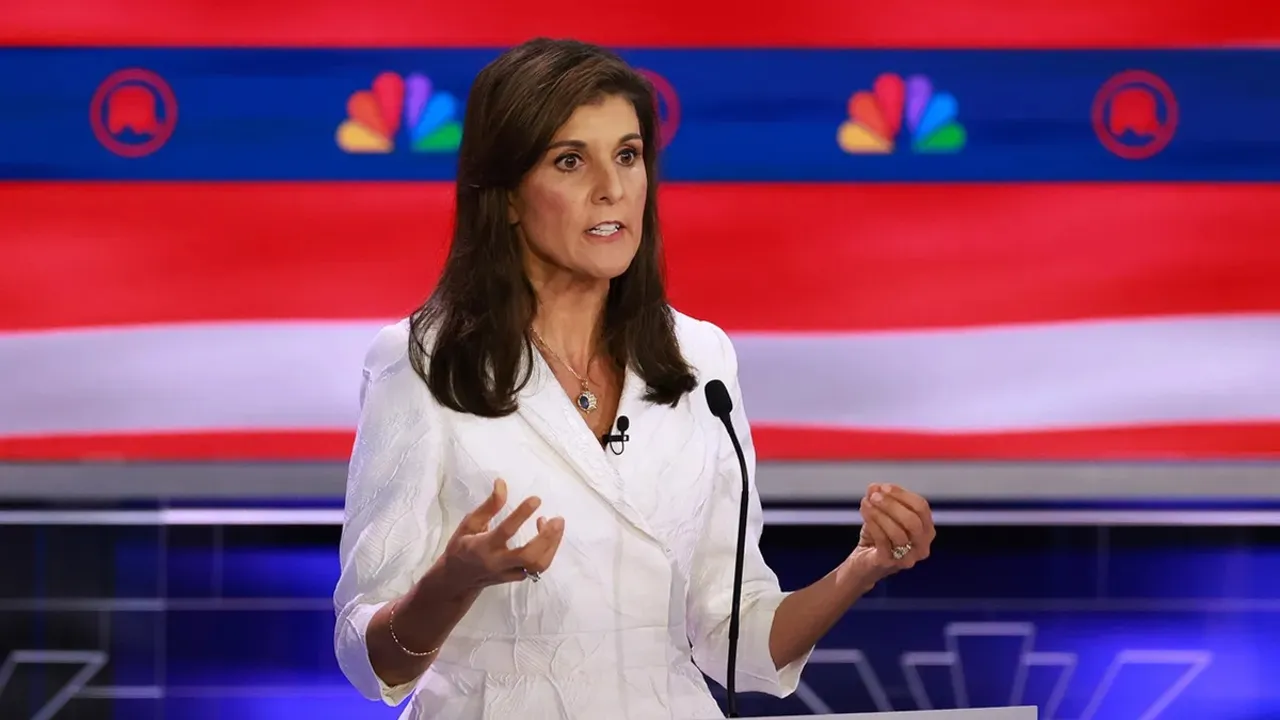 Washington: Stating that the "world is on fire", Republican presidential aspirant Nikki Haley has told fellow Americans that the US cannot win fights of the 21st century with politicians from the 20th century.
Haley, the only woman on the GOP primary debate stage, pitched herself as a strong contender to bag the Republican nomination for the 2024 presidential elections.
"The world is on fire. We have a war in Europe. We have got a war in the Middle East. We have got China on the march. It is very important that we know how to defend our freedoms and how to defeat terrorism and socialism," 51-year-old Haley said as she concluded the debate in Miami, Florida.
"We have to know the difference between good and evil. We have to know the difference between right and wrong. We need to know that a strong America doesn't start wars; a strong America prevents wars. And the way we can focus on that is to make sure we go back to the soul of America and be strong and proud again," she said.
"And we can't do that, we can't win the fights of the 21st century with politicians from the 20th century. We have to move forward. And we can do this. I know we can do this," Haley said in her argument.
The third presidential debate of the GOP had on stage, Florida Governor Ron DeSantis, entrepreneur Vivek Ramaswamy, former New Jersey Governor Chris Christie, and South Carolina Senator Tim Scott.
Former US president Donald Trump who is leading the race did not participate in the debate once again.
Taking a strong stand against Hamas for its terrorist attack against Israel, the former US Ambassador to the UN said that it is time to take a strong stand against Hamas.
"Finish them. And the reason is, I worked on this every day when I was at the United Nations. And we have to remember that they have to, one, eliminate Hamas, two, support Israel with whatever they need, whenever they need it, and three, make sure we bring our hostages home," she said.
"We need to be very clear-eyed to know there would be no Hamas without Iran. There would be no Hezbollah without Iran. There would not be the Houthis without Iran. And there wouldn't be the Iranian militias in Syria and Iraq that are trying to hit our military men and women if it hadn't been for Iran," she said.
"And who is funding right now? China is buying oil from Iran. Russia is getting drones and missiles from Iran and there is an unholy alliance. We need to be clear-eyed. The last thing we need to do is to tell Israel what to do. The only thing we should be doing is supporting them in eliminating Hamas. It is not that Israel needs America, America needs Israel. They are the tip of the spear when it comes to this Islamic terrorism, and we need to make sure that we have their backs in that process," said the Indian American presidential aspirant said.
Responding to a question on foreign policy, Haley said: "What we need to be doing for Iraq and Syria is, first of all, the idea that our men and women could be targeted and that we've allowed almost 100 hits to happen under Biden's watch is unthinkable. We need to understand this is Iran giving the green light telling them what to do, and that we shouldn't be doing the tit for tat like what Joe Biden has done."
"We need to go and take out the infrastructure that they are using to make those strikes so they can never do it again. Iran responds to strength. You punch them one and you punch them hard, and they will back off. But what we don't need is Biden falling all over himself to get back in the Iran deal. He gave USD 6 billion to get five hostages home. Him telling Netanyahu now he needs a pause or a ceasefire," she said.
"We don't need him going and sitting there tiptoeing around Iran because he thinks they're going to do something. You don't respond to an enemy and a terrorist with fear. You respond with strength. When you do that, that's when the world pays attention, and that's when Iran stops," she added.
America can never be so arrogant to think they don't need friends, she asserted. "After 9/11, we needed a lot of friends. Now is the time to get partnerships. This unholy alliance between Russia, Ukraine and China is real. There is a reason the Taiwanese want us to support the Ukrainians. It's because they know that China is coming after them next," she said.
"There is a reason Ukrainians want us to support Israelis because they know that, if Iran wins, Russia wins," said the two-term former Governor of South Carolina. Haley also called for a tougher policy on China.
"China has the largest naval fleet in the world. They have 350 ships. They'll have 400 ships in two years. We won't even have 350 ships in two decades. China has built up their military. It's not just land, air and sea. They're doing cyber. They're doing artificial intelligence. They're doing space. America needs to modernise our military. We need to do everything we can," she said.
"The first thing is, you go and you make sure you have the back of -- backs of Ukraine. That's why the Taiwanese want us to support Ukraine because they know that sends the biggest message to China. The second thing is, we go to China and we start being tough on them, no more sales of our American soil to China, and let's take back what they've already stolen," she added.
"Make sure they have the equipment they need. Make sure they have the training they need now. There is nothing China fears more than knowing that America will have Taiwan's back. Let's make sure that we show it by making sure they have the equipment they need," she said.