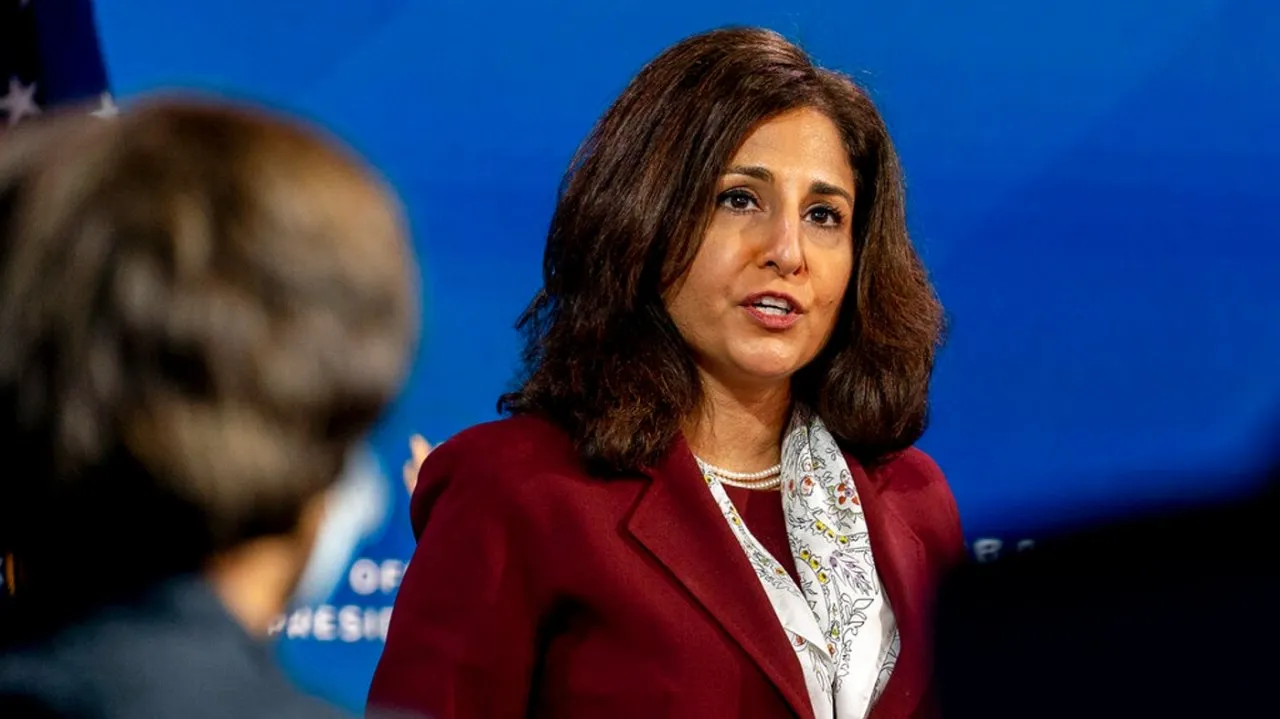 Washington: Indian-American public policy expert Neera Tanden has said her experience as a daughter of immigrants is akin to many immigrants in the US and she will work on the issue of immigration in her new role as the White House Domestic Policy Advisor.
Tanden, 52, on Saturday replaces former US National Security Advisor Susan Rice as the White House Domestic Policy Advisor, which is considered to be one of the most powerful positions inside the White House.
"Currently I'm Staff Secretary, and tomorrow I'm going to…I'm extremely enthusiastic about taking over as Domestic Policy Council Advisor. My experience is like many immigrants in the United States as children of immigrants," Tanden told PTI on Friday.
"My father came here from India in the early 1950s, and my mother came in the 1960s. They moved to Bedford, Massachusetts, a suburb of Boston. They were the only Indian family in that community. So, I felt a part of that community, but also a little bit different," she said.
Tanden, a close confidant of President Joe Biden, was named by Biden as his Domestic Policy Advisor this month to help him craft and implement his domestic policy agenda, making her the first Asian-American to lead any of the three major White House policy councils in history.
"My mom would occasionally wear sarees. I was different from other families in Bedford. I had that duality of being the child of immigrants. But also, being part of America.
"What I'm really incredibly enthusiastic about in this role and excited about is one of the issues that I will take on as domestic policy advisor is the issue of immigration," she said on the last day of her being senior advisor and staff secretary to President Biden.
President Biden has a strong record of expanding legal immigration in the United States, as well as a whole host of other issues, she said.
"I'm looking forward to working on those issues as well. And it really does feel like it comes full circle given the journey my parents made to come here, and to give me the opportunities I've had and that is effectuated now when I'm in this new role," Tanden said.
She said that the president has important principles which is to ensure that they are expanding legal immigration and legal pathways.
"We have a lot of complicated issues on immigration at the border, other issues, but it's a touchstone to ensure that America's role as a beacon for the world, a place where there are people like my parents who made that great leap of faith to go to a place very different, live in a different world, a different culture, and try to really reach for the American dream," she said.
"And I know that 50, 60 years ago, 70 years ago, they would never imagine that their short daughter would be working at the White House one day. But that is one of the great aspects of our immigration policies, and we have to keep true to that, which is, fighting against efforts to restrict legal immigration and really ensure that our immigration policies reflect our values for the 21st century," she said.
Tanden began her career as an associate director for domestic policy in former president Bill Clinton's White House and senior policy adviser to the first lady.
She received her Bachelor of Science degree from the University of California, Los Angeles and her law degree from Yale Law School. She also served as legislative director in Clinton's office and deputy campaign manager and issues director for Hillary Clinton's 2000 Senate campaign.
She was the director of domestic policy for the Obama-Biden presidential campaign, where she managed all domestic policy proposals.
She also served as policy director for Hillary's first presidential campaign, where she directed all policy work and oversaw the debate preparation process for then-Senator Hillary.
During the Obama administration, she served as senior adviser for health reform at the US Department of Health and Human Services.
In that role, she developed policies around reform and worked with Congress and stakeholders on particular provisions of then-President Barack Obama's signature legislative achievement, the Affordable Care Act.
She was also the president and CEO of the progressive think-tank, Center for American Progress (CAP).
"What I'm particularly excited about is, there are so many issues that have been really part and parcel of the president's longstanding views and principles," she said.
Tanden said the Domestic Policy Council champions issues around policing reform and reducing crime, and ensuring that "we are working on both of those issues".
"As I just discussed, immigration, ensuring that we are improving our school's education, is a key component and an area that I've worked on for a long time. I'm incredibly proud of the President's record on the issue of healthcare. The president has dramatically expanded healthcare," she said.
For many young Indian Americans, in particular girls, Tanden has emerged as a role model.
"My most important message is that, follow your dreams and work hard at what your dreams are. I truly believe that people will do their best work when they enjoy what they do. But I'd also say there are sometimes some really easier paths," she said.
"When I was growing up, a lot of our community pushed or prompted people, particularly girls to go into healthcare or a lot of family members thought it would be more successful for me to go into accounting or some, more traditional path," she said.
Tanden said there weren't any role models for her among Indian Americans in government when she was a child, let alone Indian women.
"I feel it is a real privilege to try to widen the path for others who come after me. This is always a marathon where we pass the baton. Many women leaders have widened the path for me. Many leaders of colour have widened the path for me. Many Asian leaders have widened the path for me. And I feel like it's part of my role to widen the path for others," Tanden said.