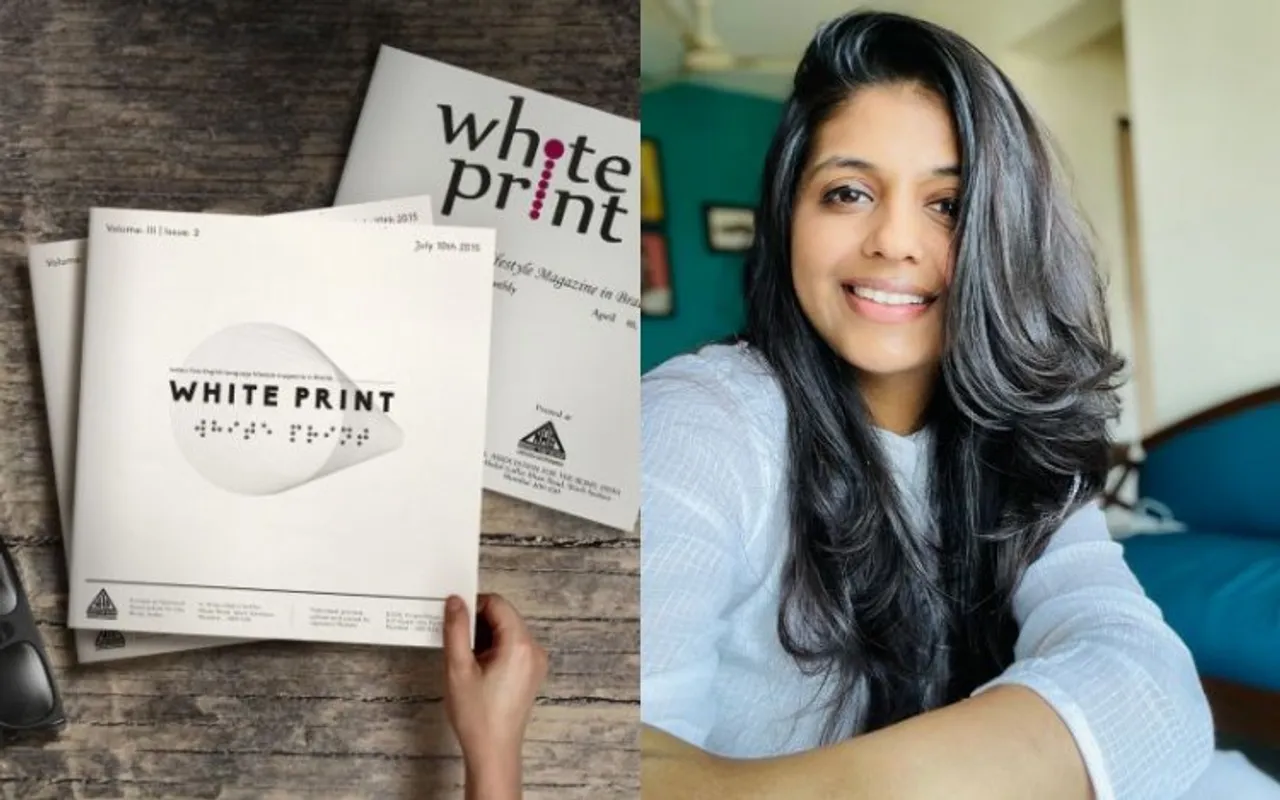 New Delhi: Mumbai-based Upasana Makati quit her PR job to bring out the White Print—a lifestyle magazine in English for the visually disabled. Launched in May 2013, it is the only such magazine in India. In the last decade, Makati has also brought out children's books in Braille, as also an interactive book where sighted parents can read along with their visually disabled children, making learning fun and inclusive. We talk to her about her initiative and the journey so far.
What motivated you to start White Print?
One day as I was randomly counting the number of lifestyle magazines that a sighted person has access to, I realised that the visually disabled do not have any such content. They have course books, but no reading content for leisure. I did some research and even contacted the National Association for the Blind (NAB) offices in Mumbai. I was shocked to find there was no leisure reading available. I was determined to change that. Equal access to knowledge and entertainment has been my motto from the beginning. The blind, too, want to visit bookshops and browse through books. Unfortunately, our society isn't inclusive enough to have worked on it and make more reading material easily accessible to the blind.
Was your vision influenced by some personal experience?
Actually, no. Before I thought of starting White Print, I had zero interaction with a blind person. But once I realised the stark reality I was determined to change the situation. A sighted person takes reading for granted, but for a blind person, it can open up a whole new world.
How has the feedback been?
The response has been overwhelming. Starved for a light-hearted read, new subscribers began signing up rapidly, once I started. My readers often send mails to me requesting more content and at a faster pace. Some read and re-read the magazine. There is a lot of space for publishers to explore, I believe.
How has the journey been so far?
Oh, very satisfying. We have had to overcome countless hurdles. The title of my magazine was rejected twice before the third one was successfully registered. Besides, arranging for funds has been an ongoing battle. The written word thrives on advertisements. And no one wants to advertise for the visually disabled because they believe that to influence people, it has to be visual first. It has been a difficult task trying to change that mindset. Some small brands are starting to experiment with advertising for the blind. In fact, once we also had an advertisement jingle playing when one opened the magazine.
How did you tide over the pandemic?
The pandemic didn't make our already challenging business any easier. It only added layers of new challenges. To begin with, our press was shut, so we weren't able to print the magazine for a few months during the first and the second wave. Which meant no advertising revenue. However, during the lockdown, we published an accessible e-storybook for children titled 'Flowers for Sunaina' and last year I turned author and published 'Run Saba, Run!' an illustrated storybook that busts myths about sports played by persons with blindness.
Also, as soon as the lockdown was lifted, we invited small businesses to try Braille advertising for their brands at a minimal cost of INR 5000/- We were able to cover the printing costs for a few months. The bigger corporate associations we had established pre-pandemic had all been discontinued. To battle the next wave, I was fortunate enough to have the support of my close friend Aparna Piramal Raje who is a part of Vivarea Gives, a community of generous souls who raised funds for White Print during these unusual times.
What is your circulation now?
Our circulation was also impacted during the pandemic. We lost some of our corporate-sponsored subscriptions. Rotary Club of Bangalore recently subscribed on behalf of over 25 organisations in Karnataka. Our readership is now over 8,000.
Do you get contributors?
We get a lot of contributors from various backgrounds. For instance, we recently entered into an editorial association with Unbias the News - a global virtual newsroom focussing on diversity in the media. Apart from that we strongly believe that the climate crisis deserves a great deal of attention and hence we've also associated with Eco-spotlight - a digital publication that celebrates sustainable solutions. Apart from these associations, we have experts, and writers, writing about food, culture, and history among others.
What about funding?
We've been bootstrapped ever since we began.
How many magazines do you bring out in a year?
White Print is a monthly magazine. We publish 12 editions a year, barring the few months of lockdown, we've been in the press for almost the last decade. It certainly feels incredible.
What next?
We want to focus on creating more children's books - more books, content that helps us further our mission of creating a more inclusive and diverse society. Along with the books, I also conduct sensitisation workshops for children. The pandemic gave us the opportunity to take them virtually, even in Tier II cities like Ranchi. Also, I have this dream of someday bringing out a daily in Braille.