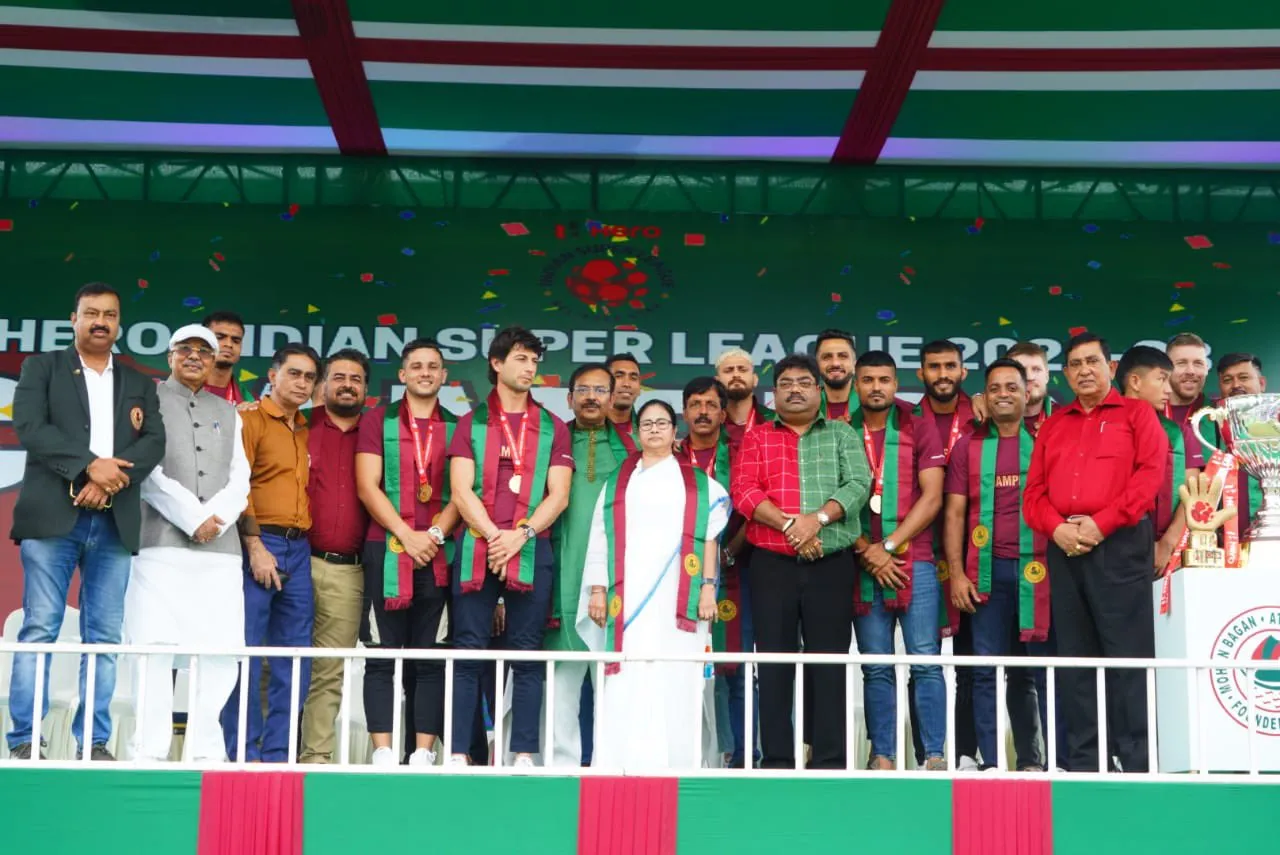 Kolkata: "Abar khela hobey (we will play again)," Chief Minister Mamata Banerjee asserted on Monday as she felicitated Mohun Bagan for winning the Indian Super League (ISL), maintaining that Bengal will show the path to the rest of the country.
Banerjee made the comments at the Mohun Bagan tent on Kolkata's famous 'Maidan' as she threw autographed footballs at club supporters, but the political overtones in the phrase that drew from her party TMC's slogan for the 2021 assembly elections assumed significance ahead of the Lok Sabha battle for 2024.
"We are proud that a football club from Bengal topped the country. What Bengal thinks today, India thinks tomorrow. Mohun Bagan again has shown that. Mohun Bagan's victory reaffirms that Bengal cannot be neglected... Bengal shows the path and Bengal will win the world," she said.
"I believe -- khela hoyeche, khela hobey, abar khela hobey (the game was played and will be played again). I want you to win again," Banerjee said as the crowd roared.
ATK Mohun Bagan held their nerves in a tightly contested ISL final to beat Bengaluru FC 4-3 on penalties and lift their maiden title on Saturday.
The chief minister announced Rs 50 lakh as a financial grant for the club, felicitating the players with bouquets and sweets.
"I announce Rs 50 lakh grant for Mohun Bagan from the government, so that the supporters can have sweets and the club can be developed," she said.
"Can't Mohun Bagan be the top club of the world one day? I want to get the world cup here through you," she said.
"Why shouldn't Mohun Bagan be able to match up to top Brazilian or Italian football clubs?" she asked of the team's administrators.
The team draws heavily from among foreign players, a fact which has been noted by many football commentators. Australia's Dimitri Petratos scored the winning goal which got Bagan the ISL trophy.
State Sports Minister Aroop Biswas and club president Swapan Sadhan Bose were also present at the programme.
Last week, Banerjee's TMC announced that it will go its own way into the 2024 elections, maintaining distance from both the Congress and BJP.